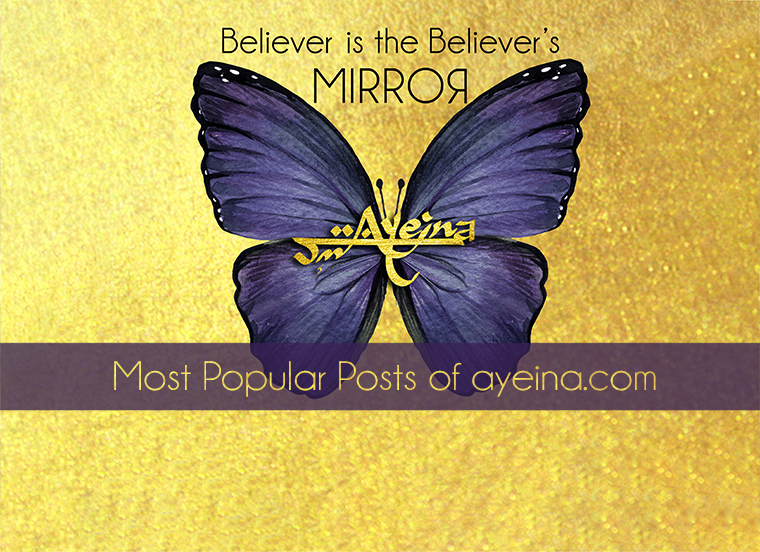 Assalam u alaikum wa rahmatullah wa barakaatuh!
If you are new here, please take a seat and let's go through the intro of AYEINA (run by the two Muslim sisters – AYEsha & samINA). If you are familiar of AYEINA already, then you're already a part of the family – this amazing community of Muslims trying to make the best of the world and the best of the Hereafter! All of us are struggling souls walking towards one goal – uplifting each other in the process because a believer is the believer's MIRROR!
Following are the top ten popular posts from each year since we started AYEINA (along with a short preview of that year):
2017
The highlight of 2017 was "I WILL in shaa Allaah" Productivity Journal for Muslims – our second journal in the Islamic Psychology series. Although we planned on launching our (upcoming) Art Journal before this one – but circumstances lead us to work on this journal more – because of the need we felt for it in our own lives basically! We won two blog awards at Muslimah Bloggers – Best Productivity Blog & Best Business Blog. Following were our ten most-read blog posts from 2017 (mostly from the #preRamadanProductivityCourse – based around the topics from the above mentioned productivity journal):
1) The Secrets of an Accepted Dua
2) Sunnahs of Expressing Love to Your Child
3) Gratitude Caption Contest 2017
5) Practical Steps to Pray on Time
6) Ways to Instill Love of Arabic in Kids
7) Ultimate List of FREE Eid Printables
8) Ways to Develop a Daily Relationship with Qur'an
9) Confessions of a Practicing Muslim (+FREE Ramadan Printables)
10) Funeral of a Child in Islam
2016
The highlight of 2016 was starting a formal newsletter along with monthly freebie bundles exclusive for the email subscribers. And winning an award of "Top 50 Islamic Blogs" alhamdulillah. Following were our ten most popular posts from 2016:
1) How to Start a Small Sewing Business
2) Losing Weight the Sunnah Way
3) How to Raise Better Practicing Muslim Kids
4) Packing Checklist for Hajj/Umrah with Kids
5) Your Niqab Questions Answered!
6) List of Islamic Stores Around the World
7) Paying markets for Islamic Writers
8) A Gratitude Journal for Muslims (#AlhamdulillahForSeries)
9) Hajj/Umrah Products & Resources for Adults & Kids
10) 5 Reasons Why You Should Get Hijama Done
2015
2015 was our first year at AYEINA – where we (Ayesha and Samina) launched the blog and by the end of the year, also launched #AlhamdulillahForSeries Gratitude Journal (which was a super scary and risky step to take – considering a complete lack of Islamic journals in the Muslim world back then. But alhamdulillah for all the support from YOU all!). Following were our top ten posts from 2015:
1) The Ultimate Packing Checklist for Hajj/Umrah: Must-haves
2) The Ultimate Packing Checklist for Hajj/Umrah: Better to have
3) The Ultimate Packing Checklist for Hajj/Umrah: Extra Nice to Have
4) 20 Quick Tips for Hajj and Umrah
5) A Love Letter to my Beloved
6) Short Ahadith for Kids to Learn: Two Words
7) List of Free Resources to Study Quran
8) How Muslims should React to an Earthquake
9) Supplicate to Allah with Allah's Words (List of Qur'anic Duas Poem)
10) 10 Islamic Etiquettes when Visiting Public Toilets
Which one has been your personal favorite so far? It could be from outside this list too! Share in the comments below 🙂