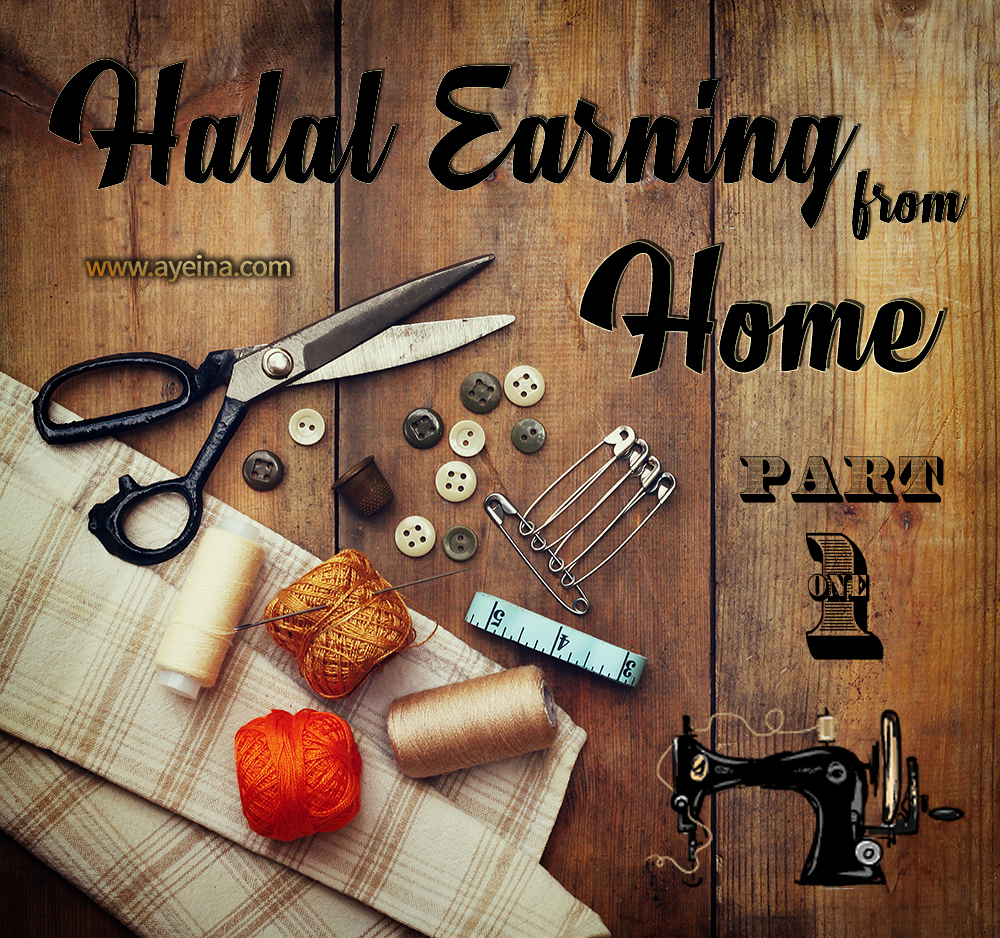 By Javeriya Siddiqui (in collaboration with Team AYEINA)
Are you looking for ways to generate income from home? Have you ever thought of sewing for income? Following are some ideas on how you can earn a steady stream of income by just a little investment and sewing skills.
 
Sewing is an easy way to generate some side income. It is something that requires very little investment at the beginning, but once you start getting hang of it, you can:
 
1: start taking orders from friends, neighbors etc.
2: design your own clothes (and your children's clothes etc.)
3: and even start your own small sewing business.
 
If you have no idea where to start, then don't worry. Following is a summary of things you would need to start generating income from your sewing. So, grab a cup of tea or your favorite drink and read on!
Step 1
Patience and Practice
First of all, like any other skill, sewing gets better the more you sew. Every project you complete can teach you something new so to get the best out of something; you need to do it repeatedly with patience. For example – you want to sew and sell abayas; so you have to make one or two pieces first and then try sewing different sizes of the same design. With time, every cloth will have a premium finish.
Step 2
A Sturdy Sewing Machine
As a beginner, you don't even need an expensive digital machine. A good basic sewing machine like Brother JS1400 would do great as well. It comes with different types of stitches you would require to complete any sewing project. The best time to buy a sewing machine (or any sewing supplies) would be at the end of season sale when you can get massive discounts. Also, if you subscribe to the big fabric stores like Hancock Fabrics and Joann (Javeria's affiliate link), you can get coupons delivered to your inbox that can later be utilized to get discounts.
As mentioned earlier, the best time to buy sewing supplies is at the clearance sale or using the coupons. For practicing purpose, you can first try your sewing skills on cheaper fabrics.
 
Once you've got your sewing machine and supplies together, you can start off by learning how to sew some of the basic things. For example a napkin, a pillow, niqab, burp clothes, etc. You can find a lot of such ideas here. You can also practice your sewing skills on the free sewing patterns and once you have mastered a particular pattern, you can purchase the license for that pattern and start selling items made from it.
 
It's not even necessary that you have to master all kinds of sewing at once. For example, if you just like to sew bags (like me) you can start a business based on your own designed bags. Make bags from patterns by the designers and sell them on Etsy as well as craft booths.
 
These days there is a high demand for halal clothing for Muslim women. Maybe you can sew something based on those lines. 
Step 4
Make a Portfolio
Once you start getting hold of the skill, you can sew your own clothes, bags, accessories, children's clothes, etc. which can in itself be an advertisement to attract future customers. You can also share your progress on a Facebook page or Instagram account to attract more customers who can place their orders with you. I have seen many women earning by sewing for boutique collections. It's a great way to work from home, but you need to be an expert at sewing first and must have an impressive collection of projects.
 
Here are some ideas to try:
 
1: Sew for handicapped people who must have their wardrobe custom-made. (Note: local groups that work with the handicapped are thrilled to discover a competent seamstress and will gladly offer a steady stream of clients. This may be something for you to look into when you're just getting started and need customers. And it can be a great source of sadaqah as well).

2: Sew for those who are overweight and find it hard to find their size in ready-made clothing.

3: Sew for extremely skinny people. (Usually, teenagers who find it almost impossible to buy ready-made clothes that fit well and are stylish.)

Once you're an expert, you can start giving sewing lessons to empower other women. 
 
There's no particular time limit for a person to transform from a beginner sewist to an expert one. It all depends on how much time you spend on sewing every day. The more time you spend, the quicker you learn and maybe by the end of a year or half, you'd be ready to start selling and earning in shaa Allah. Remember! Slow and steady wins the race.
——————————————————————————————————————————————————————————–
Co-Author's Bio: Javeriya Siddiqui is the author of Sew Some Stuff . A student and sewing fanatic. To follow her sewing journey, you can visit her blog. You can also subscribe to her YouTube channel for weekly sewing tutorials, inspirations, and tips.