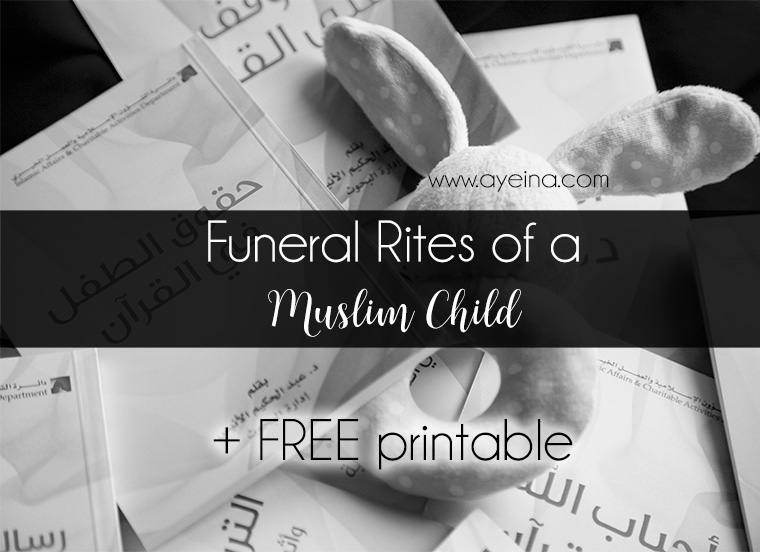 Having gone through this first hand – after my sister and my best friend (who's also the co-founder of AYEINA) lost her son, it made me realize how important it is to know the formalities that come with the deceased. Especially a child. Because most people don't know how the funeral of a child goes. They've mostly seen funerals of adults. And if you reach out, most people won't have the knowledge of how a funeral is carried out. Especially when it comes to its practical application. 
Although we read the topic of death in detail and even took its exams when we were doing our Qur'an course. But there we were, frantically going through the pages of the book ("mera jeena mera marna" – a book in Urdu) while trying to absorb the reality of death. We had forgotten some parts because we never got to apply the knowledge we were given. Even though it was a part of the course to practically teach the students all the funeral rites.
Go listen to the audio linked in the Arabic text above. "Indeed we belong to Allah , and indeed to Him we will return" rang true in so many ways. Because death – it waits for none. No matter how young, no matter how old.
It's the worst nightmare for any parent out there but it's a reality so many parents around the world go through. Parents in Syria, Palestine, Kashmir, Rohingya among many others, face such calamities every day. Some even multiple times a day. 
It takes some time to swallow the bitter pill of reality – especially if the news come to you unexpectedly. Everything around you becomes so irrelevant and unimportant. The world starts to feel like an actual temporary place to live in. Something that we often forget amidst all the luxuries. 
The term "what will the people say" become an extinct thought at that moment. You don't care how you look like or the unanswered notifications adding up in your mobile. You don't care about anything worldly at that moment. 
And it's that moment when you're the most vulnerable and your tongue could say anything that Allah may dislike for you. Hence the first step after knowledge of such incident is:
1)

Patience at first stroke of calamity
Accepting that death can come to anyone anytime is the first step towards being able to practice patience at the first blow of such calamity. 
The Prophet (ﷺ) said, "The real patience is at the first stroke of a calamity." [Bukhari]
Tears are a completely natural phenomenon in grief whereas crying out loud and wailing are contrary to patience and are not permissible.
2)

Alhamdulillah 'ala kulli haal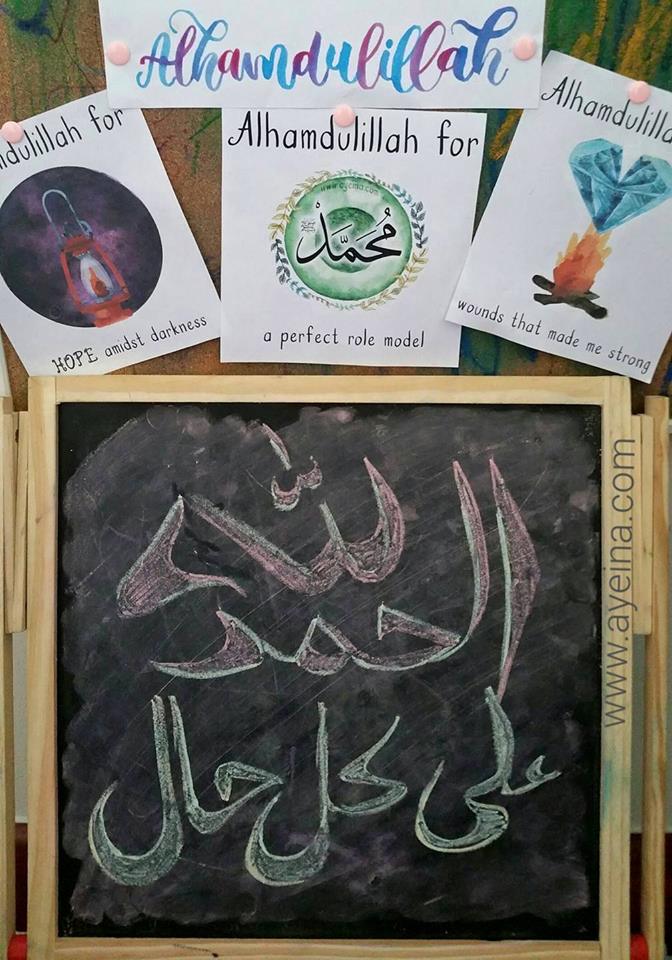 In that moment, you may hear people consoling you with all sorts of words. Some may say things that may be displeasing to Allah and staying grateful in all circumstances becomes harder that way.  
Remember that the innocent souls of children will directly go to Jannah in shaa Allah – without any questions asked. That's one part of satisfaction you have when you lose a child. You know that they are in better hands than yours. Better embrace than yours. Better care than you could provide. And definitely, a better place than this world has to offer. 
I wrote on the topic of miscarriage beforehand as well after my sister went through that difficult phase. You can read it HERE: 
After a week or so, I gave my sister the gratitude journal to fill in. Because the moments where gratitude seems the most difficult, are the moments that actually carry survival in gratitude. Without it, we're surrounded by darkness over darkness. There seems no way out of the grief. Although she had been much stronger than all of us combined alhamdulillah, writing positive thoughts down out of an apparent negative scenario can be therapeutic…
3) 

Delegating tasks to different people

 

Preparing the body for burial is a Fard Kifaayah – A communal obligation on Muslims. You may be extremely clueless at what to do so it's natural to ask someone to delegate tasks to other people because Prophet (ﷺ) said:
أَسْرِعُوا بِالْجَنَازَةِ
"Hasten at a funeral, for if (the dead person) is good, you would (soon) bring him close to the good. And if it is otherwise, it is an evil of which you are ridding yourselves". [Muslim]
Hence you can ask your loved ones for things like:
1) informing close people around – those who can help and offer a warm shoulder. 
2) closing eyes/mouth of the deceased.
3) taking the body to a place where one may need to give the ghusl and wrap in a shroud etc. – most probably your home (if you aren't already there).
4) arranging the kafur (camphor)/lote-tree (sidr) leaves etc. for the ghusl. 
5) bringing the kafan/shroud (burial sheets).
(we got our shroud pack from Alhuda)
6) sending a person to the graveyard so a child's grave may be dug.
7) asking the mosque's Imam nearby for the funeral prayer timings etc. 
Although generally, the relatives of the deceased must hasten in paying back any debts from whatever wealth the deceased has left behind but of course, for a child – that's not required.  
4)

Giving bath to the deceased
As a general rule, males should take the responsibility of washing males, and females should wash females. The only exception to this rule is in the case of husband and wife, or small children.
This and all the next steps are probably the scariest of all.
When you touch a body that has turned cold, it makes you realize the worth of a soul. The vessel that holds it turns into a scary reminder of death as you arrange a table to lay the body of the child on with your trembling hands and do ablution (wudu) to give the deceased a bath. 
The procedure of 'ghusl' includes:
1) Removing the clothes (and cutting whatever clothing is difficult to remove) and keeping the body parts that are not being washed – covered with a towel/open cloth piece. 
2) Applying slight pressure to the abdomen to expel any impurities.
3) Washing the private parts.
4) Washing the parts of the body that are washed in wudu. 
5) Pouring water on right side of the body and then the left – 3, 5 or 7 times – first with sidr (lote-tree) leaves and the final washing should have some perfume in it, such as camphor or the like.
Narrated Um 'Atiyya al-Ansariya: Allah's Messenger (ﷺ) came to us when his daughter died and said, "Wash her thrice or five times or more, if you see it necessary, with water and Sidr and then apply camphor or some camphor at the end; and when you finish, notify me." So when we finished it, we informed him and he gave us his waist-sheet and told us to shroud the dead body in it. [Bukhari]
6) Drying the body/Clipping the nails/combing the hair etc. to get the body ready for shrouding. 
5)

Shrouding the dead body
Nothing reminds you of hereafter more than this step. 
The Prophet (ﷺ) was shrouded in three sheets. The preferable color of the shroud is white.
Messenger of Allah (ﷺ) said, 'Wear white clothes because they are the purest and they are closest to modesty; and shroud the dead in it." [Riyad as-Salihin]
It is not permissible to be extravagant in shrouding the dead. The sheets should be ordinary cloth, and the number of sheets should not exceed three. It is recommended that the shroud is perfumed with incense, except in the case of a person who died in a state of ihram. 
How to wrap a body is the most confusing part – mostly because your brain is really not present there and you feel that your limbs are simply doing what they're supposed to do at the given moment. Your mind is somewhere else – away from this dunya. 
I've illustrated the following on my own with the help of the illustration in the book "mera jeena mera marna" and translated it into English – Please feel free to print it out. Hope it helps.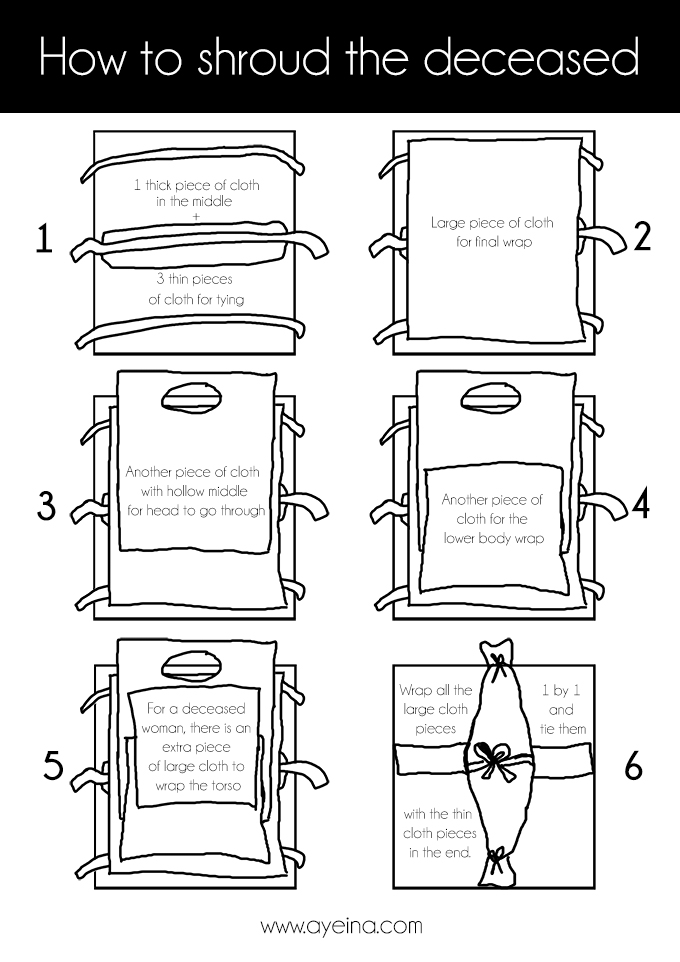 These links are also helpful alhamdulillah:
https://www.youtube.com/watch?v=Y-DRwurgsfE
6)

Offering the Funeral prayer

 
The shrouded body is then taken for  Salaat-ul Janaazah which is a communal obligation – Fard Kifaayah.
Hence one can inform all those who can attend the funeral. Relatives living in the same city, neighbors etc. It also gives you a sense of community alhamdulillah. How people gather when you need to hold the warm hands the most. 
This is the moment when reality actually hits you and if you haven't shed tears all this time, the funeral prayer leaves your vulnerability wide open. 
The funeral prayer is in the form of a congregation. The Imam stands facing the Qiblah behind the head of the deceased man and behind the middle of the deceased woman. 
Steps of the funeral prayer:
1) After the first takbir, Surat al-Fatihah is recited silently. It is also permissible to recite another small chapter after it (if the time allows).
2) After the second takbir, the prayer for the Prophet (s.a.w) should be made.
3) After each of the remaining two or more takbirs, sincere prayers (du'a) are made for the deceased and their relatives. There are different invocations in sunnah but the easiest of all (something that you can memorize right away) is:
 Allahumma a'idhhu min 'adhab al-qabr – (O Allah, protect him from the torment of the grave).
4) After the final takbir comes the tasleem – giving greetings of salaam, as one does in regular prayer (salaat) to conclude their prayer. One may do so by making tasleem to both the right and left sides, or the right side only.
7)

Burying the deceased
If you're a woman, you may not get to see the deceased being buried six feet underground so funeral prayer may feel like a final goodbye. 
But please make sure that you inform those who are burying the child (or even an adult) that the grave is not elevated or decorated with etched tombstones etc. What the deceased benefits from, are your duas.
Jabir said that he was forbidden to plaster graves. [Muslim]

The Messenger of Allah (ﷺ) forbade writing anything on graves. [Ibn Majah]
8)

Eating Tharid / Talbina

 
Most cultures around the world don't have such customs hence no one may send you the dish. 
'A'isha the wife of Allah's Apostle (ﷺ) said: When there was any bereavement in her family the women gathered there for condolence and they departed except the members of the family and some selected persons. She asked to prepare talbina in a small cauldron and it was cooked and then tharid was prepared and it was poured over talbina, then she said: Eat it, for I heard Allah's Messenger (may peace be upon him) as saying: Talbina gives comfort to the aggrieved heart and it lessens the grief. [Muslim]
I personally made it myself the next day. I followed THIS RECIPE for Tharid (although I didn't add all the garam masala etc. – kept it as simple and digestible as possible). You can follow THIS RECIPE for Talbina.
9) 

Mourning (not wearing perfume etc.) for 3 days only
The Islamic term for mourning is Hidaad. Mourning for more than three days is not permitted except in the case of a woman whose husband has passed away (iddah of 4 months and 10days).
I love how Allah allowed the natural feeling of grief, but didn't let us wallow in it so much that we forget to do anything for the deceased or ourselves.
The Messenger of Allah (ﷺ) said, "Two matters are signs of disbelief on the part of those who indulge in them: Defaming and speaking evil of a person's lineage, and wailing over the dead." [Muslim]
Although memories never die, but each memory is a constant reminder that you have to strive harder and better. If your child is in Jannah bi'idhnillah, then you need to do more and more and more to be able to meet him one day…The yearning to hold him in your arms once again keeps you pushing forward.
Grief and weeping for the dead is allowed in Islam and a completely natural phenomena. But it is prohibited to express grief by wailing (mourning in a loud voice), shrieking, beating the chest and cheeks, tearing hair or clothes, breaking things or scratching faces or saying phrases that makes a Muslim lose faith.
May Allah help us all enter Jannah with easy reckoning so we may all unite with our loved ones that we dearly miss in this world. 
"The grief may never go away. The void may never fill again. But we need to take care of ourselves beyond 3 days. Allah gives us the chance to pick ourselves back up again. Out of everyone else, us mothers need to take care of ourselves the most in this difficult time. I've been there. The wounds still feel fresh sometimes. When Allah says mourning is for 3 days, it means how one can let go of themselves in that time in terms of self-care – for eg: One doesn't apply perfume etc. But feeling sorrow has no timeline. Though I hope that our hearts are filled with hope even when the sadness doesn't seem to leave and the tears never cease to flow. May our tongues never say anything that displeases Allah even when the soul feels wounded and hurt. It's not easy. But I know that Allah wouldn't have let us go through something like this if He didn't consider us strong enough! May we meet our beloved children in Jannah!" – (Ayesha)