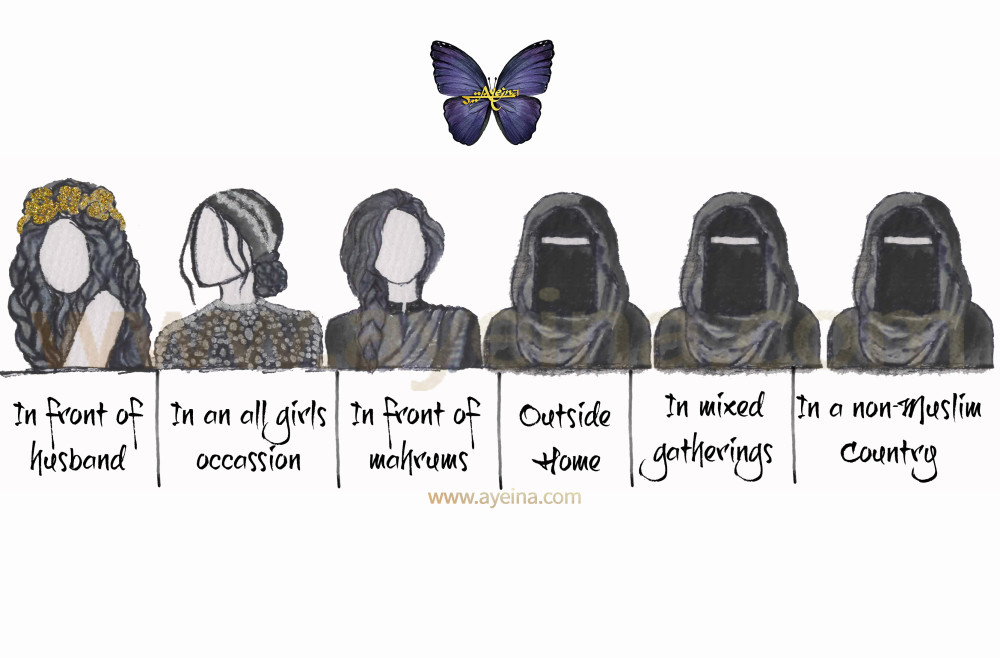 Obviously, I am not every Muslim woman's story nor am I a benchmark. But there are many like me who hang this most controversial piece of cloth on their face, unflinchingly and unapologetically. Those who aren't smothered, oppressed or chained behind that veil. It is just a part of our identity and our informed choice.
We are not a piece of fabric. An extra layer of clothing does not make us any better than an unveiled woman (That's Allah's dominion). It is just how we manage our own spirituality and connection with our Creator…

So it shouldn't be assumed that we are entrapped in some suffocating cloak and need to be saved. Not all of us need to be liberated by removing our coverings. It is rather a very uneducated misconception and can lead to robbing someone of their personal choices. Your saving us without truly knowing our story will cost us our freedom. We have a right and every ability to make our own decisions.
People generally don't get to know much about it from somebody who wears it. They haven't lived it or even befriended one with it. They know about it from people who talk about it, what is presented on media or judge it from outside that boundary. Ignorance can breed fear and even worse, contempt. So it's good to ask questions from women who wear niqab to clarify your doubts instead of automatically assuming something based on the public opinion on the matter!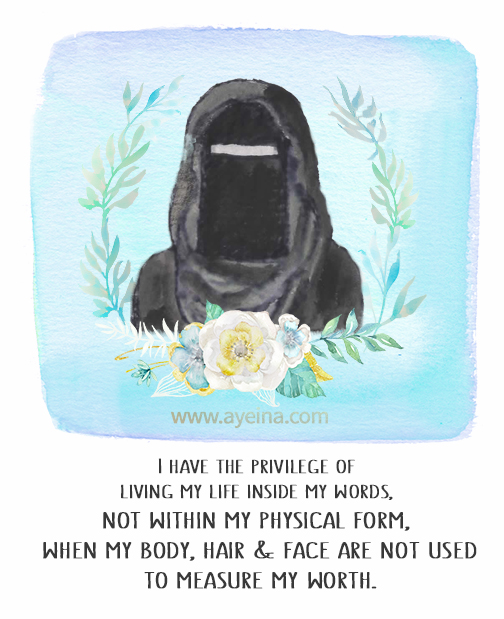 Some are enraged there even has to be anyone like us here at all. But we're here, and we're not going anywhere. We're not the only one. People may call us extremists, but we are not affected by the pebbles that they throw from their mouths. We will be as polite as we can be, but we won't be sorry for it. Sorry for who we are. We'll keep shining bright, even if the shining light of our gemstones won't be white.
Frequently Asked Questions about niqab:
How do people recognize you when you're walking down the street?
Are you oppressed by the men in your family?
Why men just don't bother about wearing niqabs?
Should we all hide ourselves to make Allah happy? Would clothes influence the love of Allah?
Can you see/hear with your niqab on?
Do you have hair underneath?
Don't you get hot in the summer?
Did your husband/father/brother tell you to wear it?
Only married women wear it, right?
My heart is pure, why should I wear hijab or abaya or niqab?
How do you manage wearing it at home?
How do you eat?
Why black? Is it simply that it draws less attention than other colours or are there other reasons for the choice?
It's the choice of most (and we say most because some women choose other colours as well) because black is the most opaque colour. If we choose other colours, we usually have to wear a thicker garment to cover what we are wanting to cover. So with black, we can choose a light garment and still cover.
Covering your face isn't necessary, so why do it?
Necessity is a fiqhi issue (which we are not qualified to answer) – some Islamic scholars say it's obligatory, some say it's recommended, some say it's optional. But we do it because we want to emulate the best of women who were promised Paradise. Also, hijab comes with restrictions like no make up etc. And niqab makes it easier (for eg: if you're wearing a lipstick). And we've found many personal benefits in it while shifting from hijab to niqab. It made life easier in one way. Just a personal experience though. For some, life becomes harder, but they feel closer to Allah with it, so they keep it.
Why do some Muslims wear it and other Muslims don't?
Personal choice. Free will.
Do you shower with it?
No. Washing the face while also washing the niqab will be quite a time-saving hack though.
Do you sleep in it?
No. Unless the nose is freezing, then we'd love to use it as a heating system.
Why is your English so good?
It can be improved though 🤷🏽‍♀️
How do you interact with society with a covered face?
In an age of social media, mobile phones, digital transmission etc., all of us are navigating this digital world without it anyway.
Why is hijab not enough for you?
It was enough for us for a long time, until we wanted more. Until we longed for a better connection with Allah – a better reminder for ourselves – to think twice about our words and actions because we are now representing a minority within a minority.
Do you have to wear it though?
We don't have to. We choose to.
So are you a Muslim?
Yes. Loud and clear. Alhamdulillah.
Your words are not more important than your smile. So why hide it?
Our words actually ARE more important than our smiles. If we have nothing nice to say, of course a smile is better, but we have plenty of kind words to speak so we will always use them beyond the smile.
Why do you buy clothes apart from your gowns etc.?
We buy the clothes we like – whether they are fashionable or no. We feel liberated from all the superficial expectations foisted upon our gender.
Who would niqab a flower or a tree?
We're neither flowers nor lollipops
We're neither pearls nor trees
We're human beings with choices
And none can liberate the free 🦋
How do you breathe?
Inhale and exhale. Inhale and exhale. Repeat.
Do you have the same questions? Or more? Feel free to ask below and let's understand each other! 👇 (no fiqhi questions please, because we are not scholars – we can only answer questions that are based on our personal experiences).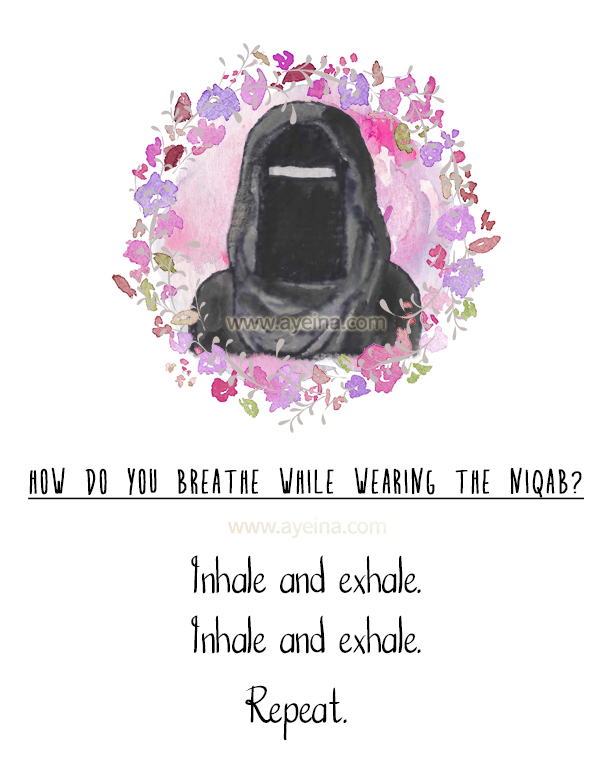 Feel free to download this art print from #AlhamdulillahForSeries to show diversity in Islam and how we can all coexist <3 Please tag us if you happen to print it out or post it on social media 🙂 Facebook, Instagram, Twitter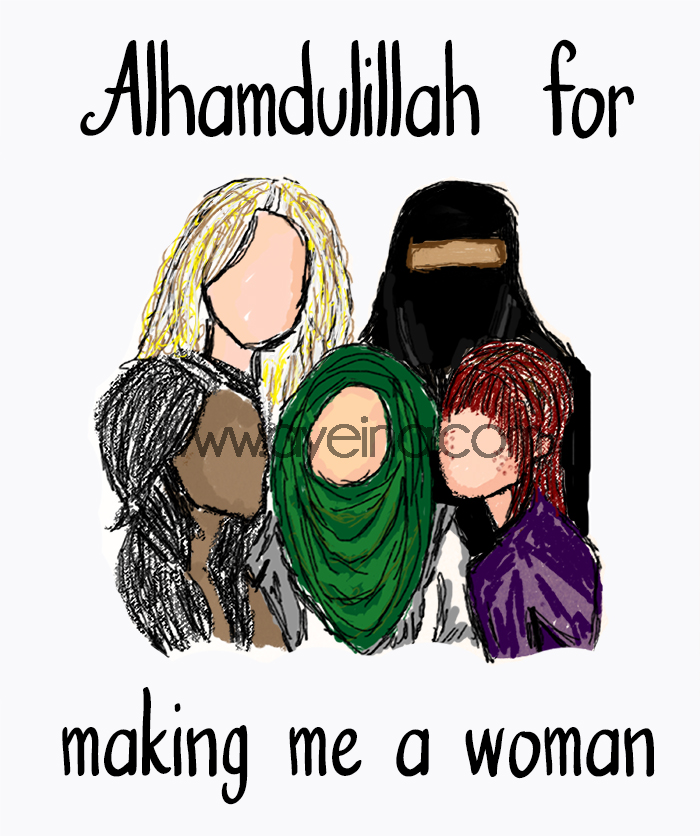 UPDATE:
We're seeing our illustration (one as a featured image) going viral. This has been happening since long! and we've been ignoring the fact that no one is crediting the original source (and some even went to the extent of removing the logo and site name from the image) but recently, we're seeing it being misused A LOT. Hence causing A LOT of negativity around niqab and Islam. Which is NOT OK! This is what happens when you don't link back to the original source – people start to take it out of context!
This illustration is an experience of niqabis themselves. It's not instructional. It's the answers to some of the questions we get as niqabis all the time.
Questions like:
Do you dress like that at home too? You wear that in front of your father too? Do you cover even in a non-Muslim country? Would you doll up in a wedding where there are men too? Who is allowed to see you? So we simply illustrated how we usually go about in our day to day lives.
The illustration is simply to raise awareness of how our own choices form the basis of how we dress in different scenarios!
And whoever posted it without the whole article we wrote on it, completely missed the point.
The problem got even worse when accounts with HUGE following, handled by men, started posting it as an instruction. It escalated the same problem we are trying to solve here. We do not cover our faces because of patriarchy. It is OUR OWN CHOICE. Not dictated by a man. And when niqabis post it (even without giving us the credit), we are fine with it because at least the message is not being distorted. But if you are posting it as an instruction or to show yourself better than the others, it's NOT OK! Not at all. Please don't burn the bridges we are trying to build here by presenting unoppressed-narratives by niqabis themselves.
If you see the image around, please direct them to this original post, so it is not taken out of context (causing so much negativity) in shaa Allah.