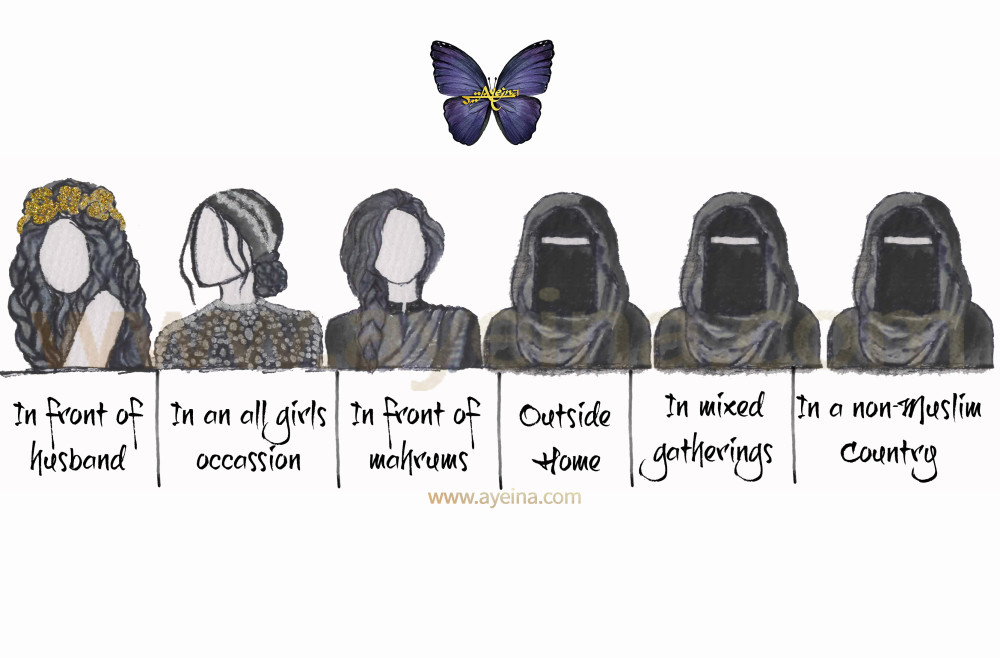 Obviously, I am not every Muslim woman's story nor am I a benchmark. But there are many like me who hang this most controversial piece of cloth on their face, unflinchingly and unapologetically. Those who aren't smothered, oppressed or chained behind that veil. It is just a part of our identity and our informed choice. 
We are not a piece of fabric. An extra layer of clothing does not make us any better than an unveiled woman (That's Allah's dominion). It is just how we manage our own spirituality and connection with our Creator…


So it shouldn't be assumed that we are entrapped in some suffocating cloak and need to be saved. Not all of us need to be liberated by removing our coverings. It is rather a very uneducated misconception and can lead to robbing someone of their personal choices. Your saving us without truly knowing our story will cost us our freedom. We have a right and every ability to make our own decisions.
People generally don't get to know much about it from somebody who wears it. They haven't lived it or even befriended one with it. They know about it from people who talk about it, what is presented on media or judge it from outside that boundary. Ignorance can breed fear and even worse, contempt.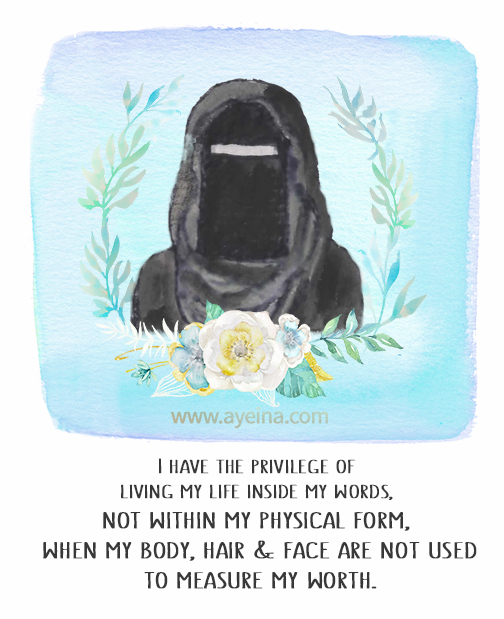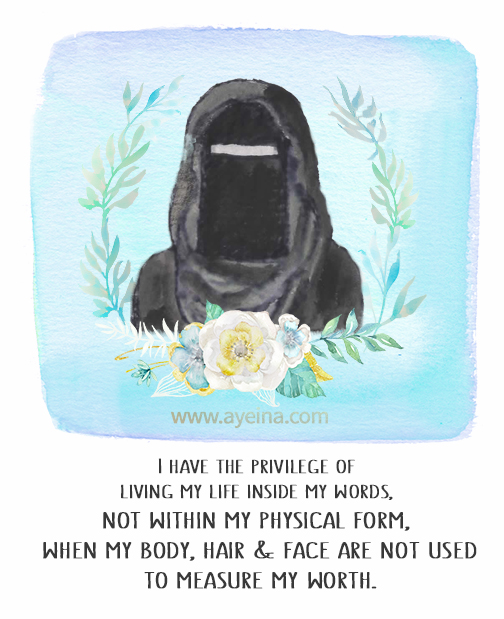 Some are enraged there even has to be anyone like us here at all. But we're here, and we're not going anywhere. We're not the only one. People may call us extremists, but we are not affected by the pebbles that they throw from their mouths. We will be as polite as we can be, but we won't be sorry for it. Sorry for who we are. 
We'll keep shining bright, even if the shining light of our gemstones won't be white.
….
Muslimah Bloggers collect our thoughts on the matter.
We are also honored to be interviewed by this amazing young lady Ramsha. You can check her website to find answers to your Niqab queries (like below)

NOTE: Above is an excerpt from the article chosen for publication on 'Cosmopolitan Magazine Middle East' and its republication rights have been bought by 'The Intellect Magazine', so we can't post the full article yet. A small extension of the article can also be read on AltMuslimah. Subscribe or Like our Facebook page to stay updated. 
Feel free to download this art print from #AlhamdulillahForSeries to show diversity in Islam and how we can all coexist <3 Please tag us if you happen to print it out or post it on social media 🙂 Facebook, Instagram, Twitter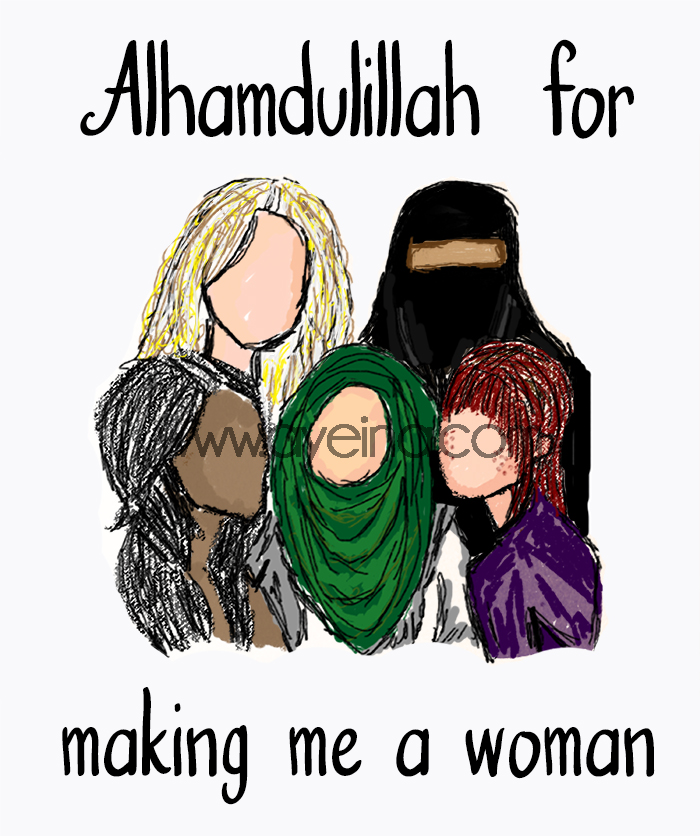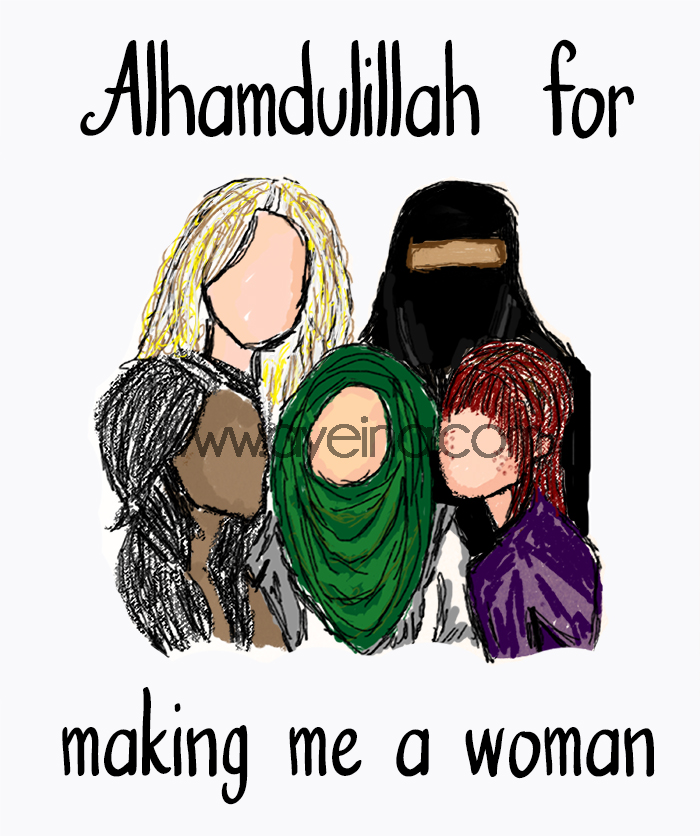 UPDATE:
We're seeing our illustration (one as a featured image) going viral. This has been happening since February! and we've been ignoring the fact that no one is crediting the original source (and some even went to the extent of removing the logo and site name from the image) but recently, we're seeing it being misused A LOT. Hence causing A LOT of negativity around niqab and Islam. Which is NOT OK! This is what happens when you don't link back to the original source – people start to take it out of context!
This illustration is an experience of niqabis themselves. It's not instructional. It's educational. It's the answers to all the questions we get as niqabis all the time. Questions like:
Do you dress like that at home too? You wear that in front of your father too? Do you cover even in a non-Muslim country? Would you doll up in a wedding where there are men too? So we simply illustrated how we usually go about in our day to day lives.
The illustration is simply to raise awareness of how our own choices form the basis of how we dress in different scenarios!
And whoever posted it without the whole article we wrote on it, completely missed the point.
The problem got even worse when accounts with HUGE following, handled by men, started posting it as an instruction. It escalated the same problem we are trying to solve here. We do not cover our faces because of patriarchy. It is OUR OWN CHOICE. Not dictated by a man. And when niqabis post it (even without giving us the credit), we are fine with it because at least the message is not being distorted. But if you are posting it as an instruction or to show yourself better than the others, it's NOT OK! Not at all. Please don't burn the bridges we are trying to build here by presenting unoppressed-narratives by niqabis themselves.
and If you think that plagiarism is ok, then that's a whole new topic we'll have to write a full post on!
If you see the image around, please direct them to this original post, so it is not taken out of context (causing so much negativity) in shaa Allah. Jazakumullah khairan katheera to all those who have supported us and to all those who stood up for the right thing! <3