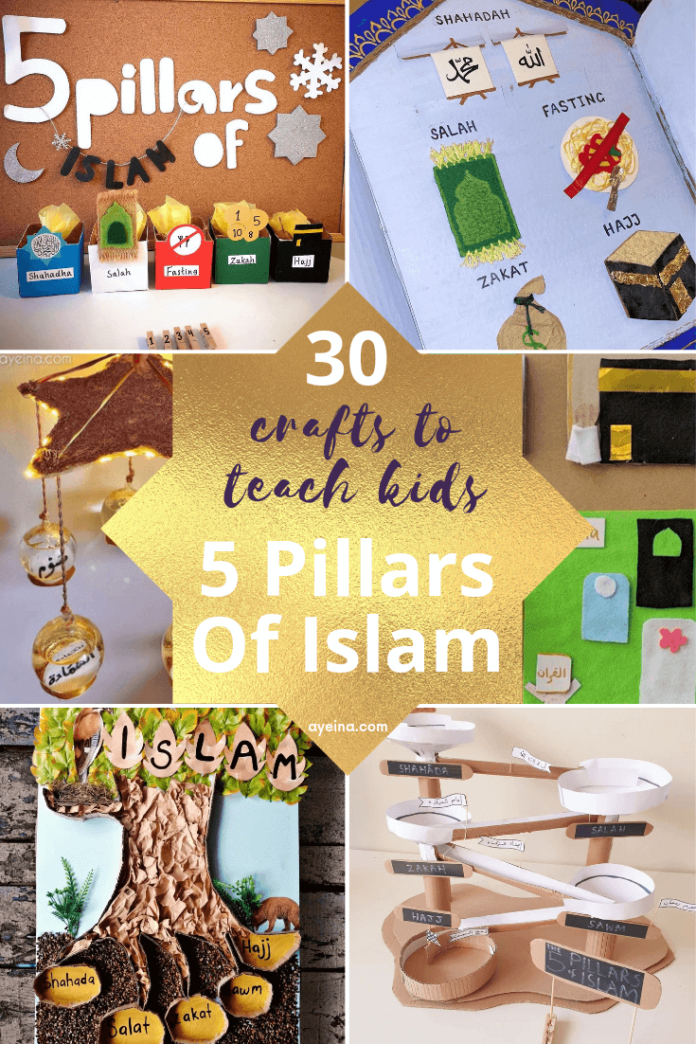 ---
5 Pillars of Islam Craft Contest 2022
---
AYEINA hosted a '5 Pillars of Islam Craft Contest' with the purpose of connecting kids (and even adults) back to the basics of Islam. Also, as a launch of our Islamic Fabric Quiet Book: 5 Pillars of Islam – which is an interactive learning tool with velcro, zip, laces, magnet, buttons, etc. for Muslim kids (based on the following hadith):
Muhammad ﷺ said: "(The superstructure of) Islam is raised on five (pillars), testifying (the fact) that there is no god but Allah, that Muhammad is His servant and messenger, and the establishment of prayer, payment of Zakat, Pilgrimage to the House (Ka'ba) and the fast of Ramadan." [Hadith; Muslim 16c]
A lot of people were grateful for the contest because it was a time well spent learning about the foundations of Islam in a fulfilled way. Download this beautiful FREE PRINTABLE from @hummis_art_nook to create paper crafts for kids to learn from.
1) 5 Pillars of Islam one by one
@gems4littlehearts said: "…The activity that I've chosen for Shahadah explores the creation of Allah and things that we've been taught by our beloved Prophet Muhammad ﷺ. I stitched some felt objects and this was sorted by creation found in the Sky, Land, and Sea.
The Salah activity focuses on the different times of each of the five Salah. I made a little room with a window in which we could change the scene of the sky according to the salah time.
The Zakat activity teaches the different categories of people that can receive Zakat. Each card names one of the 8 categories as mentioned in the Holy Quran. The reverse side explains each term. A card is placed inside the board. To add a little bit of math practice, a number card is also chosen. The number card will show the number of coins that need to be placed inside the board.
The Sawm activity explores how we should spend our day in Ramadan. Starting with Suhoor, good deeds throughout the day, and then Iftar. I used Velcro strips on the board and the matching pictures were placed in the correct place.
The Hajj activity shows a map of the process of hajj. Each stop includes a mini object depicting the place of worship during Hajj."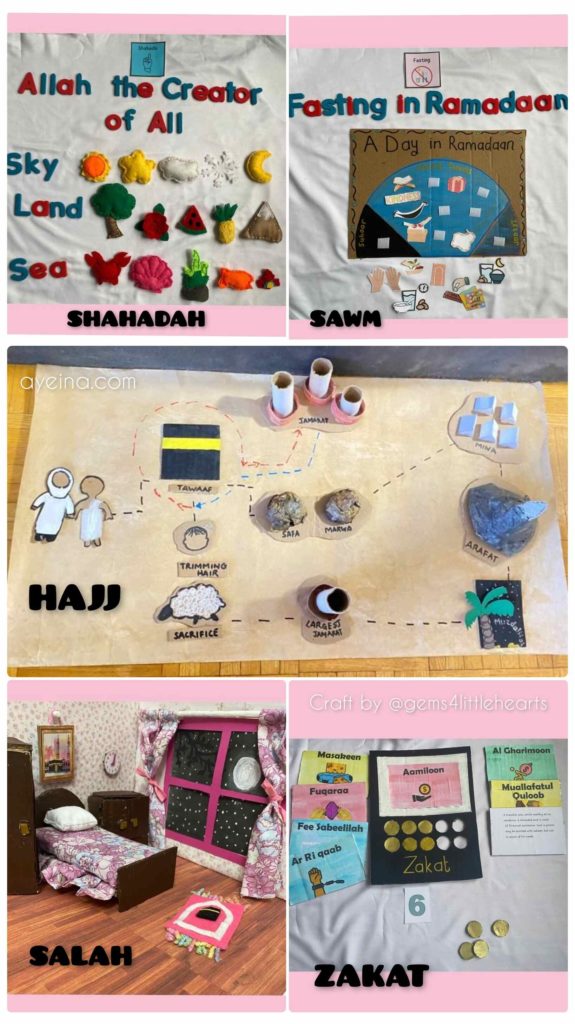 2) 5 pillars of Islam tree
@thewhimsymuslimmama: "The 5 "pillars" are represented by the roots, the foundational component of a tree. The leaves, which is the result of growth, represents Islam."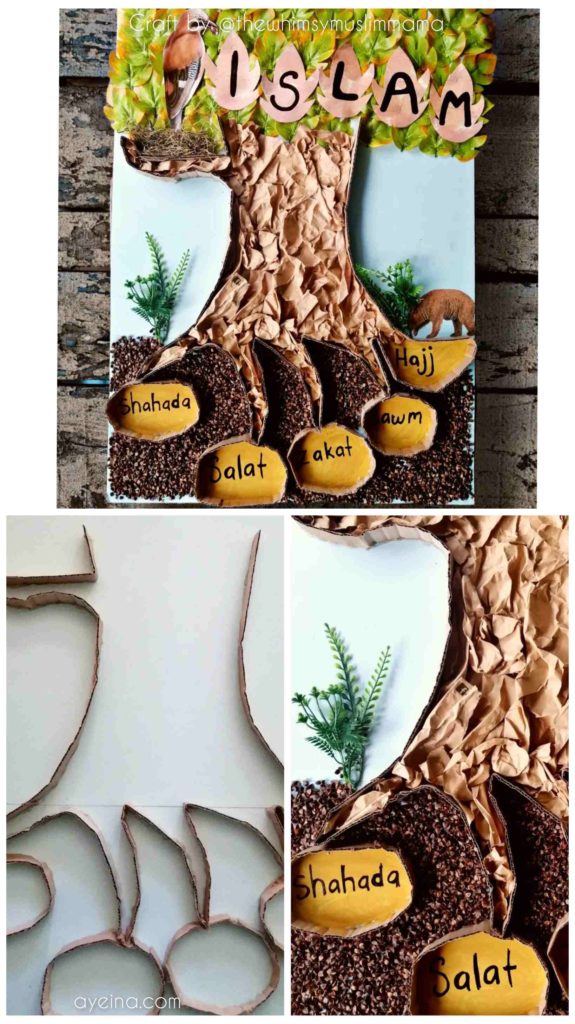 3) 5 pillars of Islam candy-game
@anaiscrafting: "Since our family has a tradition of eating sweets on Jummah, I really wanted to find a way to include it into my craft ➡️ "The 5 pillar of Islam candy-game"!"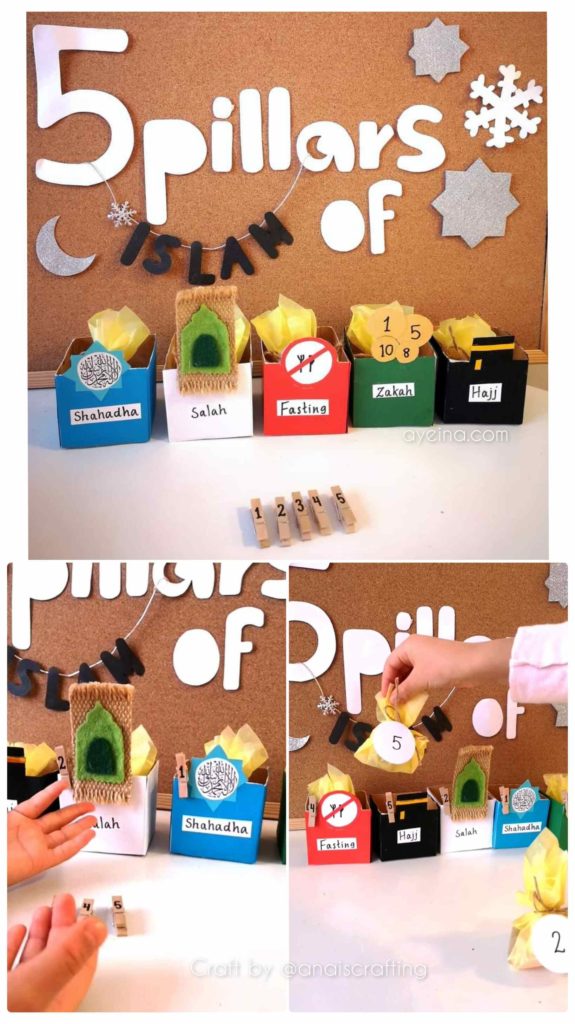 4) 5 Pillars of Islam Busy Board
@creactivitybygwan: "DIY 5 Pillars of Islam Busy Board: Flip cards to declare the shahada, prayer mat to teach the congregational salah at home, iftar table (meja iftar) to introduce Saum Ramadan and healthy meals for iftar, Zakah box to show what to give for zakah, Ka'ba picture to introduce Hajj and ihram clothing."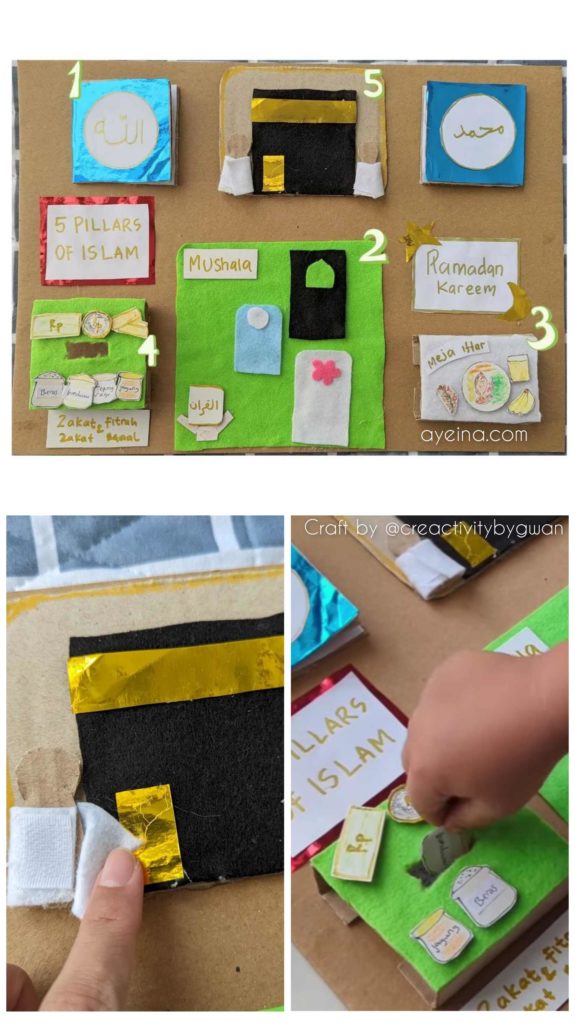 5) 5 Pillars of Islam interactive board
See @monmakesart second last and last slide for a video of this beautiful craft.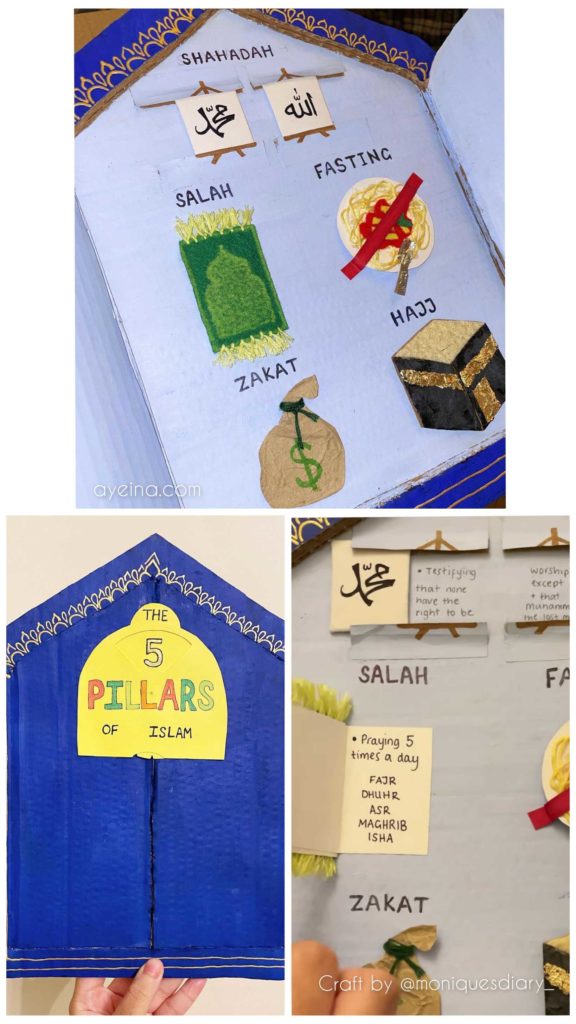 6) Cardboard racing game
Cardboard racing game into the 5 pillars of Islam by @bismillaahbooks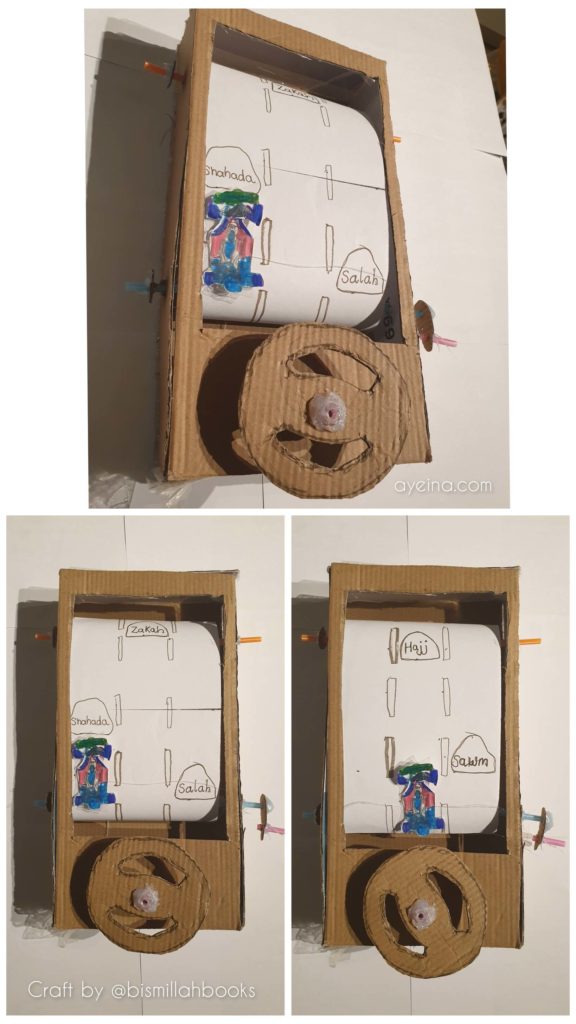 7) STEM activity for 5 pillars of Islam
@tarbiyaislamiyyahpubs's STEM – Engineering project on 5 Pillars of Islam. "The 5 pillars are represented by the pillars of the marble run structure, except for the last pillar which is a cardboard bowl that catches the marble at the end of its run. Each pillar uses a funnel for extra suspense and the slides have a piece of information flagship the key part of each of the five pillars."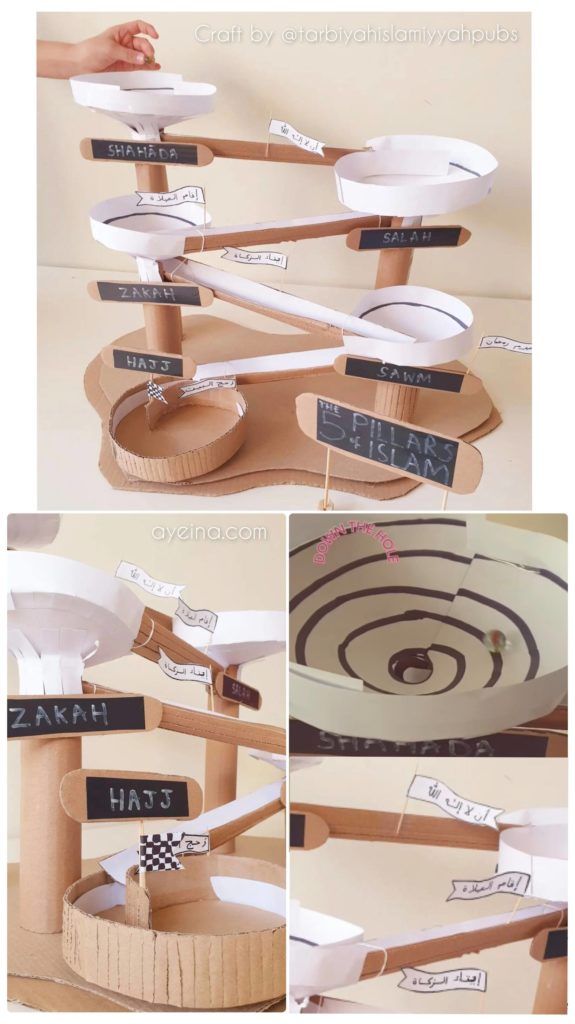 8) Shadow play
@jasiprints: "…inspired by my toddlers' fascination with shadows. It features little cut out images matching with the 5 pillars of Islam that can be projected through the box with a torch! 🔦"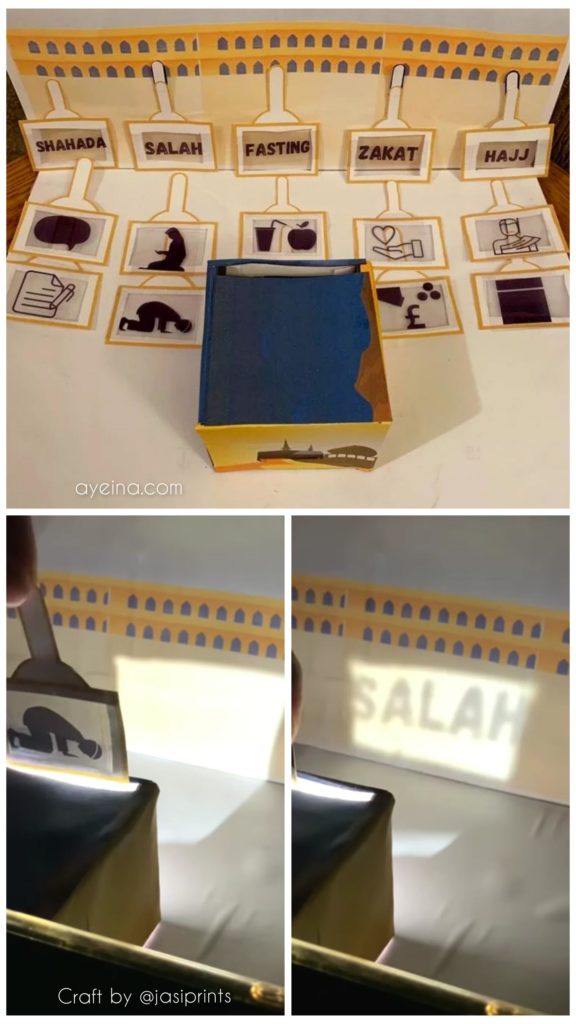 9) Teaching 5 pillars of Islam through modeling clay
Since making 3D models of Kabah have a difference of opinion among scholars, you can choose to create any other aspect of Hajj for learning instead. HERE are some ideas. And HERE.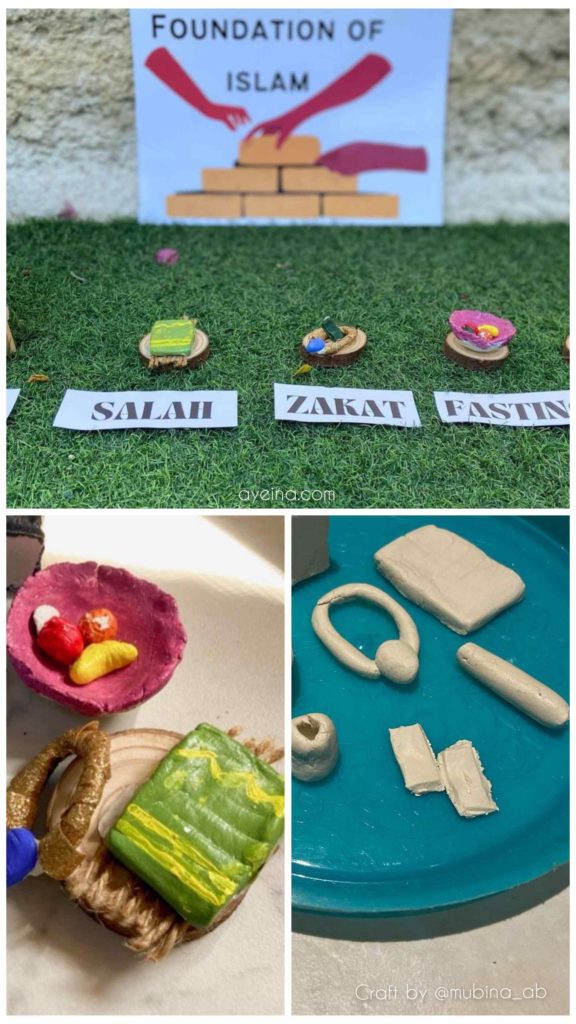 10) Nature-inspired 5 pillars of Islam
@craftyykids: "🍃NATURE INSPIRED FIVE PILLARS OF ISLAM 🍃ACTIVITY 🍂🌿. The five pillars of Islam are the core principles of Muslims that we should all adhere to and educate our children from an early age. For this activity, we use our autumn treasure – all that my children collected from their walk to Madrasa."
11) Paper plate 5 pillars wheel
Paper plates and popsicle sticks are a great versatile tool for learning. You can make the following at home too.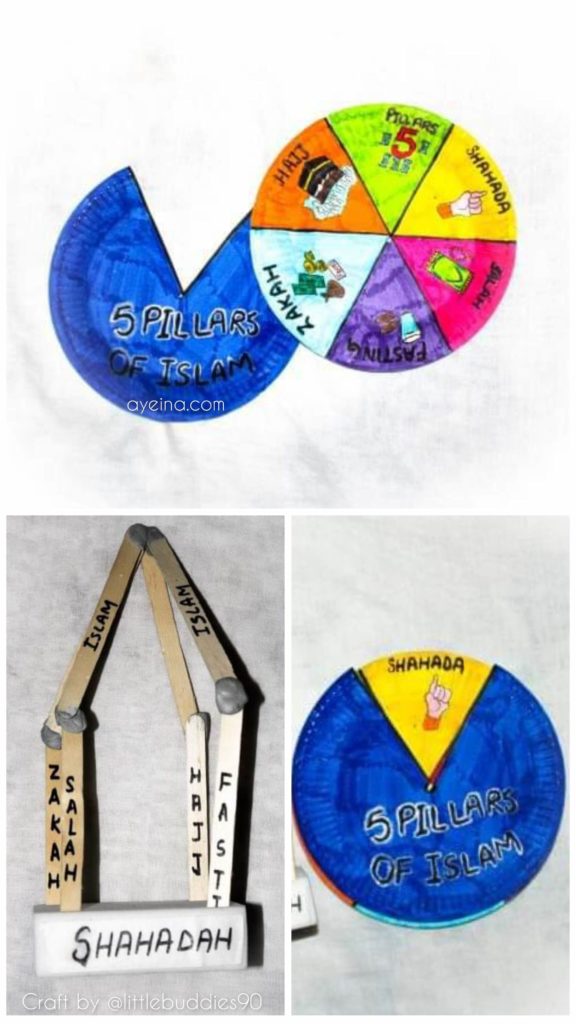 12) 5 pillar home with craft sticks and cardboard
See the second last video to find out how @ayna.nasythaa made this craft.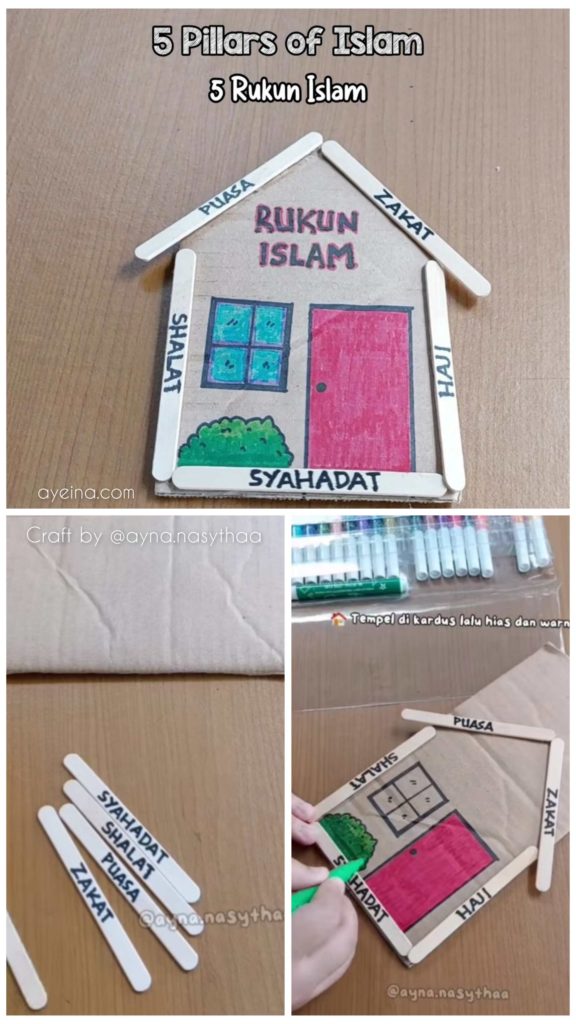 13) Interactive wall hanging
@ummuabdillaah.sy: "This is the first time for me to teach children about the 5 pillars of Islam through craft. With their tiny hands, kids help me cut, draw, color, bold, and paste. We worked on this craft for several days. So, I motivated them to be patient until their mosque was finished, while explaining bit by bit about these pillars of Islam. I made this craft like a puzzle. So they can learn while playing it by matching it. There are Arabic letters made of flannel, so my 3 year old son can feel the texture with his fingers. He is in the stage of learning to recognize Arabic letters. I used Arabic and Indonesian in each pillar because my 4 year old is in the stage of learning to read Arabic letters and Latin letters."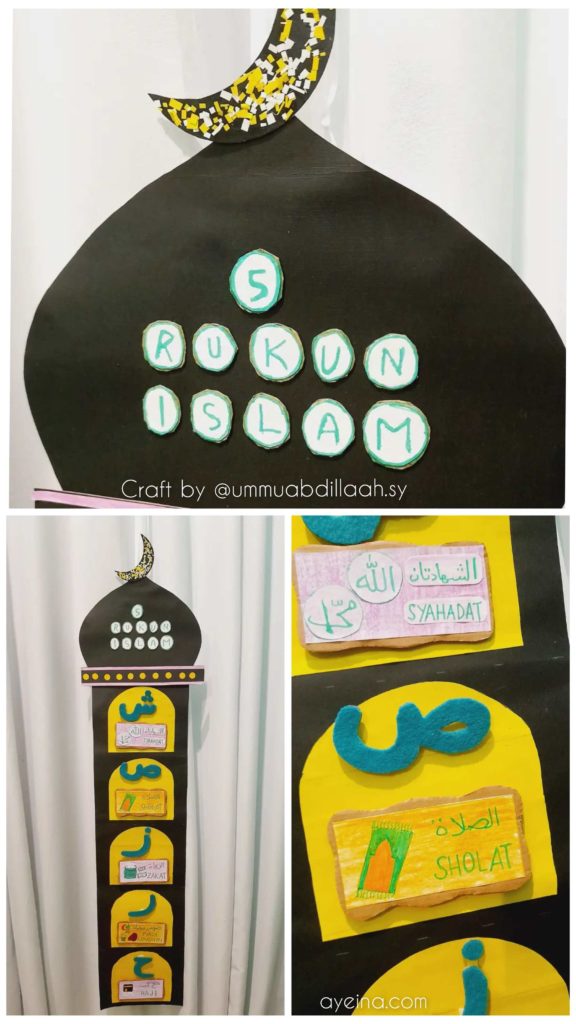 14) Light-up cot mobile
The winner of our contest really put thought and effort behind her craft (which she made for her little one) .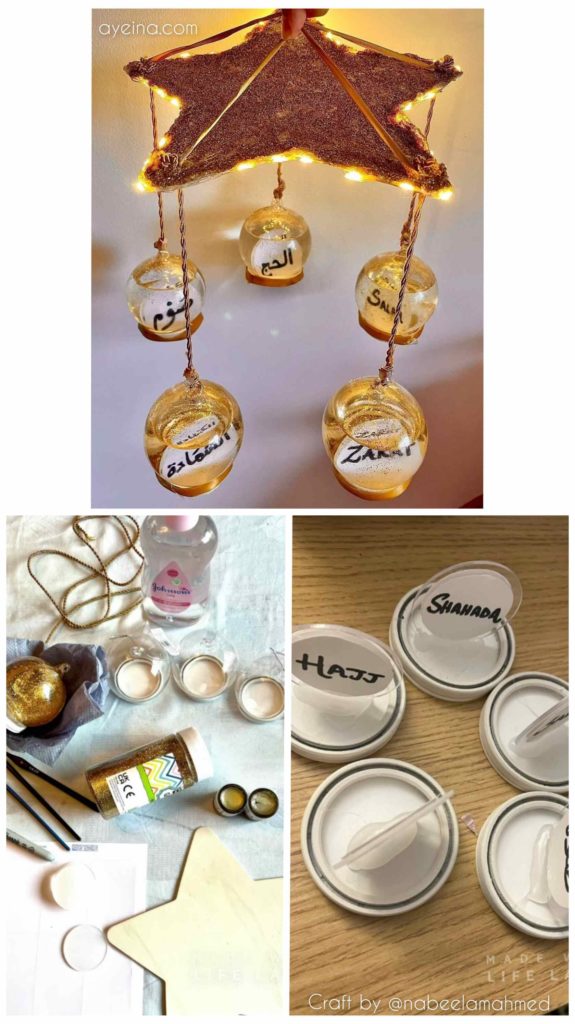 15) Tissue roll 5 pillars
If you want kids to be involved, you can print out the aspects of 5 pillars and let the kids colour, cut, and paste it.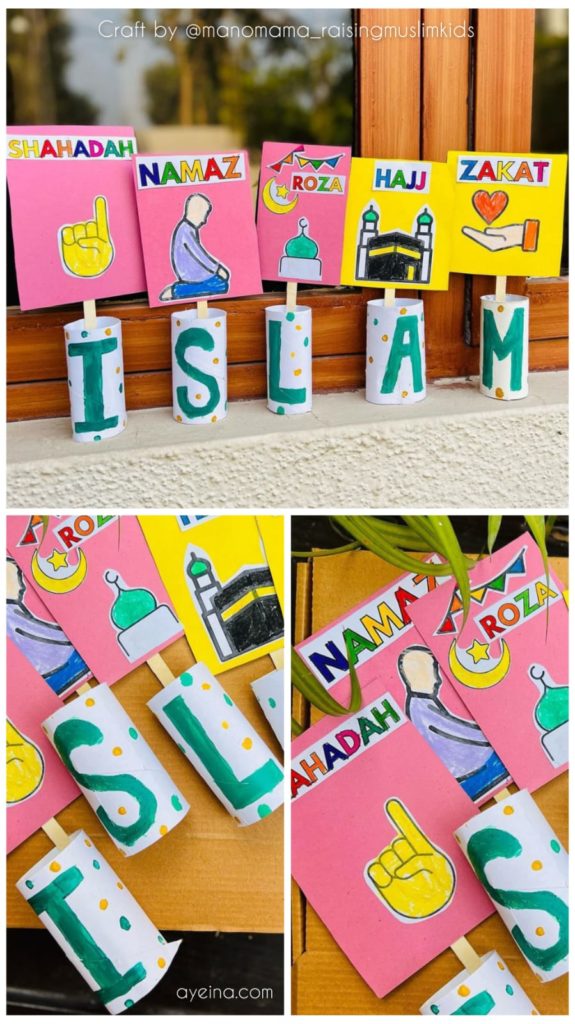 16) DIY puzzles
You can create any image into a puzzle of your own – adding as much complexity as possible.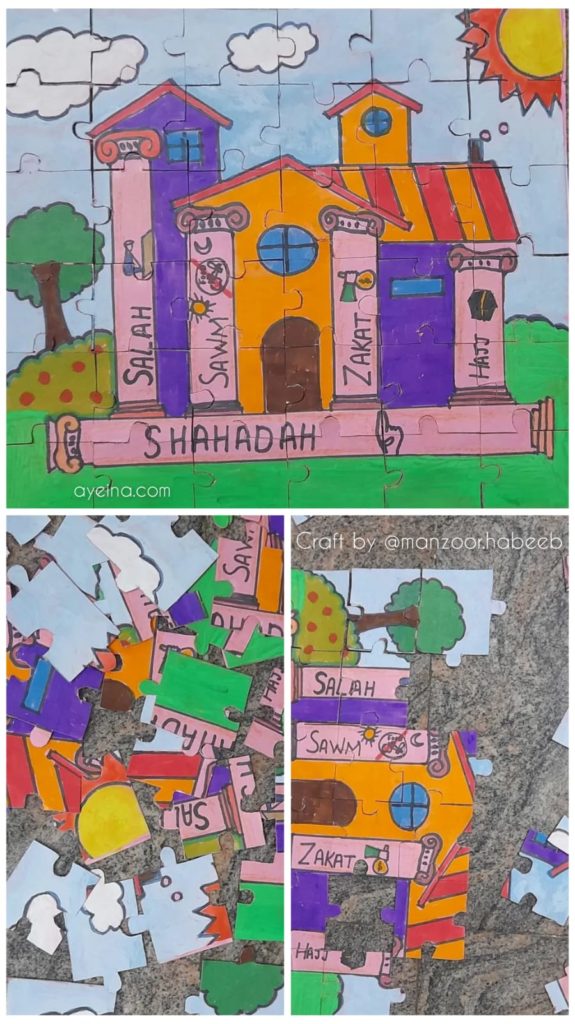 17) Infinity cube
@sumaiya.kheradia: "This infinity cube is fun and interactive. It introduces the Five Pillars of Islam and has a Hadith regarding the same, in Arabic as well as English."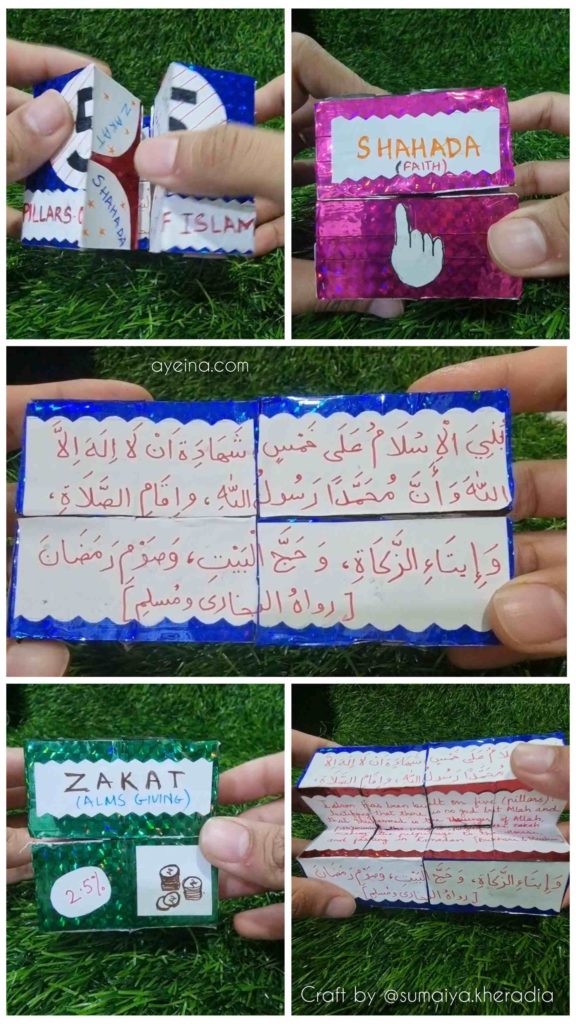 18) 5 Pillars space game
@a.asiya_ashraf: "5 pillars of Islam in space🚀 Diy space, board game 🎮 Video games, space craze, car toys, and lots of noise… Boy mom! After making this craft he was like, Mumma I don't want to watch videos anymore – it made me super happy and most importantly he learned the pillars of Islam in detail. Alhumdulilah…"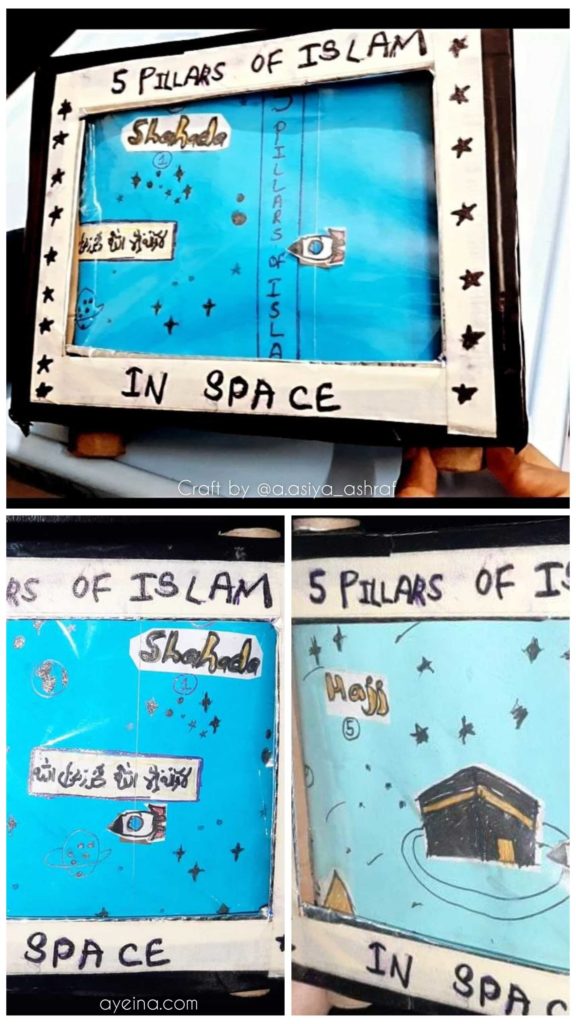 19) 5 Pillars velcro puzzle
You can help kids be involved in the process of making a puzzle for 5 pillars of Islam.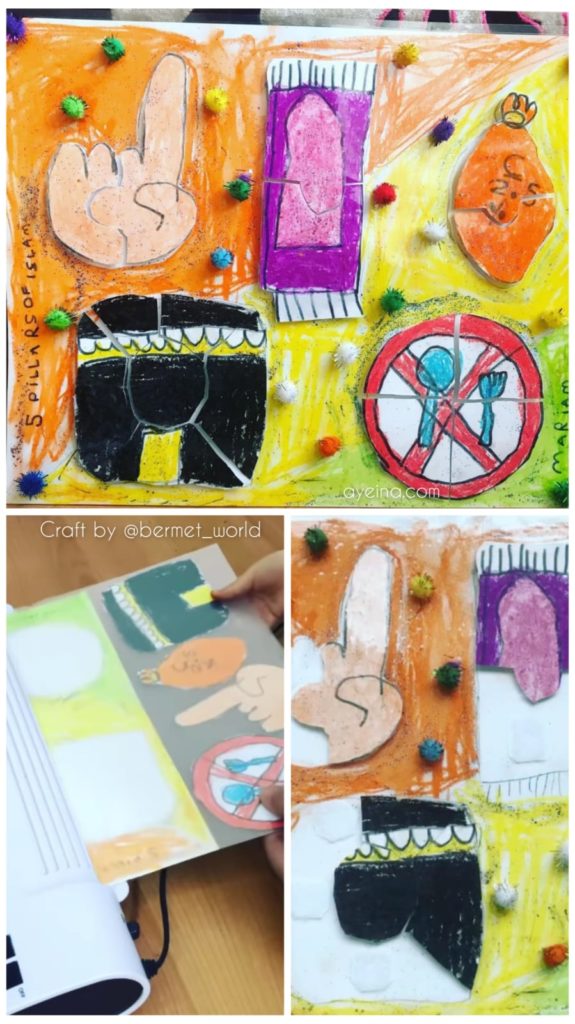 20) Cardboard wheel puzzle
@nidatastic: "I wanted it to be easy yet interesting, and thus gathered some empty cereal box, scissors, markers, paper tape, split pin, compass, and ruler to make this craft. Made circles of different diameters with the help of compass and cut them with scissors. Inserted a split pin in the center of all circle cutouts and taped them so the layers do not move while drawing and colouring. After that, I removed the tapes and let the kids enjoy this wheel puzzle craft. While teaching my kids about the 5 pillars of Islam, I briefly explained to them what those 5 pillars are and their importance in Islam.
1- Shahadah: To believe in One Allah and that Muhammad (saw) is the last and final messenger.
2- Salah: To pray 5 times a day (Fajr, Zuhr, Asr, Maghrib and Isha).
3- Zakah: To give charity.
4- Sawm: Fasting in the month of Ramadan.
5- Hajj: Muslims must do the pilgrimage at least once in their lifetime."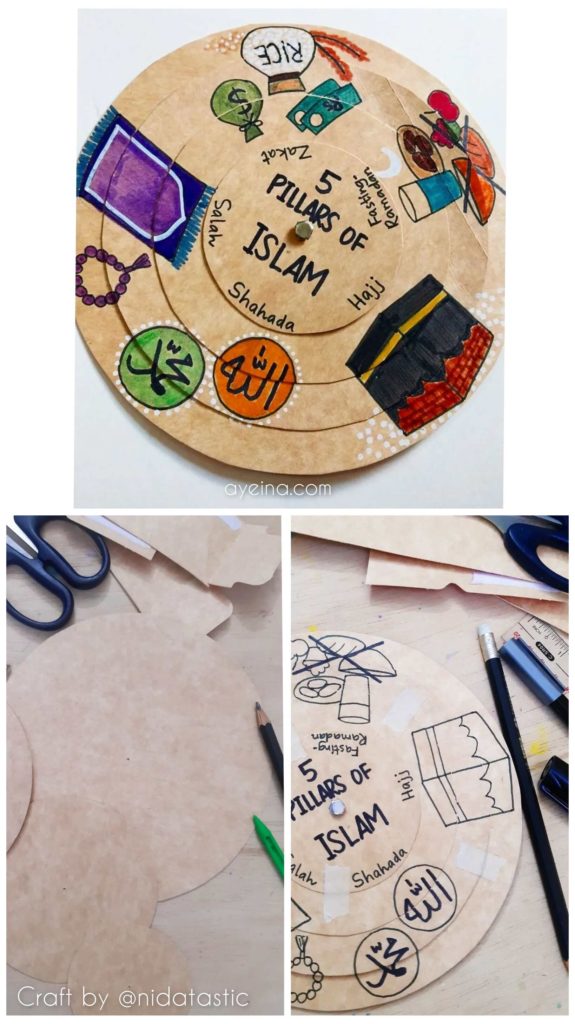 21) Scrabble tiles
@mino5075 turned square wooden tiles into scrabble game of 5 pillars of Islam.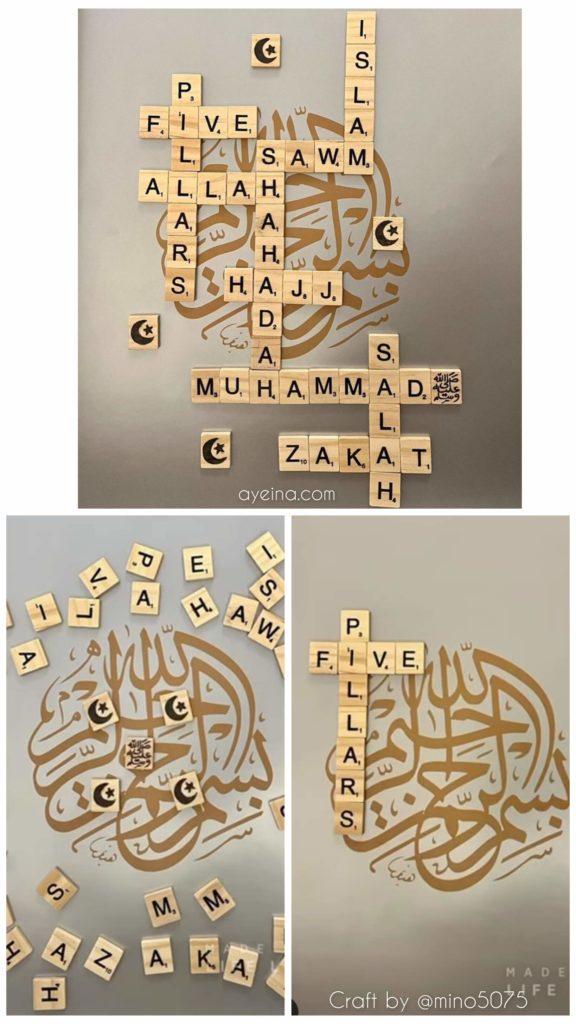 22) 'Match the pillar' game
@homeschool_journey_with_a: "Each pillar holder has three images that represent it. The game is to match each picture to the correct pillar. To make it easier for the 3-year-old we put each picture onto a matching colour lollipop stick."
23) 5 Pillars car park
Let the kids play a car park game and each time they reach a pillar, ask them the questions about that pillar of Islam.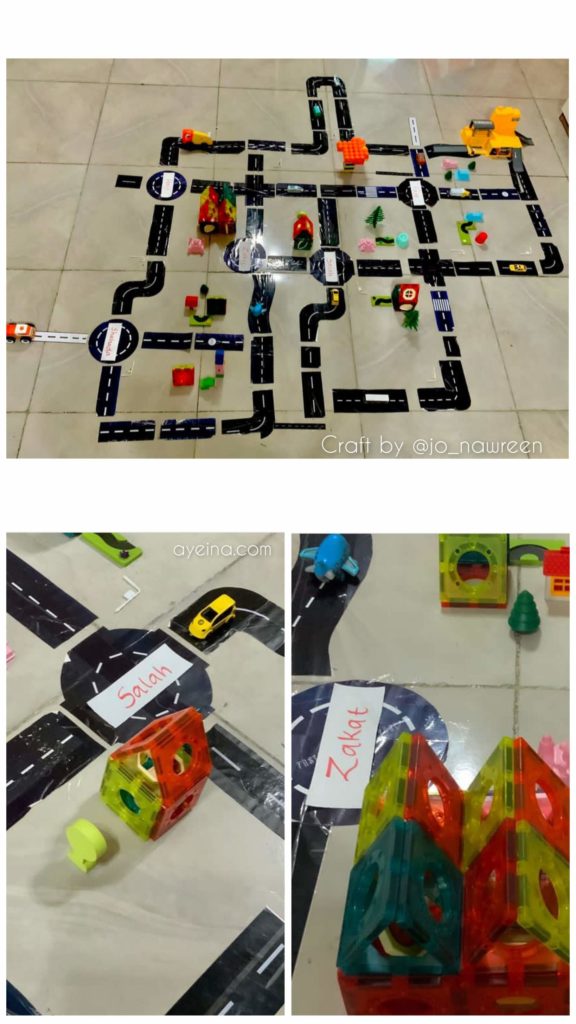 24) 'Match the number' game
See the video by @shiuww to know how the kids can play this game.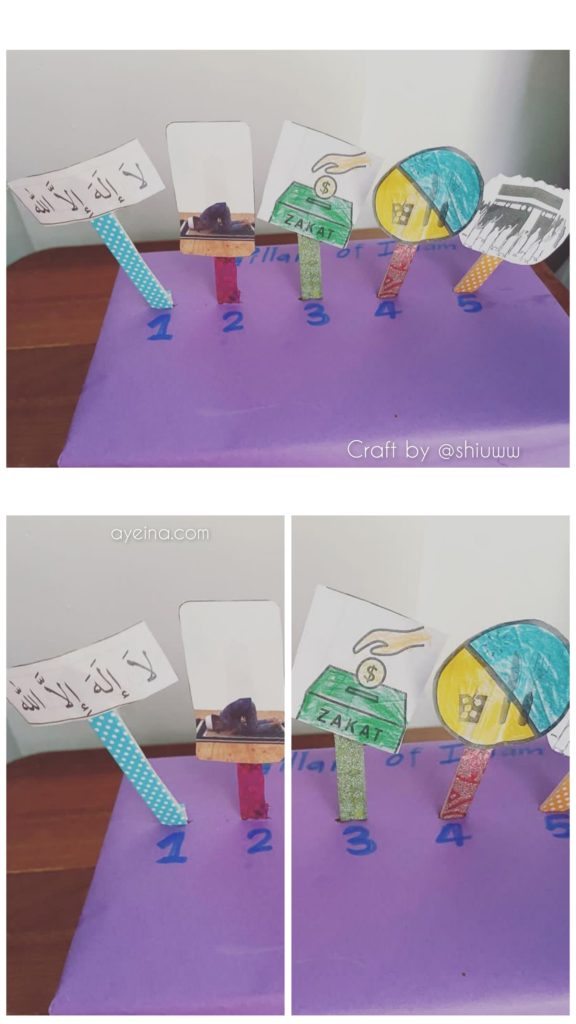 25) Textured cardboard craft
@cu6995 made 5 pillars of Islam craft with the cardboard and other materials.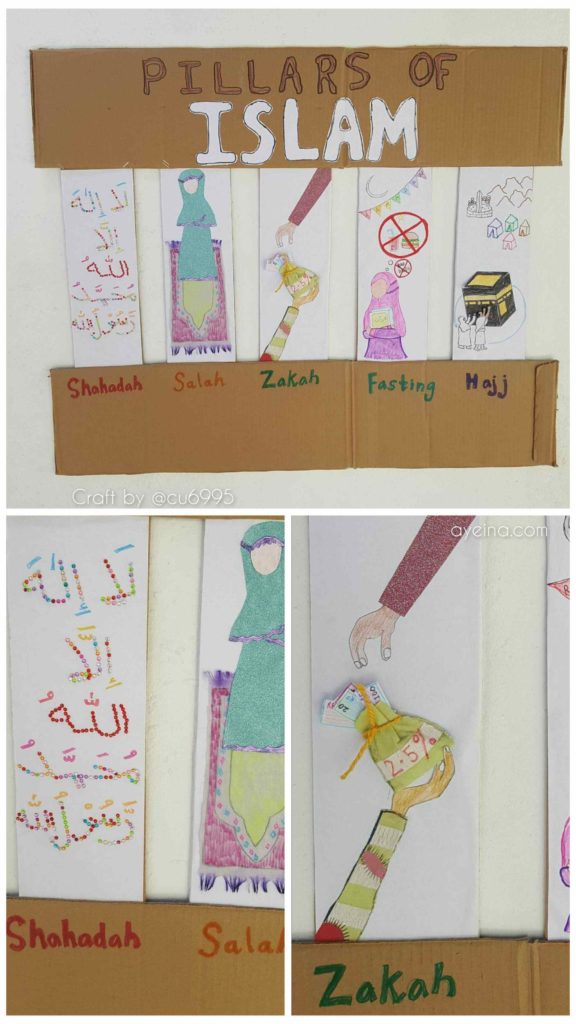 26) Wall hanging
5 pillars of Islam wall hanging by @ateeqhomeed
27) Pop-up papercraft
@meryemingedanken simple yet beautiful pop-up papercraft on 5 pillars of Islam.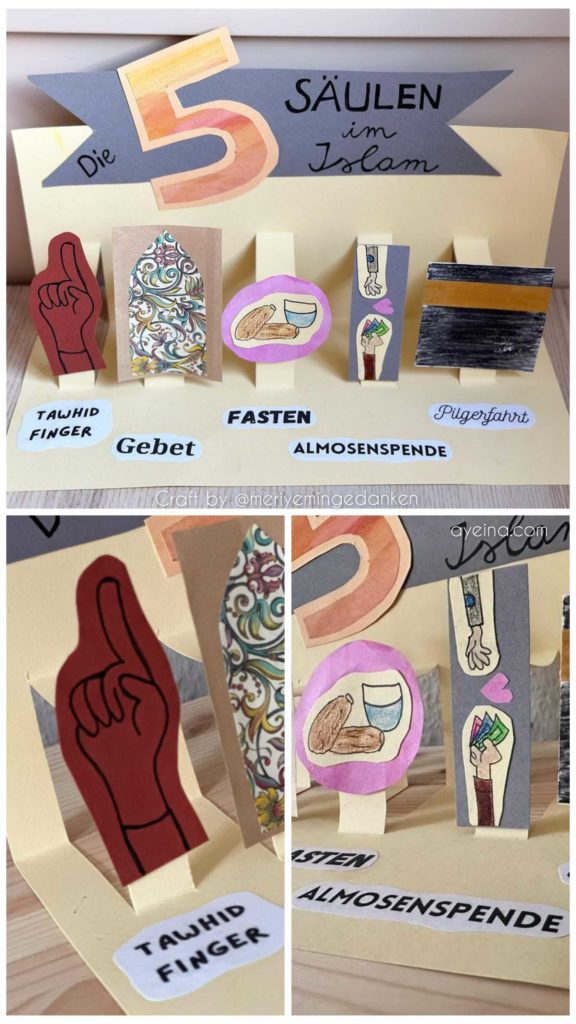 28) 5 Pillars with craft sticks and pompoms
See @syra.banu.1 creative video to see how this craft came to life.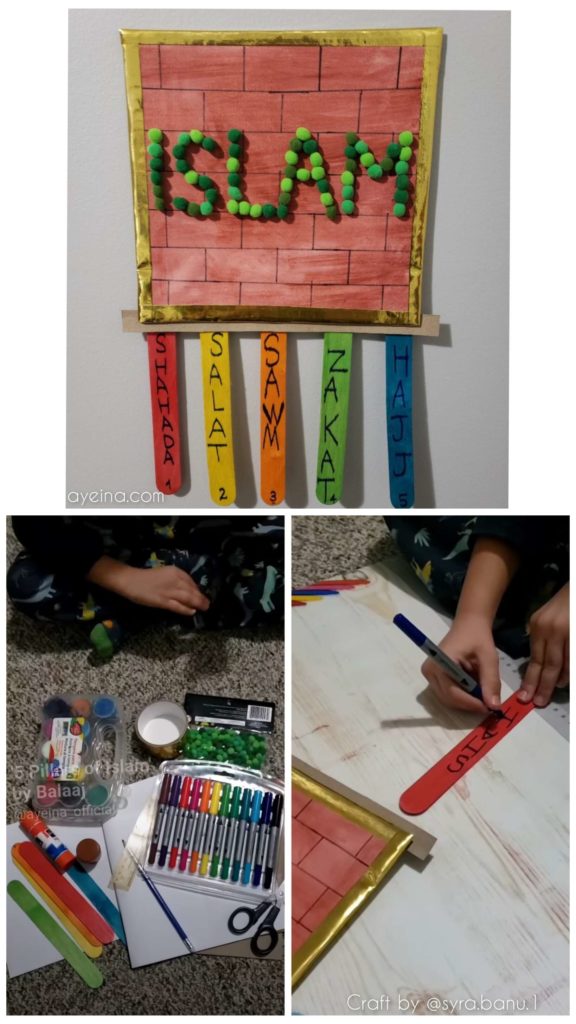 29) Interactive 5 pillars of Islam
@ayna.nasythaa says that she asked the child to arrange the puzzle for 5 Pillars of Islam. In 1st pillar, Shahada, they learnt that there is no God but Allah and Muhammad ﷺ is His Prophet. In 2nd pillar, Salah, they learnt time of shalat (5 Times a Day) through cardboard DIY Salah clock. In 3rd pillar, Sawm, they learnt what is Fasting and what is allowed and prohibited when fasting during Ramadan. In 4th pillar, Zakat, they learnt about giving the charity to some mustahiq (a person who receives zakat). In 5th pillar, Hajj, they learnt through the cardboard Hajj Maze where a small Muhrim follows the line (with the help of a magnet below) to introduce the activity of hajj. The spin wheel let the kids trace the text and then match the picture and the text.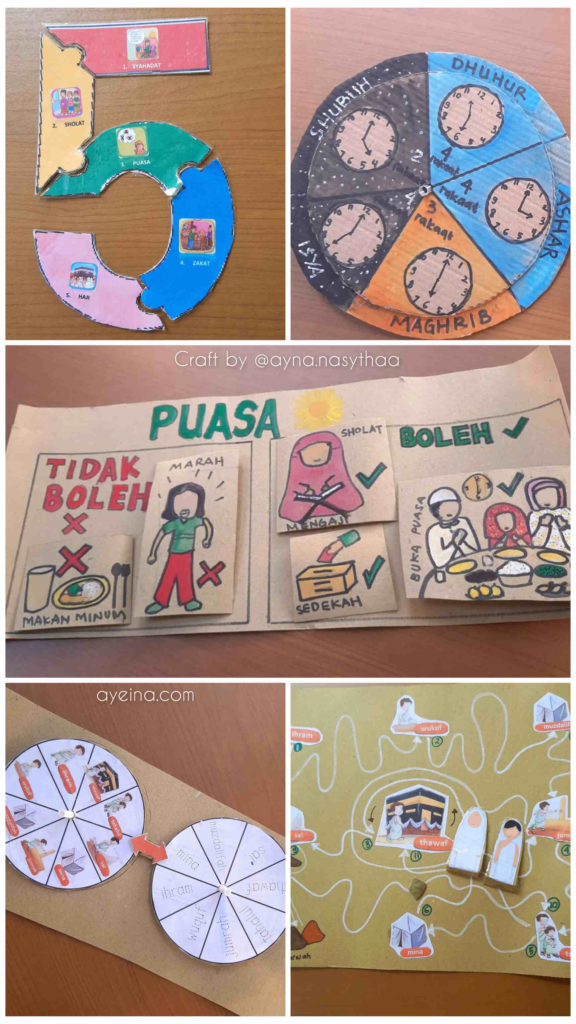 30) Miniature interactive play
@unknown____soul interactive craft shows human development – from a baby born on fitrah (shahadah) to a little girl praying (salah) and fasting (sawm) and then reaching adulthood – giving Zakah and performing Hajj.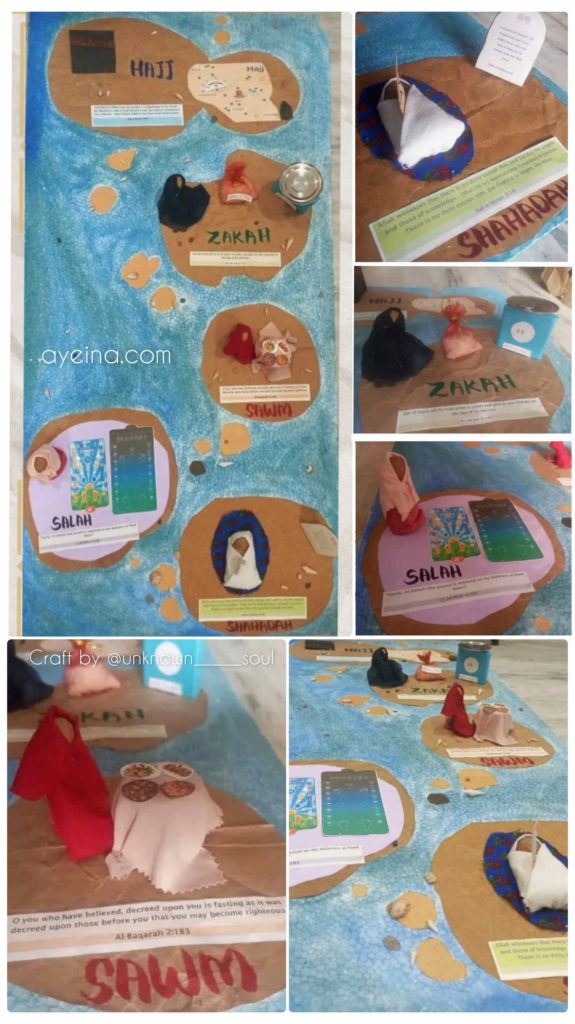 May Allah accept the effort of every child and their parent and keep the true spirit of Islam alive in their hearts. May Allah make it easy for everyone to hold on to their deen tightly. Aameen.