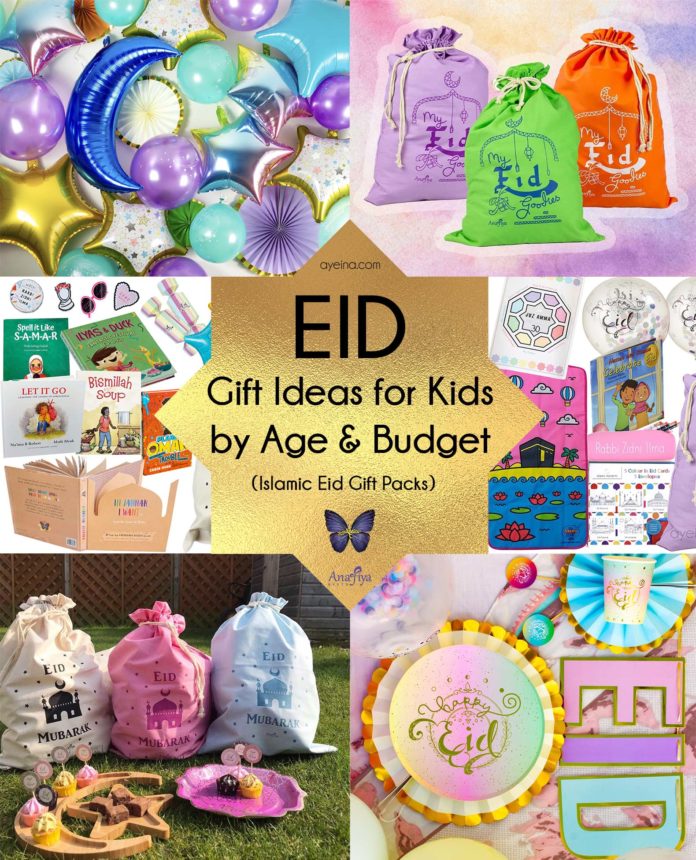 This post is sponsored by Anafiya
Eid-ul-Fitr also called the "Festival of Breaking the Fast", is an important religious holiday celebrated by Muslims worldwide that marks the end of Ramadan, the Islamic holy month of fasting.
When it comes to giving gifts, some people go all the way out (especially if Eid is the only occasion they celebrate) while some treat it like any other event of the year. Some people follow the Rule of 4: giving children something they want, something they need, something to wear, and something to read while some people let their kids decide which gifts they would like (as long as it fits their budget and values).
Eid is everybody's favourite part of the year irrespective of whatever gift-giving option they choose. There are new eid clothes for kids to wear, we gather in the congregation to offer special Eid prayers wearing our finest Islamic clothing. We have lots of amazing food and we visit our friends and family to celebrate. As this year's Eid will be celebrated slightly differently due to the pandemic because most of us are encouraged to stay at home and maintain social distancing, we can still get into the celebration mood through giving gifts in shaa Allah.
Eid Gift Pack Under £50 for Little Kids
I love reusable (and recyclable) materials. Which means you will be accumulating less waste on Eid and will be able to use it twice each year in shaa Allah.
This is one of the first board books I got for my eldest daughter when she was a little baby. It's still going strong after several kids (going from one family to another – in book swaps) and is loved by kids of all ages alhamdulillah. All the kids have memorised the book in the tune I turned these rhymes for my eldest long ago.
My First Iqra (board book by Kube Publishing) – £5.99
I love the write and wipe feature of this board book by Azizah Orin, which means that it can be used by babies (for bright visuals) and little ones alike (for tracing).
I bought this set for my second child when I got to know about the miraculous baby led-weaning. With my eldest, I used to feed her everything on my own. Puree-ing everything from scratch was an arduous task – especially when the baby used to refuse eating the food. So with the second, I let her enjoy more independence – which helped ease my task and also hers (because no more force-feeding the child beyond their capacity). My kids still use it after 2+ years and usually break out into an Alif Baa chorus seeing them.
I know this is usually shown as a bag keyring, but we hung ours on the car seat so whenever we sat in the car, kids used to press it and repeat the dua after it (it's a different story how we used to hear this dua throughout the whole journey though – but hey! They learnt the dua this way). Alhamdulillah.
I personally don't have this set, but I love how affordable it is (although wooden toys don't usually come cheap) and how it has both English and Arabic alphabets on each shape. Which means you can use them to teach: English alphabets, Arabic alphabets, colours and shapes. Apart from the fine-motor skills and hand-eye coordination. You can even flip the order of the letters to test kids' visual recognition of each.
Kids, celebrations and balloons go hand in hand! The pack contains 2 Purple, 2 Pink, 2 Yellow, 2 Green and 2 Blue pearlised Eid balloons. Latex balloons are the most affordable out of the different types available and can be filled with helium, air or water, etc.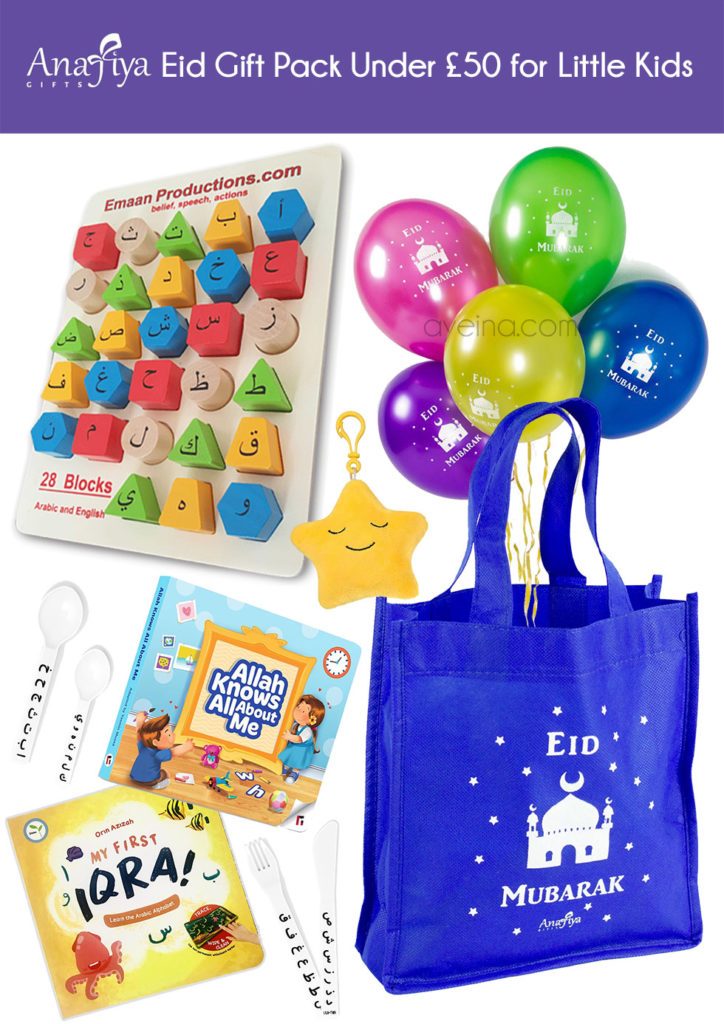 Eid Gift Pack Under £100 for Little Kids
Huge 60 x 40 cm durable sack with drawstring to close. They come in different colours and designs. I'd be using this all year round (irrespective of Eid :p)
I know this is the most expensive item on the list and all I can say is that it's worth it! My kids loved it so much, that I ended up gifting one to my nieces as well (when my eldest niece finished memorising 6 ajzaa (plural of juz) of the Quran). Allahumma baarik laha. It has been a great motivation for kids to keep moving forward in their recitation and memorisation journey alhamdulillah. When they hear the beautiful recitation, they want to improve their tajweed. When they listen over and over, they revise their memorised lessons. The mesmerizing light projection feature in this speaker makes amazing storytelling sessions at night.
Kids love puzzles and they can teach young children about the concept of how each piece is a fraction of the bigger picture. It also helps develop basic skills such as shape recognition, concentration, goal setting, patience and a sense of achievement. My toddler gets so lost in puzzles sometimes that the silence becomes equivalent to the times when they are up to no good lol.
I have linked Fatimah doll because that's what we bought personally (because of the alif baa song in this one), but they have 4 more in this range – Maryam, Hana, Muhammad and Zakariya. I've been eyeing Zakariya doll next for the Islamic months rhyme in it (also because he loves T-Rex and my kids love dinosaurs), but my eldest has been asking for Maryam doll instead for Eid. Which one should we get? 😀 I'd love more diversity in the characters if they end up making more of these in shaa Allah ❤️
I first read this book on Miraj Stories and fell in love. It is a very simple introduction of topics discussed in the Quran with some basic information in the end which makes it great for little ones who are just beginning to understand about Allah and Islam.
I have lost count of how many times my toddler has asked me to sing this book to her since I bought it. In the middle, she sometimes takes the reigns and has to go at a really high pitch with it lol. Azra Momin's illustrations are super catchy. It's not a board book, but I had to include it for little ones simply because mine is obsessed with it. If I put it in a top-shelf, she climbs tables just to take this book out of the bookshelf.
Colourful for kids and yet pleasing to the eye for adults. Win-win situation right here! Latex balloons are biodegradable – they degrade between 4 months and 8 years.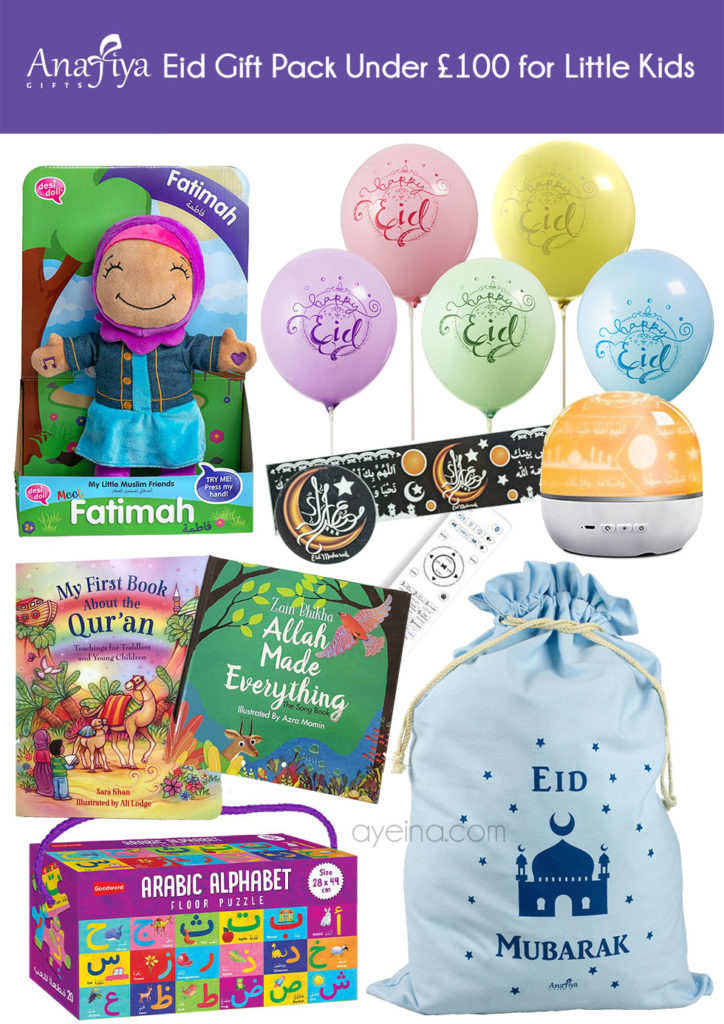 Eid Gift Pack Under £50 for Big Kids
These are bigger than they look like and can hence fit many gifts inside alhamdulillah.
This is probably the thickest colour-printed book you will find in this price range. I'm a little biased of course, but it's a result of many years of hard work. You can read all about it HERE. The aim of this journal is to enable a child to understand the Qur'an and form a deeper connection with Allah as a result. This book bridges that gap by providing the kids with a comprehensive colourful tool to improve their knowledge of Arabic – particularly the Qur'anic Arabic, reflect upon the Qur'an, and apply it in their lives in shaa Allah. It not only helps the parent/teacher track a child's complete Surah (recitation, memorisation, or understanding of the Qur'an) but also helps track their progress Aayah by Aayah. Juz Amma Journal with big clear Arabic text and word-by-word meaning for kids is the first part of the 'Juz Journals' Project, approved by the scholars.
Cute Islamic stationary, yes please!
If you'll be spending most of your Eid at home because of the current situation, you know that a book will come in handy for the introduction of this bi-annual celebration. You may even start reading this book to children one or two weeks before Eid each night. It can help them get excited and look forward to Eid in shaa Allah.
I would have definitely added the original My Salah Mat here if the budget allowed as we've been using ours for more than 3 years now alhamdulillah. It will make a perfect Eid gift for the kids. I have lent it to my friends multiple times too and technically, its sound system should have stopped working based on how frequently it has been used all these years, but alhamdulillah it's still going strong. The travel Salah mat can be used in rain, on a wet floor, and can be cleaned easily through wiping. It is friendly for travel purposes as it reduces the need to wash it.
It's important for kids to feel the spirit of giving on Eid too (instead of just receiving all the gifts). So let them colour in the Eid cards and help them give it to their neighbours, family members or friends that they may get to meet on Eid.
You will probably find the kids shaking these colourful confetti balloons all day.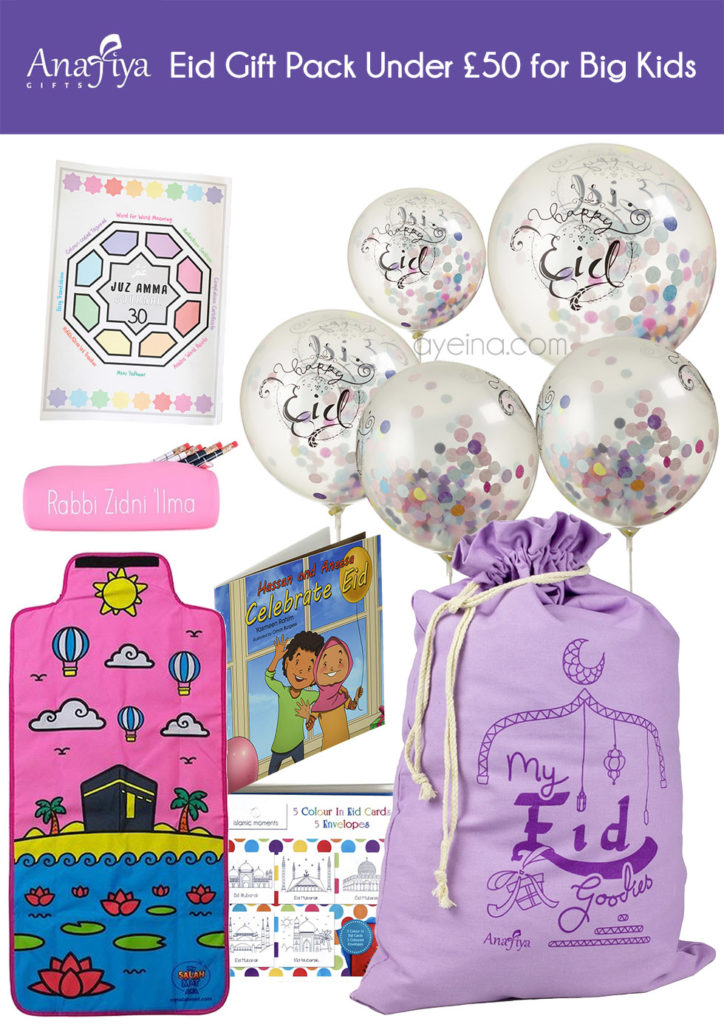 Eid Gift Pack Under £100 for Big Kids
This has to be my favourite among all the sacks!
I personally started using this with my 3 year old (who is 5 now and loves exploring art techniques in the journal – we have filled 3-4 journals by now lol). It has brought so many positive changes in her life alhamdulillah that I try to never leave this ritual even when I'm bone-tired. You can read all about this lift-a-flap shapes book with fold-away cardboard mosque cover HERE. The journal has stickers, stencils with 60+ art techniques and all about Jannah divided into 5 human senses.
I'm not sure who'll be using this more – kids or me 🤔 (I have a big stash of washi tapes and my kids keep asking for them. I know this time it will be me asking from them 😆).
Self-assemble flat packs of 6 can be filled with candies, dates, small toys (perhaps wooden peg dolls), gifts & much more! Kids can give their friends, neighbours or family members Eid favours.
I haven't read other books by the author yet, but my kids love this one because they find the duck so funny. We live in a multicultural neighbourhood and this book opened up many of those discussions on what we, as Muslims, celebrate and what everyone else celebrates – Christians, Jews, Hindu etc.
It is an empowering story of persistence and believing in yourself! It is about a girl who moves to America from Syria. A class bully keeps making fun of her accent. So she decides to enter the school spelling bee to show how a lack of accent doesn't prove someone's intelligence.
Bismillah Soup (book by Ruqaya's Bookshelf) – £9.99
Bismillah Soup is a story about a young Somali boy who ventures out to gather his community together for a great feast at the local Mosque! His journey leads him down a path of discovering what community, generosity and reliance upon Allah truly mean.
Although the book is usually introduced as a book to teach kids about forgiveness, but it's so much more. It's about labelling and teaching them their emotions in general. How each emotion of a child is valid, but how each emotion can be expressed in a way that is healthy. My 5yr old has memorised this book from cover to cover even though it's quite a long book and not a song (which makes it easier to memorise in general because of the rhythm).
I have this book in the format it first came. "The Muslims". Kids found it hilarious and were giggling all the way through. It's hard to find good books with clean humour. I don't have the new edition of this book, so I reached out to @muslimkidsbooknook for the review and you can read what she has to say HERE. The kids want other books in the series now. In shaa Allah on our list next!
Because stickers are life!
Foil balloons can last up to two weeks compared with the one or two-day lifespan of latex alternatives.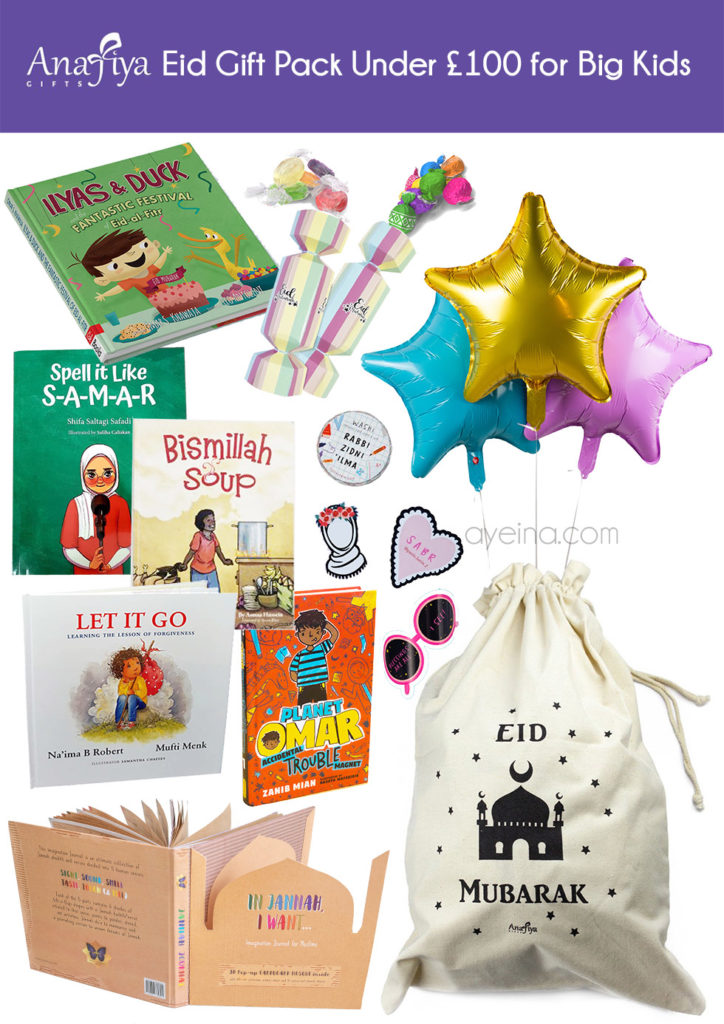 Other than that, a picnic in a less crowded place (due to the current restrictions), BBQ in the garden, backyard treasure hunt, any sports/game to play with the whole family etc. can be a great addition to the celebration. You can find more ideas HERE.
What to give older kids on Eid?
It's best to give them Eid money – to not only help them make their own wise decisions but also to give them an opportunity to manage money – teaching them financial responsibility in the process. Alternatively, you can make notes of what they demand all year round and if you have the budget for it, you can gift it to them on Eid.
What to gift yourself / adults on Eid?
After all, you deserve to be treated too! Perhaps a book, a reminder, or even a trip to the spa! The same goes with your spouse, friends, siblings, and other family members, etc. I've personally gifted Quran Moon Lamp to my friends and parents on Eid in the past. But you know your loved ones and their interests the best!
What kind of gifts do YOU give your kids on Eid? I'd love to know in the comments below!