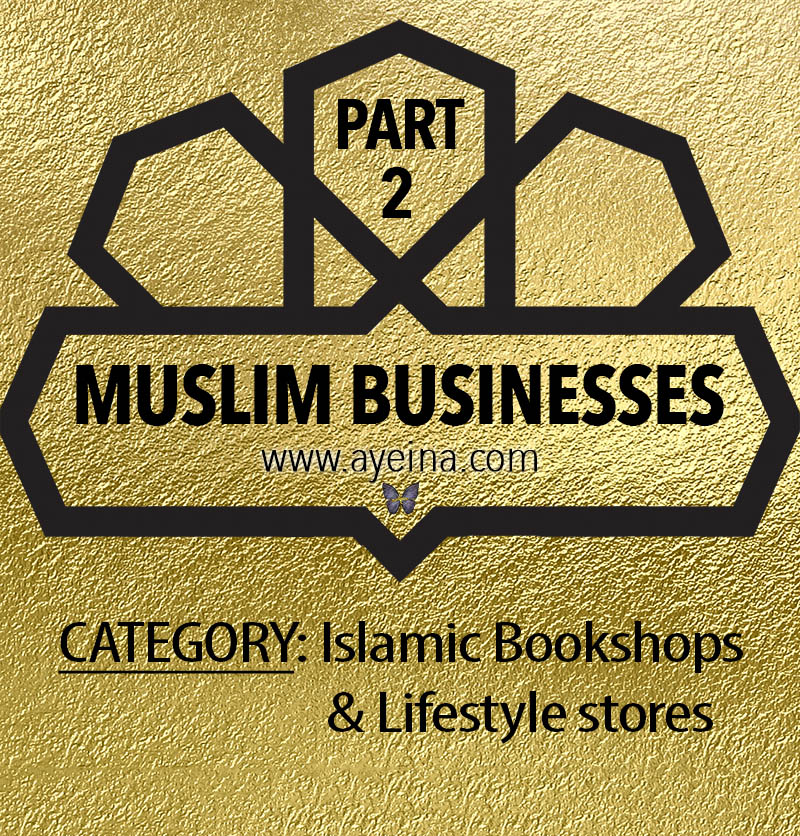 ——————————————————————————————————————————————————————————————————-

PART 1 in "SUPPORT MUSLIM BUSINESSES" series: Hajj/Umrah products for Adults & Kids' learning

——————————————————————————————————————————————————————————————————-
We buy products day in and day out. Without even thinking at times where is it coming from? Whose economy is it helping? Is the business ethical? Is it halal? etc. etc. Although Muslims aren't perfect so you should do your research of course, but generally, supporting small or big Muslim businesses can bring more Islam-focused products in the market and how cool would that be. I mean, don't you look at all the products and start to think what would its Islamic version look like? I do it all the time.
But of course, not all of us have that kind of investment so what we can do is support these businesses, so they can invest in better products in shaa Allah. And after all, we're buying products anyway so why not do something good with the investment we're putting in. 
On a side note, we've been working on a long researched list of Muslim-owned businesses to support (or even non-Muslim businesses that are ethical and anti-apartheid etc.) as alternatives to products we normally buy from the stores upon common availability.
We have already published one in a category of Hajj/Umrah – Muslim businesses that you can take advantage of in the Hajj/Umrah season. Or even outside the season to simply learn or teach your children about the fifth most important pillar of Islam – Hajj! 
Following is a list of Islam-focused shops in general, who provide pretty much everything you need, to live a more Islam-focused life. From books to clothing to decor etc. 
Please note that the following stores are ONLY those stores that carry multiple products from multiple sources. There are many companies (including ours) that sell wonderful books and stationary products etc. but they only sell their own products. We will explore that category later in shaa Allah. 
P.S. If you are a business yourself, this list can help you connect to other Muslim businesses out there too!
List of Physical Islamic stores:
Worldwide: Dar us Salam (Probably the most famous – You will find them in almost every country you visit – Dar us Salam Australia has stocked our #AlhamdulillahForSeries as well), Al Balagh (USA, UAE, Pakistan), Dakwah Corner Bookstore (Malaysia, KSA, Nigeria, Philippines), Moultazimoun
Australia: The Islamic Bookstore , Emaan, Islamic Books and Clothing
Canada: The Date Palm , Shop Modah (they have recently stocked our gratitude journals as well) , Modentify
France: Maktabatouna , Iqra Shop, Maktaba Islamia
Germany: Muslim Shop, Bibliotheca Islamica
India: Islamic bookstore, Idara Store
KSA: IIPH Bookstore
Malaysia: Alim Kids Bookshop
Nigeria: Tarbiyah Book Plus
Pakistan: Da'wah books , Alhuda
Singapore: Swing by Suhaim , Wardah Books , Salaam Media
South Africa: Cii Stores
Sweden: Arabian Shopping Zone
UAE: Hudhud, Dar al Hayat
UK: Islamic Impressions , Simply Islam , Blackstone , The Islamic Establishment , Knowledge & Wisdom Islamic Bookstore , Amsons , Dar-ul-Kutub , Living Islam , Zamzam Direct , Salafi Bookstore , Furqan Bookstore, The Orient, AlSaqi Books, Al Hidaaya, Hujjat Bookshop, Almanar Islamic Shop, Islamic Foundation
USA: Siraj Store, Mubarakville , Islamic Bookstore , East Essence , Islamic Place , Kitab House, Day Break , AlKitab, Jarir Books , Hilal Plaza, Iqra, My Islamic Books, IIIT, Sharaaz
List of Online Islamic Stores:
There are thousands of such small businesses who are selling Islamic products either from their home (Etsy, amazon, eBay, social media, websites etc.) or have large warehouses from where they ship you the products. But mentioned below are those we know of and who sent us the description of their businesses upon demand. Alhamdulillah. 
Most of them offer worldwide shipping but we're mentioning their countries of origin, so you can weigh the shipping time/costs etc. 
Australia: Muslima Shops, Oh So Halal
Brunei: Little Caliph
Canada: Kaamilah Boutique
India: Online Islamic Shop, IBS Bookstore
Malaysia: Smiley Soul Store, Early Learning Shop, Zaahara
Middle East: Hadiya Shop (UAE), Desert Store (KSA), Ibdaa Store (UAE),  DeenSquare (UAE)
Singapore: Mifsha Kids (they have recently stocked our gratitude journals as well), Muzaar Intl. , Hayyan Kids, Homely Hammock, Buat Si Manja
UK: Ummah Central (running since 2009), Ibraheem Toy House , My Islamic Bookshop , Silver Lining , Anafiya Gifts, Deen & Dunya, Islamic Pearls, AlFaatih Publishing, Al Muttaqun, The Islam Shop, Little Muslims Toychest
USA: The Souk kc , Karama , With a Spin , Noor Art, Mecca Books, Taqwa Media, Online Islamic Store, Online Islamic Book
We've been trying to replace the usual products in our home to more ethical ones. Especially trying our best to support ethical Muslim businesses out there. But of course, it takes a massive amount of research and effort. But in shaa Allah purging one step at a time. Previously, this list was a part of part1 from the series, but since not all of these stores carried Hajj/Umrah products and the list kept expanding, we had to make it a separate post altogether.
If you know of any Islamic lifestyle store or Islam-focused shop, then please leave a comment below and we will keep updating the list accordingly.
Next parts include categories like beauty products, food products, etc.
Subscribe to receive the next posts once they're published or you can like the Facebook page to receive the updates in shaa Allah.
FB Comments
comments