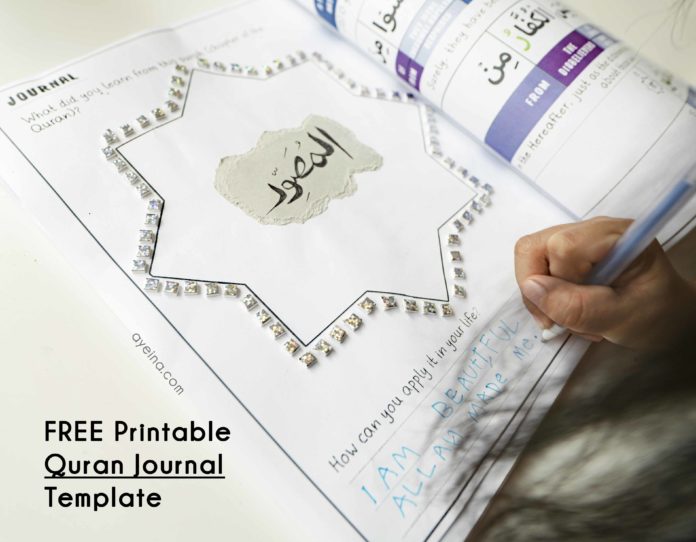 ---
Previous contests: 2015 , 2016 , 2017 (a), 2017 (b), 2018 (a), 2018 (b), 2019 , 2020
---
This year, our annual Islamic contest is based on our Juz Journals. You can download the printable for free HERE. Your entry SHOULD be based on this printable only. Other Quran journaling spreads won't be considered as entries for this contest.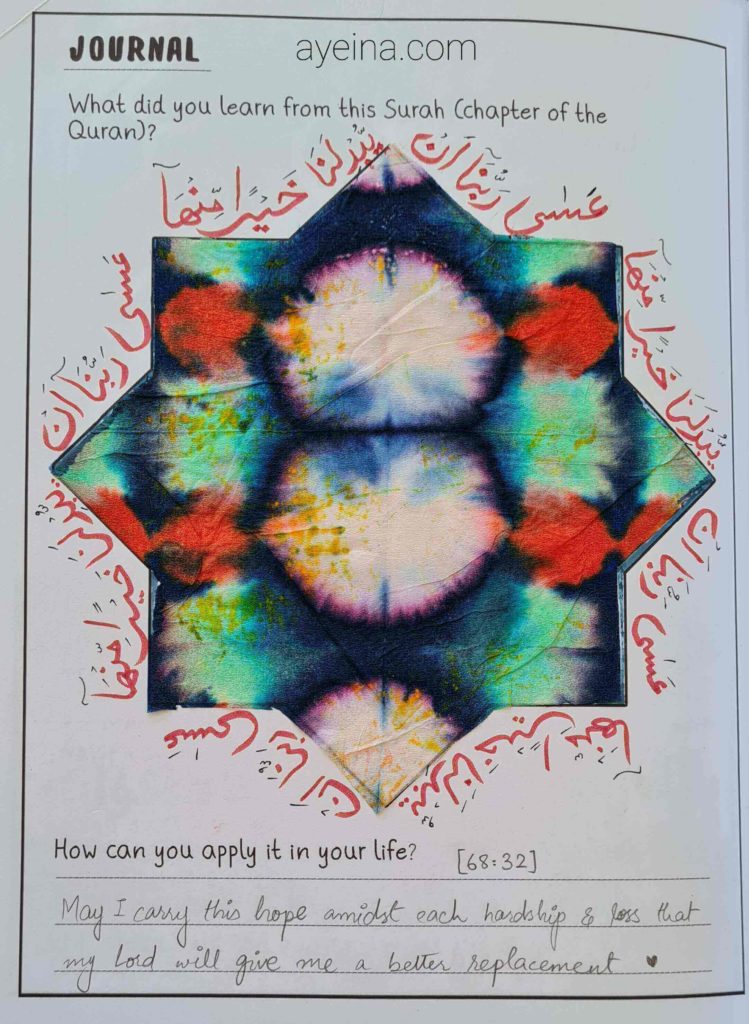 Art/Creativity Contest
The entry period starts from 6th December 2021 and ends on 23rd December 2021.
Voting will start on 27th December 2021.
Winners will be announced on 3rd January 2022 in shaa Allah.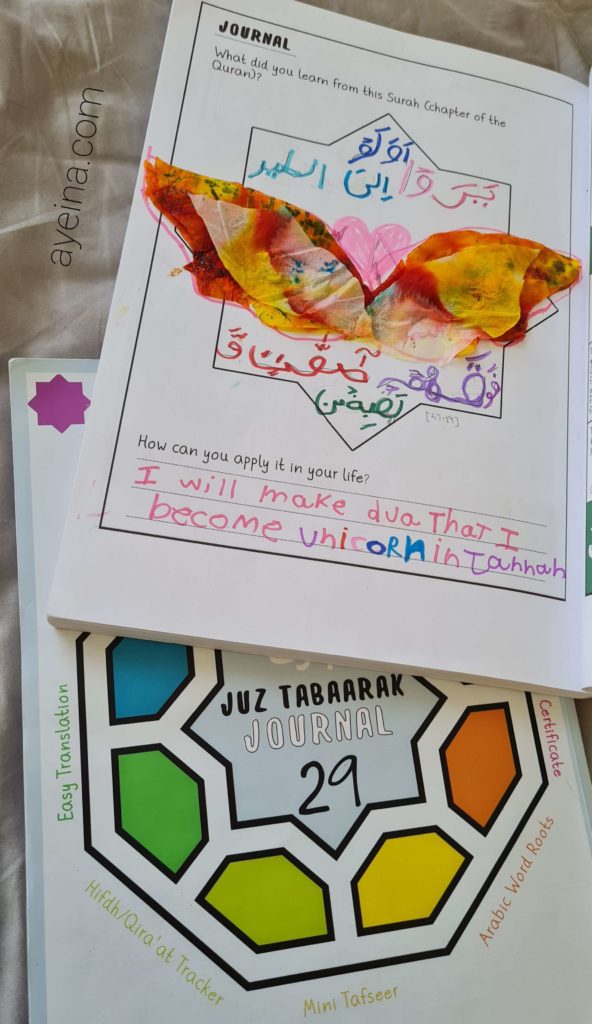 Simple Steps to Enter
The contest is not endorsed by any social media channel (IG, FB, Twitter, etc.)
1: Post YOUR or/and your CHILD's creative Quran journaling (of your fav aayah) on Social Media:
PLEASE NOTE that artwork with animate beings or the depiction of unseen (angels/satan/hell/heaven etc.) will not be qualified. The contest is about design and textures.
Instagram is most suitable for submissions because Facebook doesn't coordinate well with tags (and in the past, we ended up losing a lot of entries).
If you're entering through Instagram, then the profile on which you post must be public. If you're entering through Facebook, then you should only be submitting the entry as an image in the comment section of THIS post. If you're entering through Twitter, then it should be in the form of a retweet so we don't miss your entry.
If you are submitting on behalf of your child, please mention the age when you post their creative submission (you don't have to mention their name if you don't want to). You or the child may use any medium of art and craft and can submit either as an image or a video. Your design should revolve around the printable to help us know that the entry is specifically for this contest.
2: Tag and Follow AYEINA:
You should tag AYEINA in the image and caption (both) lest we lose your tag amidst the plethora of other notifications.
(Please do not email or DM (Direct Message) your entry – it won't be accepted as it gets hard to track that way. The submission should be posted AFTER 5th December 2021.
3: Tag at least THREE friends:
(This applies when the contest starts on 6th December 2021 in shaa Allah). Even if you don't win, you'll still be spreading love of the Quran around (and what an honour that is!). You can tag more than 3 as well (may Allah make it sadaqah jaariyah for you) 😍 Follow AYEINA and the collaborators to stay updated! Please make sure to complete all 3 steps.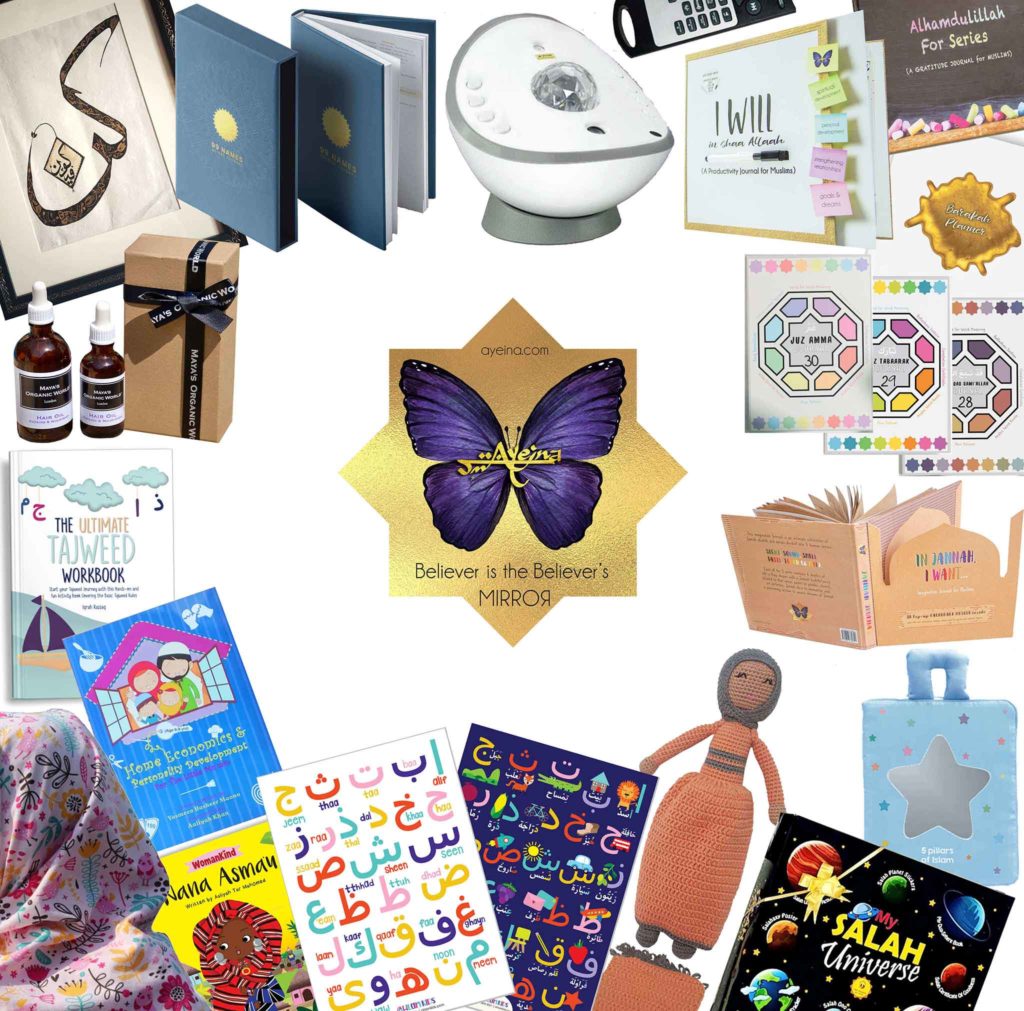 Prize Bundles
All these amazing businesses have come together to give you a great start to a new year. Prize shipping will be free of cost no matter where you are in the world (if you don't receive your prize within 4 working weeks, please email us at submissions@ayeina.com).
Special Prize package:
One of the winners with the most votes (from judges and audience) will receive the following prize package:
Quran Crystal from QuranCo
Fabric quiet book and 'AlhamdulillahForSeries (Gratitude Journal)' from

AYEINA

and 5 Islamic Journals + 1 Planner by AYEINA from Muslim Children Store: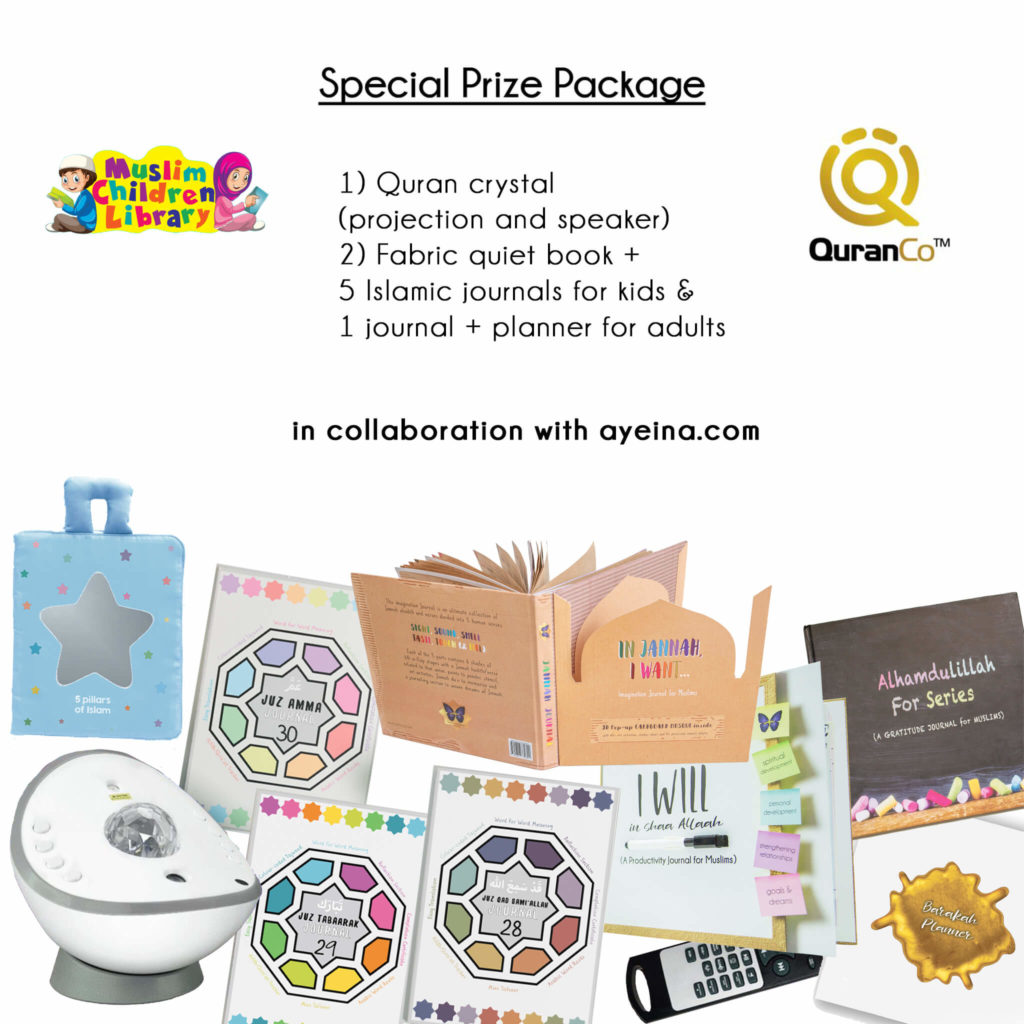 Adults package:
One of the winners (13 and ABOVE) with the most creative Quran journaling will receive the following prize package:
Kids package:
One of the winners UNDER 13 with the most creative Quran journaling will receive the following prize package: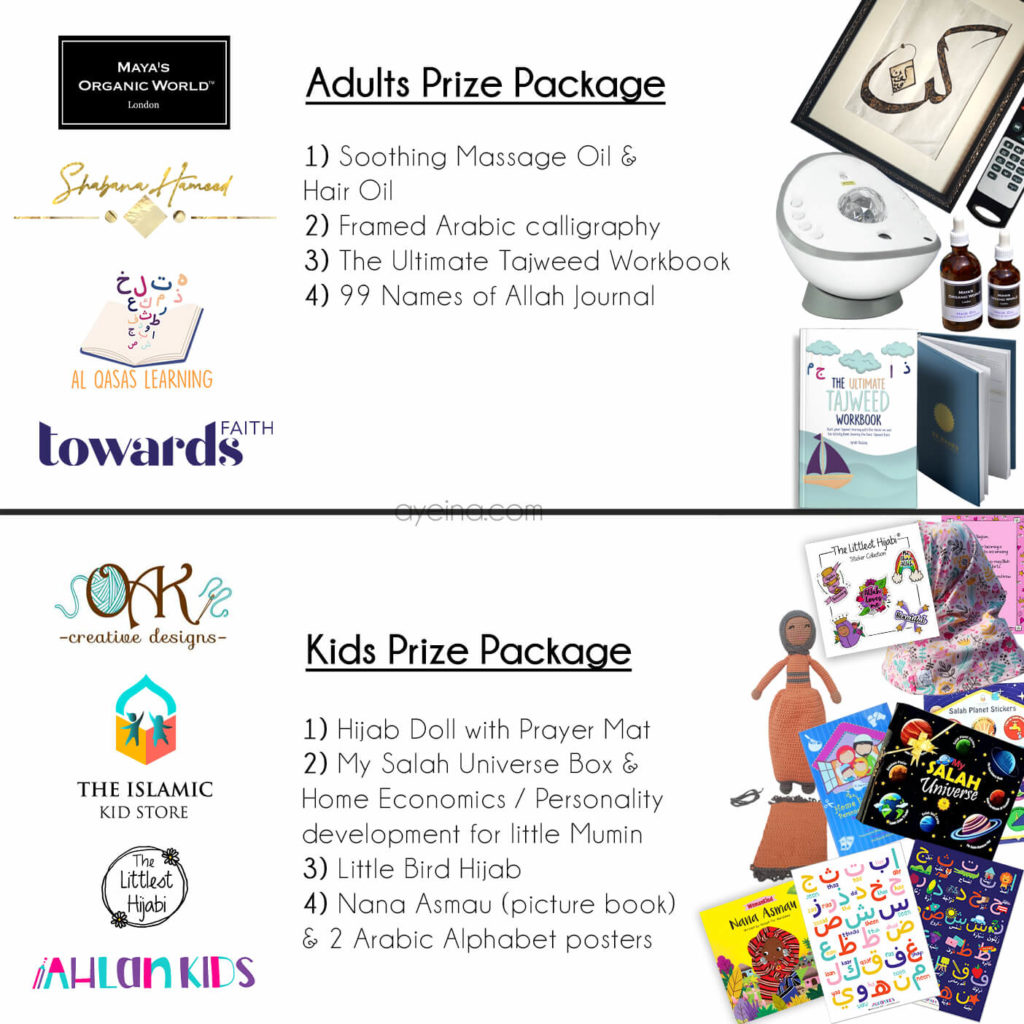 Finalists (Adults Category)
The finalists have been chosen with the help of all the judges involved. Please help us shortlist further because it's SO hard to choose three winners out of these 2 categories (18 finalists):
You can see the close-up look of each (finalist) masjid on Instagram by clicking their usernames (in no particular order): 1 by @bermet_world, 2 by @brb_raisingkids, 3 by @crafting_eden, 4 by @sadia.zahid.161, 5 by @i.s.adventures, 6 by @rafeeq_dxb, 7 by @shaaista_mahomed, 8 by @ibflearning, 9 by @petals_of_faith, 10 by @sumaiya.kheradia
Special mention: @farwahghaffar
Finalists (Kids Category)
You can see the close-up look of each (finalist) masjid on Instagram by clicking their usernames (in no particular order): 1 by @farah.shaheen.92, 2 by @artheartandlife, 3 by @coraltreekids, 4 by @thelittlejourney2, 5 by @gems4littlehearts, 6 by @craftyykids, 7 by @scrapbookbyhera, 8 by @ghazala317, 9 by @free_bee43, 10 by @officialmeem
Special mention: @abida.shahid1
Other Details
* This competition is open to everyone around the world regardless of age or nationality.
* Multiple entries are allowed as long as they are in a different post each time, but one cannot win more than one prize bundle (multiple submissions just raise the probability of winning).
* The entries become AYEINA's property and may be used in Ayeina's website/social media content. By participating, you agree to be fully and unconditionally bound by these terms and conditions.
* Winners will also receive a certificate of excellence/ appreciation that they agree to post on social media and tag AYEINA once the contest ends. Each participant should stay tuned with Ayeina's social media channels and their own emails (inbox or spam folder) for contest updates. The winner will be also be sent a private or direct message through the social media channel they entered. If they don't respond within 24 hours, their prize will be given to the next winner in line.
BEST OF LUCK EVERYONE! We look forward to receiving your entries! May Allah bind our hearts to the Quran.