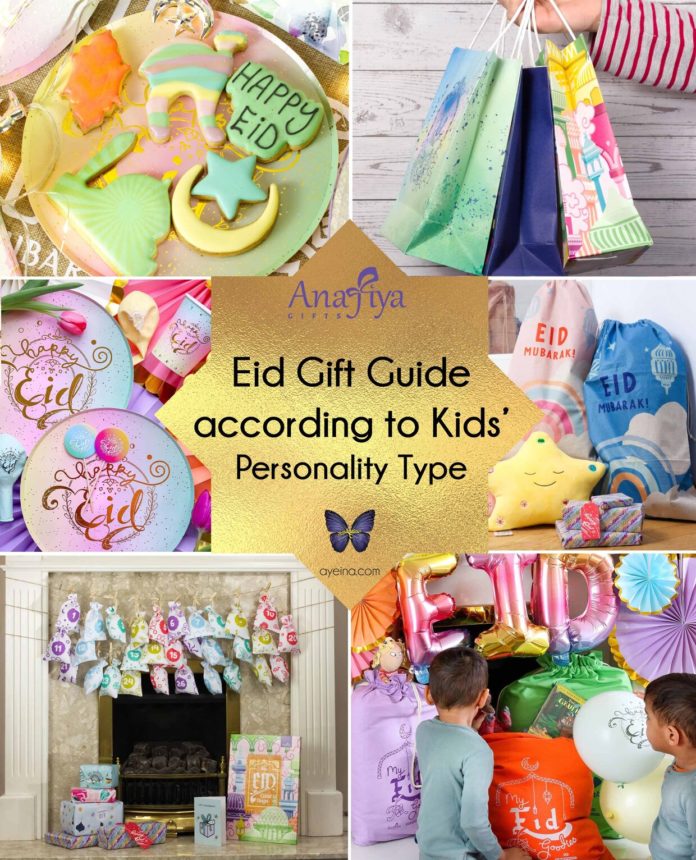 This post is sponsored by Anafiya
There's nothing like seeing the smile on your kid's face as they open their gifts on Eid morning after Eid Salah (or before that if you do it that way). The best gifts for kids help them navigate the world, discover new passions, and show kids that you care about them, just the way they are. There is no one-size-fits-all strategy when shopping for gifts for kids. Every little human is unique in terms of their interests and tastes.
View this post on Instagram
Gift ideas for the bookworm
A bookworm is a person who enjoys reading (stemming from the larva of a wood-boring beetle that feeds on the paper and glue in books – kinda true because all bookworms start with eating books as babies 😝). We joke around our home usually – how I love writing books, my eldest loves reading books, my middle one loves watching books, and my youngest one (a baby) loves eating books 😁. If your child fits the definition, I hope they will love the following gift pack:
Perfect for boxed or book-ish Eid gifts.
This A5 lined notebook with 160 perforated pages is great for jotting down notes, thoughts, and to-do lists (or like my daughter collects – wishlists! We call them dua-list in our home: anything that she wants but can't have immediately – aka more books).
Bookworms are also stationary enthusiasts in general so a cute hijabi washi tape is a great addition for a little Muslimah.
A pack of 4 post-it notes with 4 different designs. 2 for the child and 2 for you may be if you're a bookworm like your child ✋😝
Let alone goosebumps, I get teary reading these two books EVERY.SINGLE.TIME. I believe it's a must have in every home. The Prophet Described weaves together classical accounts of the appearance and character of Prophet Muhammad ﷺ, using the (referenced) narrations of those closest to him. While Prophet's pond is a journey of a boy (Zayd) and his mother to find out who Zayd wants to meet by a special pond (referencing to hawd-e-kawthar in aakhirah).
Even though it's about Hajj and parents may usually include it in Dhul Hijja, I've added this to the list because it is also a very heart-touching story about a big-hearted young man determined to perform Hajj despite not having enough money. How the story ends with "I love you Allah!" is a tear-jerker for sure.
Both of these books are great if you want to talk to your kids about emotions and feelings. Like I repeat to my daughter often: "All feelings are acceptable, all behaviour is not". So a book about a teacher teaching his grumpy students about positivity is a great addition in your home to talk about shukr, and the barakah that comes with it. While the second book discusses what we call a "tolerance cup". How disappointments (one after another) make Zaid's day gloomier by the minute and how his tolerance cup is filled, spilled, and then emptied (to accomodate more emotions all over again).
Don't want to toot my own horn but this upcoming hadith copywork and activity book is sure to get your bookworm and stationary enthusiast hooked while deepening their relationship with Islam (bi'idhnillah). Two Ramadans ago, I started الأربعون النووية ten days before the blessed month to pick up the momentum. Each day, we covered one hadith and discussed it. It became our favourite night routine – she used to ask me if I can narrate the next hadith to her. And that's how this journal came into being. It still has not been officially published though so subscribe to anafiya.com to stay updated in shaa Allah.
Sitti's Olive Trees is a celebration of culture, family, storytelling, and precious olive trees. It's a great book to open the discussion about Palestine with the kids.
Story of a Muslim woman who created the world's first University and made history as a result. A child who loves books will realise what power books hold and how they can help change not only their own life but also others'.
My daughter LOVES snacking while reading and I'm sure your little book lover does too. So pop in their favourite treats in this box and perhaps fill it with small goodies like more stationary 😁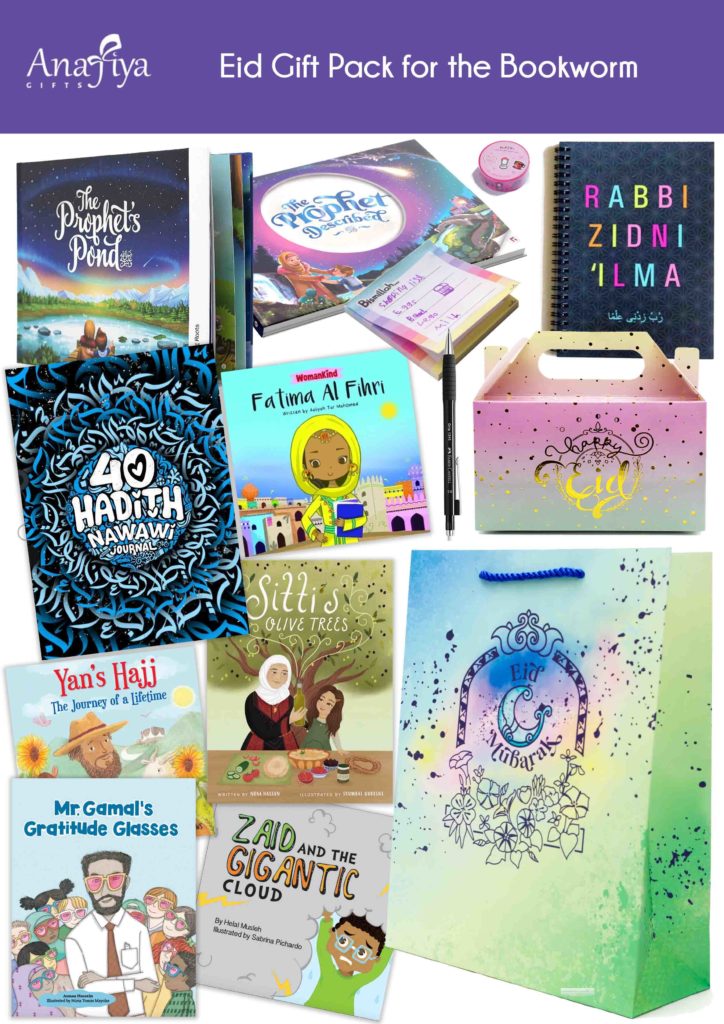 Gift ideas for the artistic/creative child
Creativity is the skill and talent to use our imagination to create and solve. So an artistic or creative child finds new ways of solving a problem, sometimes intuitively. They daydream a lot and like to be independent because they have their own way of doing things. They take risks and learn from consequences. So here's a list of Islamic products that may pique their interest:
Featuring a beautiful bright design to spark the creativity of your little art lover.
A set of 6 cookie cutters with shapes like lantern, crescent, star, mosque, camel and a sheep. They make great art tools (beyond baking too). You can trace the shapes for biscuits, cookies, cake, cheese, mini sandwich, pancake, French toast, soft fruits (eg: watermelon) or for crafts like making gift tags/ornaments/cake toppers with bake-able clay, bird feeder (get the directions here), candles (get the directions here), or any other art project where these shapes can be used.
I personally started using this with my 3 year old (who is almost 7 now and loves exploring art techniques in the journal – we have filled around 4 journals by now lol). It has brought so many positive changes in her life alhamdulillah that I try to never leave this ritual even when I'm bone-tired. You can read all about this lift-a-flap shapes book with fold-away cardboard mosque cover HERE. The journal has stickers, stencils with 60+ art techniques and all about Jannah divided into 5 human senses.
A pack of 4 badges in a bright and child-friendly design. Perfect for Eid party bags!
Allow your children to travel around the world's most famous mosques through this beautiful activity book which contains many stickers!
A 40 piece colour-in puzzle featuring the beautiful Sultan Abdul Aziz Shah Mosque in Malaysia. It also includes 6 felt tips and a box to store your puzzle in.
Eid is a colourful holiday and every colour encountered evokes beautiful memories. The book is great for colour recognition and attaching them to their Muslim identity.
Kids can use their Little Muslim or Muslimah mug to store art supplies even.
This colouring book hosts intricate designs of minarets, floral patterns, and birds! Thought-provoking and uplifting quotes included inside are inspired by the eastern master poet, Jalal al-Din Rumi.
A pack of 5 double-sided-design confetti balloons filled with multi-coloured stars! Adds a touch of colours to any Eid party.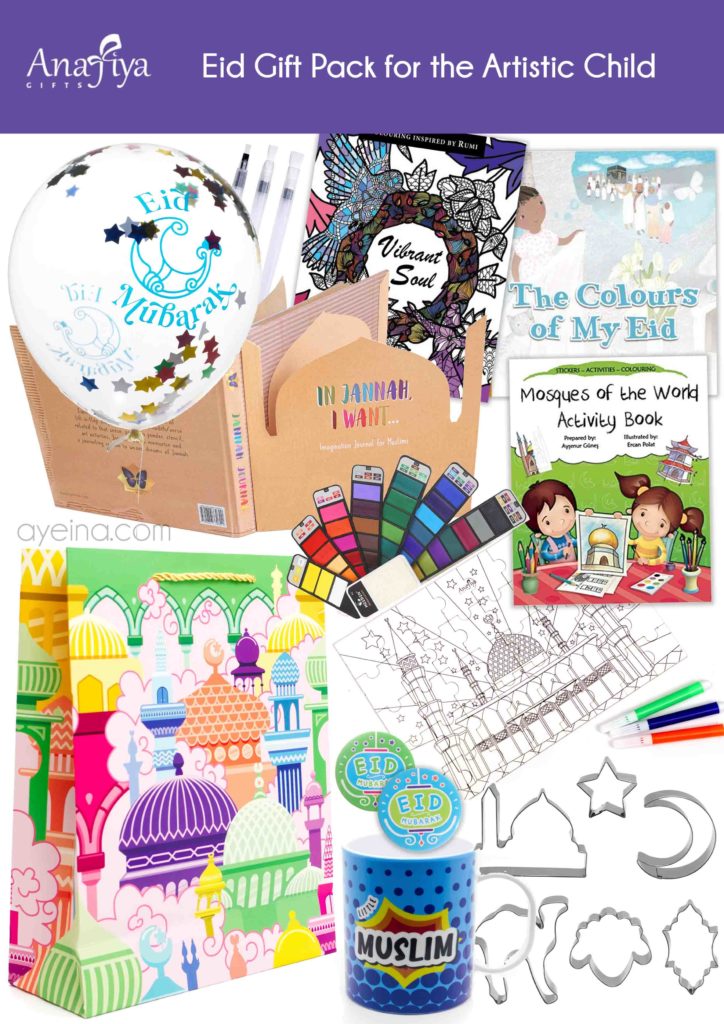 Gift ideas for the fun-loving/playful child
Playful kids are spontaneous and creative. They tend to be present-oriented and spirited, and they engage in their worlds without a particular goal in mind. Playfulness is often associated with being happy, imaginative, lighthearted, and free. These kids might even be termed as "naughty" sometimes because of their curious nature. If your child loves fun and play, check out the following list:
I love reusable (and recyclable) materials. This means you will be accumulating less waste on Eid and will be able to use it twice each year in shaa Allah. These are bigger than they look and can hence fit many gifts inside alhamdulillah.
Kids will connect to the basic foundation of Islam – its five pillars while learning about numbers, colours, shahadah (TAWHEED), prayers and its various positions (SALAH), sunnah foods to start or end the fast with (SAWM), the meaning of giving (ZAKAT), and the rites of HAJJ through interactive play, visual stimulation, and tactile sensation with the help of buckles, zips, velcro, buttons, and a lot more. See the detailed video HERE.
This is a cute play and pray idea. Musa's prayer mat is green and gold. He carries it everywhere he goes. It's time to pray, but where is Musa's prayer mat? Lift the flaps and help Musa find it!
A beautiful addition not only for Eid but for a child's creative corner in general too.
This little handheld toy with lights and sound features Quran (Surah Fatiha, Ayatul Kursi, 3 Quls), Dua's (for sleep and waking up), and Nasheeds + Dhikr. Children can play and learn about Islam at the same time!
Using touch and feel materials, your little one will love the sensory experience. Each letter has been paired with an everyday Islamic or Arabic word illustrated with cute pictures.
Travel through deserts, mountains, and waterfalls to practice reciting surahs along the way. This Quran game helps strengthen hifdh of surahs in Juz Amma. Have fun playing, earn lots of rewards by reading the surahs and be the first to claim the treasure! See the in-depth video HERE.
Help your child in getting to know about Allah's finest creations – the Prophets. It's an all-in-one story image which makes it visually engaging. There is a pathway that helps your child learn the order in which the Prophets were sent. The names tags of some of the Prophets are interchangeable so you can assess your child by asking them to put the name of the Prophet next to the correct image.
Add a touch of colour to your Eid with this pack of 10 balloons with 2 of each colour included.
Learn about greeting each other with peace with, Omar & Hana Say Assalaamu Alaikum – The Song Book. Of course that would mean you would have to sing THIS SONG every night. You will be their screen time. Don't tell me I didn't warn you!
Fun Dough cutters and tools included to make fun Arabic letter with Dough. Can be used with cookie dough and icing too!
Pack of 10 paper cups can be used in so many different ways. Here are some of the ideas.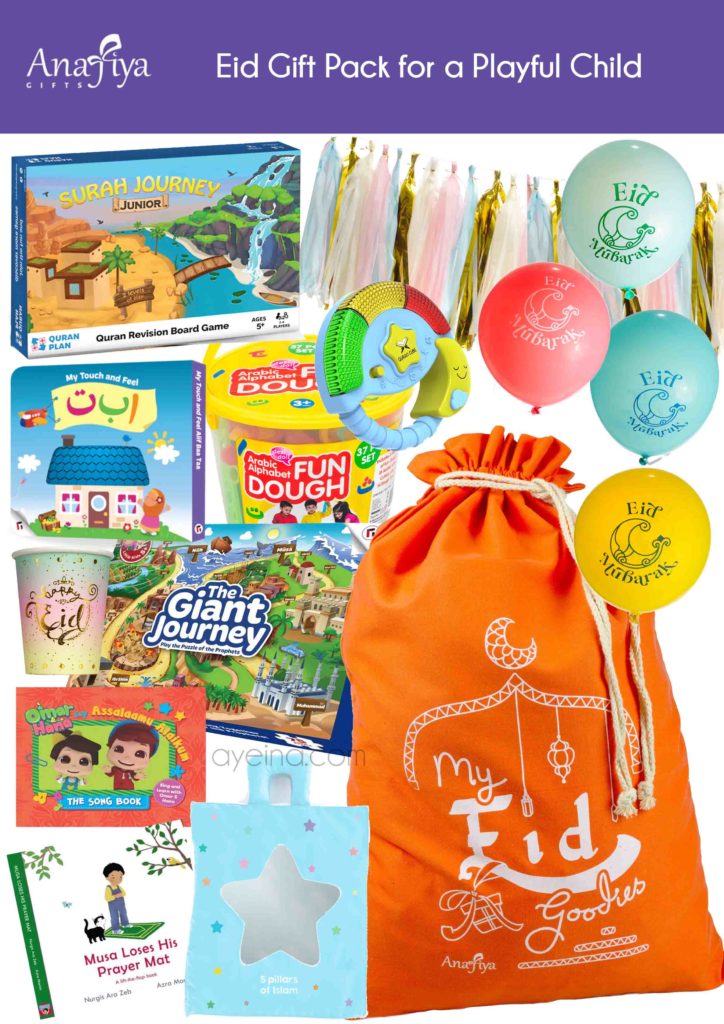 Gift ideas for the little worshipper
This category reminds me of the hadith where Prophet (ﷺ) said, "Seven (people) will be shaded by Allah by His Shade on the Day of Resurrection when there will be no shade except His Shade…a young person who has been brought up in the worship of Allah…" [Sahih al-Bukhari 6806]. Kids who love going to the mosque. Who love listening to your recitation. Who get worried when they see people going astray from the path of Allah. Who keep asking when can they meet Allah 💕 This gift pack is curated just for them!
These super cute Eid sacks are made with organic linen to keep them durable for use for many years to come in shaa Allah.
Let lights create the ambience for their ibaadah, dhikr, and reflection.
This is lovingly handmade with a rich velvet material on top while finishing off the prayer mat with pompom fringe.
An elegant metallic Quran bookmark to remember the page your little one left their recitation on.
This aim of this A4 sized book is to enable a child to understand the Quran and form a deeper connection with Allah as a result. This book bridges that gap by providing the kids with a comprehensive colourful tool to improve their knowledge of Arabic, reflect upon the Qur'an, and apply it in their lives in shaa Allah. It not only helps the parent/teacher track a child's complete Surah (recitation, memorisation, or understanding of the Qur'an) but also helps track their progress Aayah by Aayah. Juz Amma Journal with big clear Arabic text and word-by-word meaning for kids is the first part of the 'Juz Journals' Project, approved by the scholars. I'm a little biased of course, but it's a result of many years of hard work. You can read all about it HERE.
A special bluetooth speaker featuring Duas, Hadith, Nasheeds, and Quran recitation from 17 world-renowned reciters and translation in 15 unique languages. The perfect gift for any child or adult to relax with ambient mood lighting, practice reciting Quran, learn new duas, and listen to hadith.
Follow along with the new 'Who is Allah' series and compete against The Azharis in getting to know Allah better.
I would have definitely added the original My Salah Mat here as we've been using ours for more than 4 years now alhamdulillah. It will make a perfect Eid gift for the kids. I have lent it to my friends multiple times too and technically, its sound system should have stopped working based on how frequently it has been used all these years, but alhamdulillah it's still going strong. But I wanted to highlight their pack of 5 Activity books based on the 5 pillars of Islam here. Each Activity Booklet comes full of fun puzzles, activities and educational information.
This clever little device understands where your child is on a page and is able to read out anything they touch in the book. Double tap a word and Kiitab will also explain its rules to you, making it easier for your to understand what's going on in each lesson. This will free up parents time at home and a teachers time in class, confident in the knowledge that your child is listening to the words being perfectly pronounced each time.

Made from naturally breathable and super-soft cotton voile, these square-sized scarves are super cute for little girls.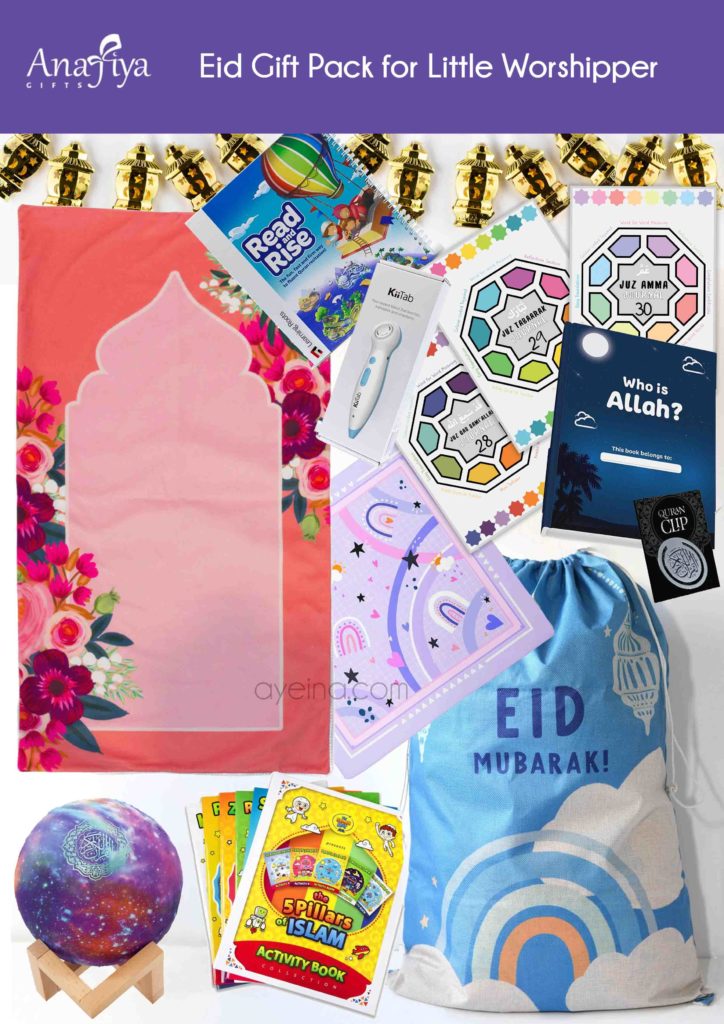 Other than that, you can find more ideas HERE. What kind of gifts do YOU give your kids on Eid? I'd love to know in the comments below!