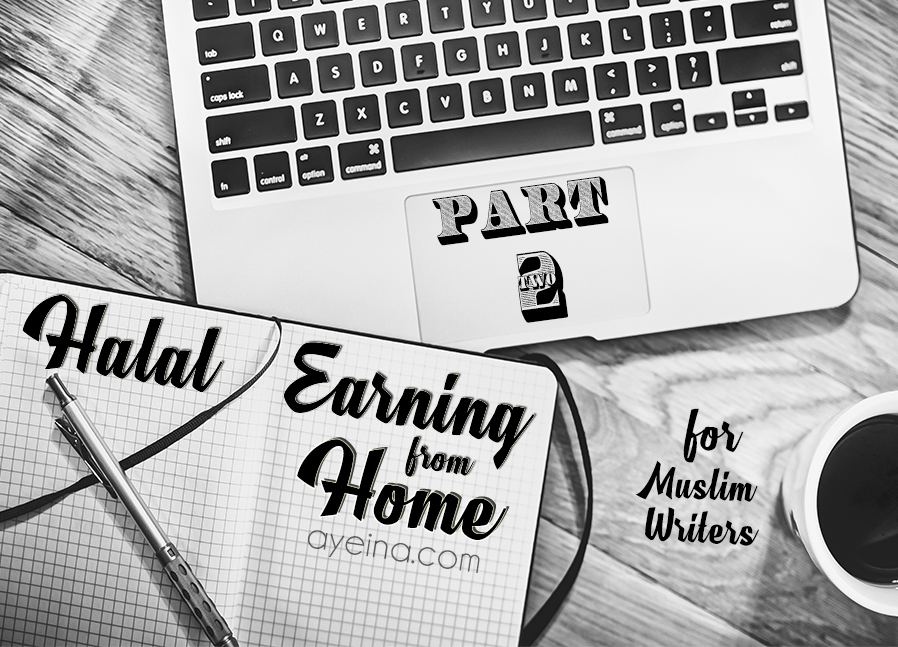 UPDATED: November 2020
—————————————————————————————————-
Previous Part: 1) Sewing Business
—————————————————————————————————-
As a writer and a Muslim, you can contribute to any magazine or website that pays of course, as long as the topic is of your interest. Be it motherhood, entrepreneurship, DIY, technology or arts and crafts. You can take help of Essayservice. There are tons of venues for that and we will talk about that in the end in shaa Allah.
BUT if you're passionate about writing on the topic of Islam or Muslims, then following is the list of paying markets in a descending order (based on their rates). Most websites or magazines do not like to explicitly mention their rates as they may vary from time to time or author to author. So this order is to simply help you save your time if you're looking for a higher-end market or starting with a lower one. 
You will find an overwhelming amount of lists around the internet if you search for paying markets – you may get an answer only from a handful. And sometimes, never! Sadly, it is VERY common in freelance/literary world because most companies are .
A good idea is to send a follow-up email to show your interest in writing for a specific website/magazine after your initial email, but if they don't contact you back within a 3-month time period (which may feel like 3 decades for a writer), then definitely move forward. 
Following are the paying opportunities that will cater to your queries professionally and would probably reply back within a month (at most). We've had great experiences with them, but yet we don't endorse any of these publications/websites because an experience can differ from person to person. 
Location Specific:
Let's start with location-specific publications to the ones with the worldwide payment option.
Most of the high-end publications prefer to pay you through a bank and they only prefer transferring the funds locally. Especially with Islamic websites, they are careful in this current terrorist situation. Nonetheless, the payment ranges from $100 to $10 in this category.
(USA)
[Genre: News/Politics]
They don't pay for unsolicited submissions – Only for assigned reporting.
(Canada)
[Genre: News/Politics]
They do pay but contributions have to be anchored in the Canadian Muslim experience and should be based in Canada as well. Also, they need to pitch the story to them before writing it and show them an example of their previous work. Payment is something they negotiate per piece.
(Arizona, USA)
[Genre: News/Politics]
As a newspaper, Arizona Muslim Voice focuses heavily on covering news items (local event coverage (Arizona, USA) but they do look for lifestyle/feature pieces as well. As their audience is not entirely Muslim (including their writers), so they don't print religious content that suggests any particular religious authority. Depending on the length and depth of certain stories, pay may differ. They also provide some training if you're selected after submitting your résumé and cover letter.
(USA and Canada)
[Genre: Halal lifestyle/products]
They have a writers list and they only solicit the list when they are ready to assign the articles. They do not accept unsolicited articles but ideas can be pitched to them, which they may or may not accept.
(Japan)
[Genre: Halal lifestyle/Muslims in Japan]
A writer should be based in Japan to receive the payment. If the draft is written in several languages, they pay bonus for each of the additional languages. The writer is expected to write articles about something related to 'Halal' or 'Muslim' in Japan. The draft should be written in English or English and any of the following languages: • English • 日本語 • Bahasa Indonesia • Bahasa Melayu • Arabic.
(Pakistan)
[Genre: Spirituality (Islam)]
When my article was published, they paid through the bank, so had to put them in a location-specific category. Although if you buy it, they can ship the magazine worldwide I believe. If your article is accepted as a cover story of the magazine, then the payment is higher than the other accepted articles. They also send a complimentary copy to you and are really nice to work with. Alhamdulillah.
(Pakistan,UAE)
[Genre: Spirituality (Islam)]
They offer a fee (or a complimentary copy of the magazine) for the writers, whose articles appear in the printed issue of Hiba Magazine. There's no compensation for the articles appearing on Hiba blog (their website).
Worldwide: 
Following are the venues that pay you no matter where you are in the world and that usually means that the payment method is through PayPal. Please keep in mind the concept of the website/magazine before submitting any piece. Familiarize yourself!
Usually, you will find print magazines paying higher than the (online) websites, like TIM (below):
[Genre: News/Politics]
They have both print and online presence, so depending on the type of piece you submit, an article accepted for an online publication will be compensated lower than the print one. Investigative and long form pieces will be paid higher than the usual.
[Genre: News/Politics]
For the print edition, they pay writer depending on the number of published words. The outlines of the proposed articles need to be approved by them before being written.
[Genre: Science and Islam/Muslims]
As the name reveals, it's all about Science and Islam/Muslims. Your write-up should contain both of these things. Their pay ranges from $40-$100 (as explicitly mentioned on their website – Writing Guidelines).
[Genre: Anything about Prophet (ﷺ)]
They offer payment depending on length and style of poetry. They also accept other forms of art.
[Genre: Islamic education for kids]
Bismillah Babies is an amazing organization that works to cultivate a love for Islam in children's hearts. They offer payment worldwide through PayPal.
[Genre: Culture, books, entrepreneurship, relationships, lifestyle and spirituality]
Auliya Women is looking for contributing writers across a variety of categories.
[Genre: Spirituality (Islam)]
Each writer undergoes a 'vetting' process and background check to ensure their work is up to the mark. The ones who qualify are paid for their contributions.
[Genre: Spirituality (Islam)]
This is where I got my writing start. So they hold a dear place in my heart. And not to mention that the editor is really friendly. They offer payment through PayPal. Please note that paid submissions don't offer link backs. You are allowed links to your website etc. in voluntary submissions only.
[Genre: Halal Tourism/ Travelling]
The posts are usually for growth and exposure, however, when the MTG does pay depending on quality. For articles that are more researched and take longer, MTG does offer bigger payments (but that is individual). Please note that the posts that you are paid for, does not allow linkbacks. Elena (founder of MTG) said: "I also look more into working with certain freelancers for longer giving them a more sustainable income and work". 
[Genre: Personal Story/Narratives]
To get an idea of what kind of posts they accept, take a look at THIS piece .Their payment is not a lot, but they do allow linkbacks.
[Genre: Muslim Lifestyle]
They are currently looking for writers/bloggers who can write 3 to 5 articles per month (1 to 2 articles weekly) within the word limits of 500 words. You can fill the linked form to reach out to them.  
[Genre: Muslim Lifestyle and Parenting]
WithASpin pays writers for relevant quality writing on the blog.
CONCLUSION:
Most of the Islamic websites (even the big ones) don't pay and it's totally understandable why they can't. They are already investing a lot of money, time and effort into it and don't get any worldly benefit from it most of the time. They have to pay for the regular staff etc. And paying freelance/guest writers is hard then. They usually pay you in terms of exposure (which, at times, is not something a writer is looking for).
We want free Islamic books, free Islamic classes, free Islamic material, free-everything when it comes to working on our spirituality. And even though the reward with Allah is immense (alhamdulillah), we forget that if they are investing digitally (on domains, website hosting, plugins, newsletters, software, themes, graphic designer etc.) or in a material form (books, printing, warehousing, packaging, shipping etc. (none of which is free in this world)), they are doing so from their pockets. Even if they fundraise, most of the money still comes out of their own income. Income that they earned through other halal means. This not only limits the amount of work done for deen, but also limits da'wah because their pockets are limited and they have obligation upon their family first.
There are people who really want to serve deen, but they are left with little to no time when their means of earning is through other means. So the resources for Muslim writers, who want to write about Islam, shrink down a great deal. 
We want to encourage you to write. Write about Islam. It will help you educate yourself as well. And if this tiny little step can aid you in seeking more knowledge, go for it!
Note: Please note that even non-Muslim magazines/websites can accept posts about Islam at times. I've written an article on Niqab for Cosmopolitan Magazine (Middle East). Note that the article was in favor of niqab (as I'm a niqabi myself) and was paid as well. I've also worked with The Sun Magazine (literary) etc. who also paid well. So generally, you can sign up to the following newsletters, where you will receive different "call for submissions" around the world. It will keep you updated! 
You can also check THIS LIST for a more categorized look.
P.S. If you are aware of any paying venue for Muslim writers (that isn't mentioned here), then please comment below to help others. Jazakumullah khairan katheera.