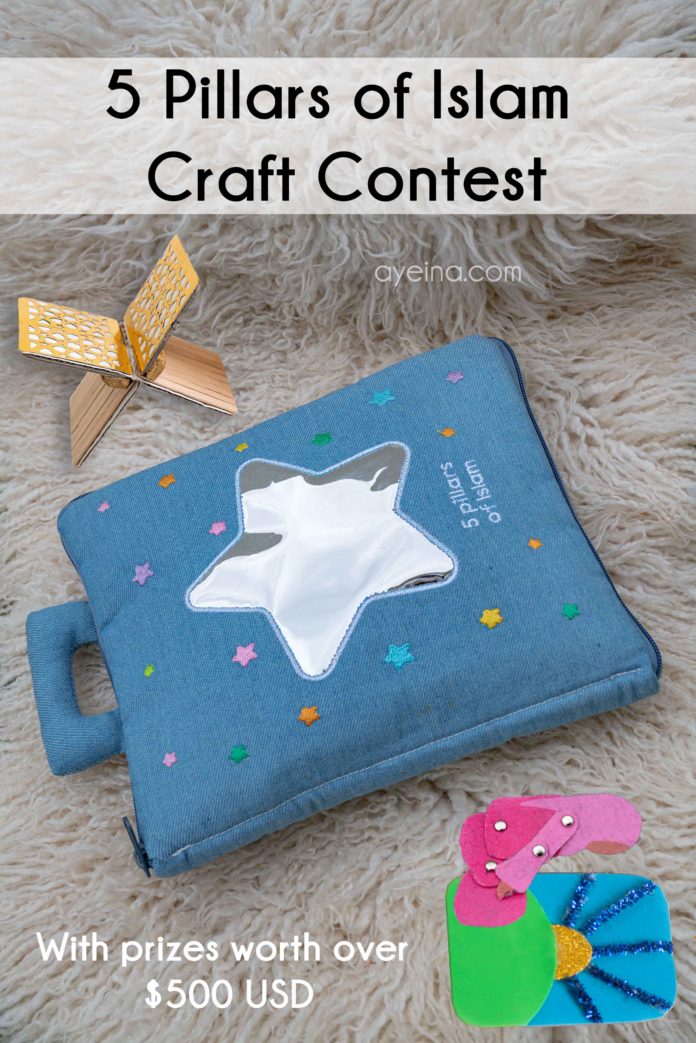 ---
Previous contests: 2015 , 2016 , 2017 (a), 2017 (b), 2018 (a), 2018 (b), 2019 , 2020 , 2021
---
This year, our annual Islamic contest theme is based on our Interactive Fabric Book.
Art/Creativity Contest
The entry period starts on 1st December 2022 and ends on 16th December 2022.
Voting will start on 19th December 2022.
Winners will be announced on 26th December 2022 in shaa Allah.
Simple Steps to Enter
The contest is not endorsed by any social media channel (IG, FB, Twitter, etc.)
1: Post YOUR or/and your CHILD's interactive 5-pillars-of-Islam craft on Social Media:
PLEASE NOTE that artwork with animate beings (that have full facial features) or the depiction of unseen (Angels/satan/hell/heaven etc.) will not be qualified. The contest is about design and creativity.
Instagram is most suitable for submissions because Facebook doesn't coordinate well with tags (and in the past, we ended up losing a lot of entries). If you're entering through Instagram, then the profile on which you post must be public and with hashtag included so other judges won't miss the entries.
If you are submitting on behalf of your child, please mention the age when you post their creative submission (you don't have to mention their name if you don't want to). You or the child may use any medium of art and craft and can submit either as an image or a video. Your design should revolve around the theme "5 pillars of Islam" only – but you or your child may choose to only focus on one pillar from the 5 pillars as well for the interactive craft.
2: Tag and Follow AYEINA:
You should tag AYEINA in the image and caption (both) lest we lose your tag amidst the plethora of other notifications.
(Please do not email or DM (Direct Message) your entry – it won't be accepted as it gets hard to track your submission that way. The submission should be posted AFTER 1st December 2022.
3: Tag at least THREE friends:
(This applies when the contest starts on 1st December 2022 in shaa Allah). Even if you don't win, you'll still be spreading the love of Islam around in shaa Allah (and what an honour that is!). You can tag more than 3 as well (may Allah make it sadaqah jaariyah for you). Follow AYEINA and the collaborators to stay updated! Please make sure to complete all 3 steps.
Prize Bundles
All these amazing businesses have come together to give you a great start to a new year. Prize shipping will be free of cost no matter where you are in the world (if you don't receive your prize by 1st February 2023, please email us at submissions@ayeina.com).
Special Prize package:
One of the winners with the most votes (from judges and audience) will receive the following prize package:
One Year subscription of Muslim Kids TV App by Muslim Kids TV
Imam An-Nawawi 40 Hadith Course by Sealed with Misk
Fabric quiet book and 7 Islamic Journals + 1 Planner by

AYEINA
Barakah Planner (with Hadith and Quran Journal) – extension pack of the following journal (with write and wipe daily salah planner).
Productivity Journal – whiteboard binder with a magnetic dry-erase marker.

Jannah Journal

– Ahadith and verses about Jannah divided into 5 senses in a lift-a-flap 3D fold-away mosque book.

Alhamdulillah For Series

(Gratitude Journal for kids)
Juz Journals

(28th, 29th, and 30th) – Last 3 parts of the Quran for Kids with big font, colour-coded tajweed, colourful word-for-word meaning, translation, and mini Tafseer along with journaling space for each Surah. All 3 Juz come with completion certificates in the end.

40 Hadith Nawawi Journal (exclusively for one winner – it is not available for purchase yet).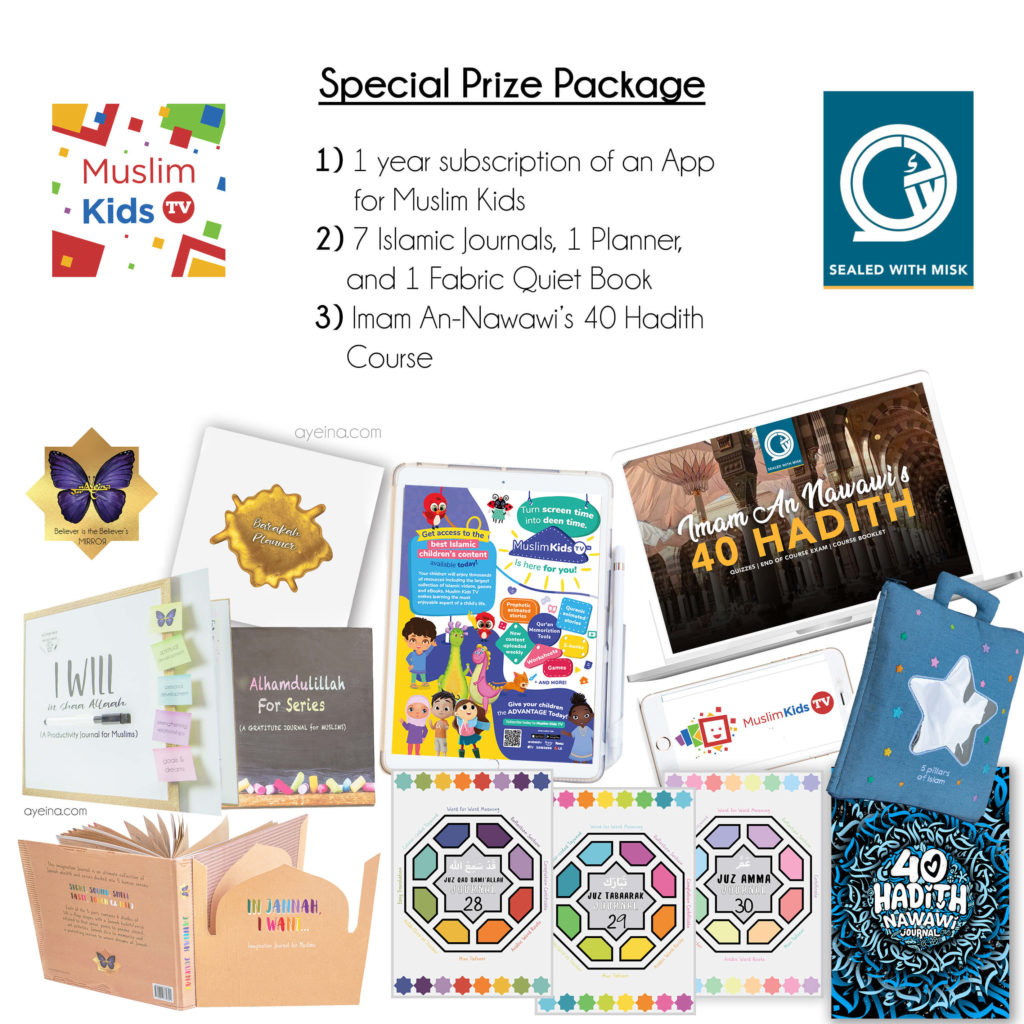 Adults' prize package:
One of the winners (13 and ABOVE) with the most creative '5 pillars of Islam' craft will receive the following prize package:
The HIVE (rotating wooden organiser with 7 removable sections and 7 mini trays) by Suddol
Colour me in Surah (of your choice) by Hands on Quran
3 Islamic Books ("Shaytan or the Nafs: Who is our Stronger Enemy?", "When the Two Seas Meet", and "The beauty of time management in Islam") by Learn and Grow Islamically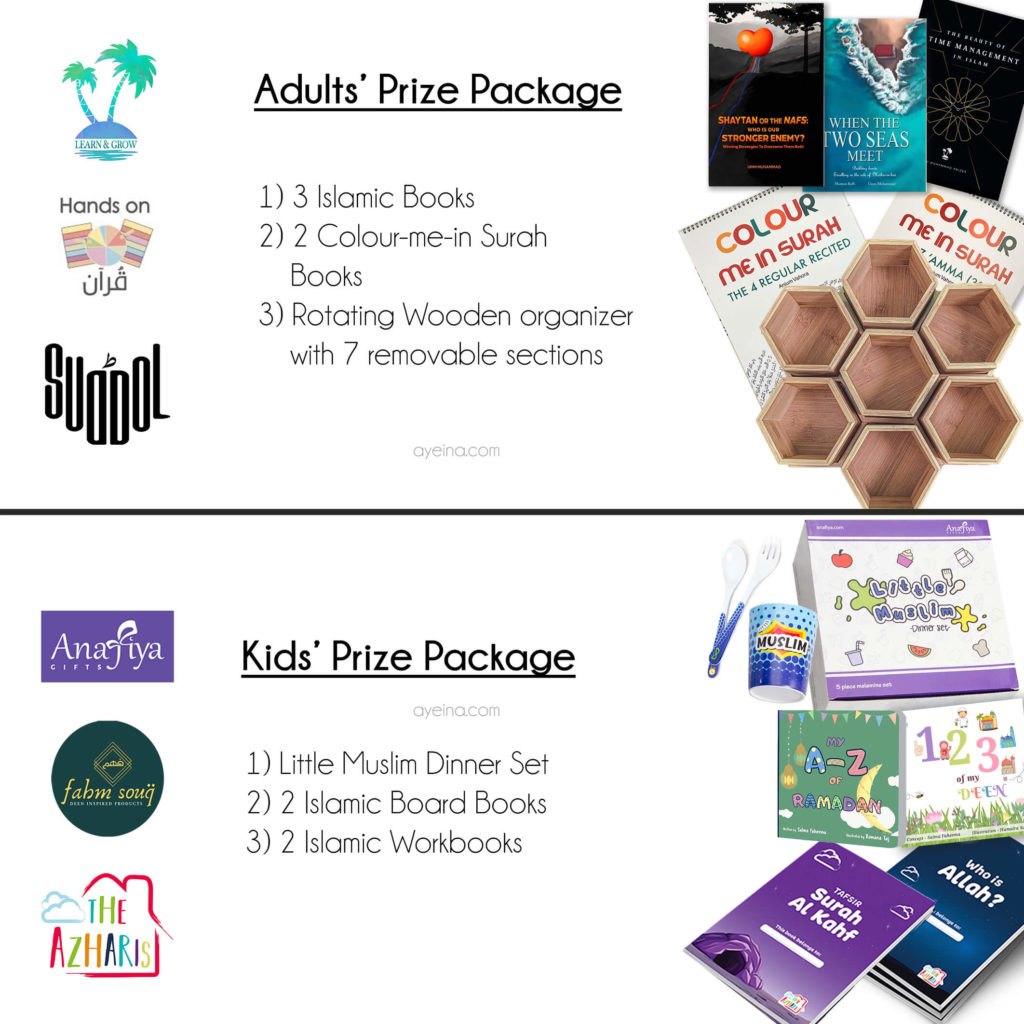 Kids' prize package:
One of the winners UNDER 13 with the most creative '5 pillars of Islam' craft will receive the following prize package:
Little Muslim Dinner Set by Anafiya Gifts
My A-Z of Ramadan and 123 of My Deen by Fahm Souq
Tafsir Combo ("Tafsir Surah Kahaf" and "Who is Allah?" by The Azharis
Finalists (Adults Category)
The 24 finalists have been chosen with the help of all the judges involved:
You can see the close-up look of each (finalist) on Instagram by clicking their usernames (in no particular order): 1 by @brb_raisingkids, 2 by @tarbiyahislamiyyahpubs, 3 by @anaiscrafting, 4 by @jasiprints, 5 by @a.asiya_ashraf, 6 by @nidatastic, 7 by @nabeelamahmed, 8 by @moniquesdiary_, 9 by @sumaiya.kheradia, 10 by @gems4littlehearts, 11 by @thewhimsymuslimmama, 12 by @bismillaahbooks.
Finalists (Kids Category)
You can see the close-up look of each (finalist) on Instagram by clicking their usernames (in no particular order): 1 by @home_educating_a, 2 by @bermet_world, 3 by @syra.banu.1, 4 by @atiyyah.hasan, 5 by @anfaal.abubakar, 6 by @jo_nawreen, 7 by @
manomama_raisingmuslimkids, 8 by @shiuww, 9 by @astitchedsoul, 10 by @surah.sketches, 11 by @spogmaikhan492, 12 by @thelittlejourney2.
WINNERS
@anfaal.abubakar (kids category winner), @nabeelamahmed (adults category winner), @tarbiyahislamiyyahpubs (special prize winner).
Other Details
* This competition is open to everyone around the world regardless of age or nationality.
* Multiple entries are allowed as long as they are in a different post each time, but one cannot win more than one prize bundle (multiple submissions just raise the probability of winning).
* The entries become AYEINA's property and may be used in Ayeina's website/social media content. By participating, you agree to be fully and unconditionally bound by these terms and conditions.
* Finalists with multiple votes from the same IP/person will be disqualified. Please make sure that there is no vote-rigging involved.
* Winners also agree to post their prizes on social media and tag AYEINA (along with the corresponding brand from which they received the prize) once the products are received. Each participant should stay tuned with Ayeina's social media channels and their own emails (inbox or spam folder) for contest updates. The winner will also be sent a private or direct message through the social media channel they entered. If they don't respond within 24 hours, their prize will be given to the next winner in line.
* Shipping and prize – all are covered by the business involved in sending you the prize. But the customs of each country differ so if there are any custom charges involved in the reception of the prize, then the winner will be covering that according to the rules of their country.
I also want to leave this message here because I know how loss and disappointment can be such difficult topics to discuss with the kids as we only have one winner each year.
BEST OF LUCK EVERYONE! We look forward to receiving your entries! May Allah bless your efforts and increase you in knowledge.