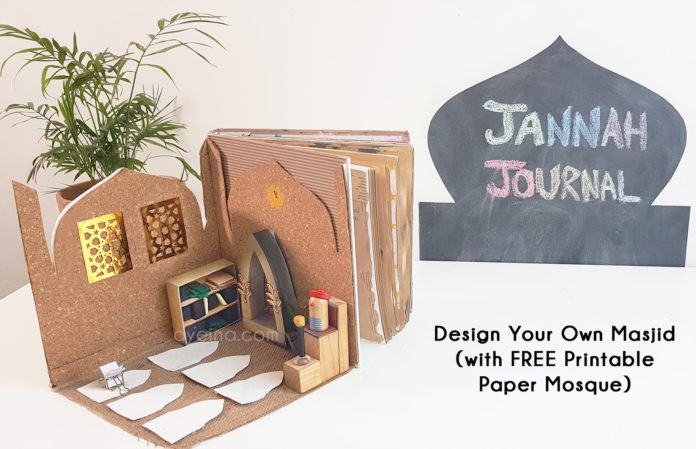 ---
Previous contests: 2015 , 2016 , 2017 (caption) , 2017 (art) , 2018 (Productivity) , 2018 (Gratitude) , 2019
---
UPDATE

: Jazakumullah khairan katheera to all those who participated! You are all winners in the eyes of Allah bi'idhnillah and real success is of Aakhirah indeed! I hope that

THIS FREE PRINTABLE CERTIFICATE

helps you put your and your child's hardwork on display and be proud of it! 💖

There were 100+ entries and around 30,000 votes this year. The winners are: @

brb_raisingkids

(special prize winner for acquiring most votes from the judges (all the collaborators)). @

drbaji

(adults category winner for acquiring most votes from the masses through the voting system and also many votes from the judges). @

abid_shameem

(kids category winner for acquiring most votes from the masses, and most votes from the judges as well (in kids category)). SPECIAL MENTION: Second most votes in the kids category went to @

aishatharfa

from the judges for installing a sound-activated light system inside the masjid 💡 while @

safia.sadat.2009

quilling entry scored second most votes from the masses 💞 All the winners and finalists got printed certificates with their masjid design printed on top so they are encouraged to build their miniature masterpiece into a real life masjid one day in shaa Allah 🕌 All finalists got to choose one digital product from AYEINA's website as well – any one they liked from our

gratitude journal

,

productivity journal

,

barakah planner

or

Jannah Journal

(or

the

hadith activity pack

).
This year, our Islamic art contest is based around a fold-away paper mosque model from our Jannah Journal. You can download the printable for free by clicking the image below:

Art/Creativity Contest
Entry period starts from 1st September 2020 and ends on 15th September 2020.
Voting will start from 18th September 2020.
Winners will be announced on 22nd September in shaa Allah.
Simple Steps to Enter
The contest is not endorsed by any social media channel (IG, FB, Twitter etc.)
1: Post YOUR or/and your CHILD's creative design of the fold-away masjid printable on social media:
On Instagram, Twitter or Facebook starting from 1st September 2020. The profile on which you post must be public (so we can see through the hashtag). If you are submitting on behalf of your child, please mention the age when you post their creative submission (you don't have to mention their name if you don't want to). You or the child may use any medium of art and craft and can submit either as an image or a video. Your masjid design should revolve around the printable to help us know that the masjid has been designed for this contest 🙂
2: Tag us and Hashtag it:
You should tag AYEINA in the image and caption (both) and hashtag it #AyeinaMasjidContest so it's searchable if we lose your tag amidst the plethora of other notifications.
(this makes it easier to track which submission is a contest entry. Do not email, DM or PM (Direct/Private Message) your entry – it won't be accepted as it gets hard to track that way. The submission should be posted AFTER 31st August 2020. Instagram is most suitable for submissions since Facebook doesn't coordinate well with hashtags. Nonetheless, it's an option for those who don't own an Instagram account.
3: Tag at least THREE friends:
(This applies when the contest starts on 1st September in shaa Allah). Even if you don't win, you'll still be spreading love of masaajid around. You can tag more than 3 as well to spread more positive vibes 😍 Follow AYEINA and the collaborators to stay updated! Please make sure to complete all 3 steps.
Prize Bundles
All these amazing businesses have come together to give you some great start to a new Hijri year. Prize shipping will be free of cost no matter where you are in the world and you should receive your prize by the end of 2020 in shaa Allah (if you don't, please email us).
Special Prize package:
One of the winners with the most votes will receive the following prize package:
Interactive Prayer Mat (with Salah Activity Book) by My Salah Mat
Islamic Educational App by Miraj Stories
6 Islamic Journals and 1 Planner by AYEINA: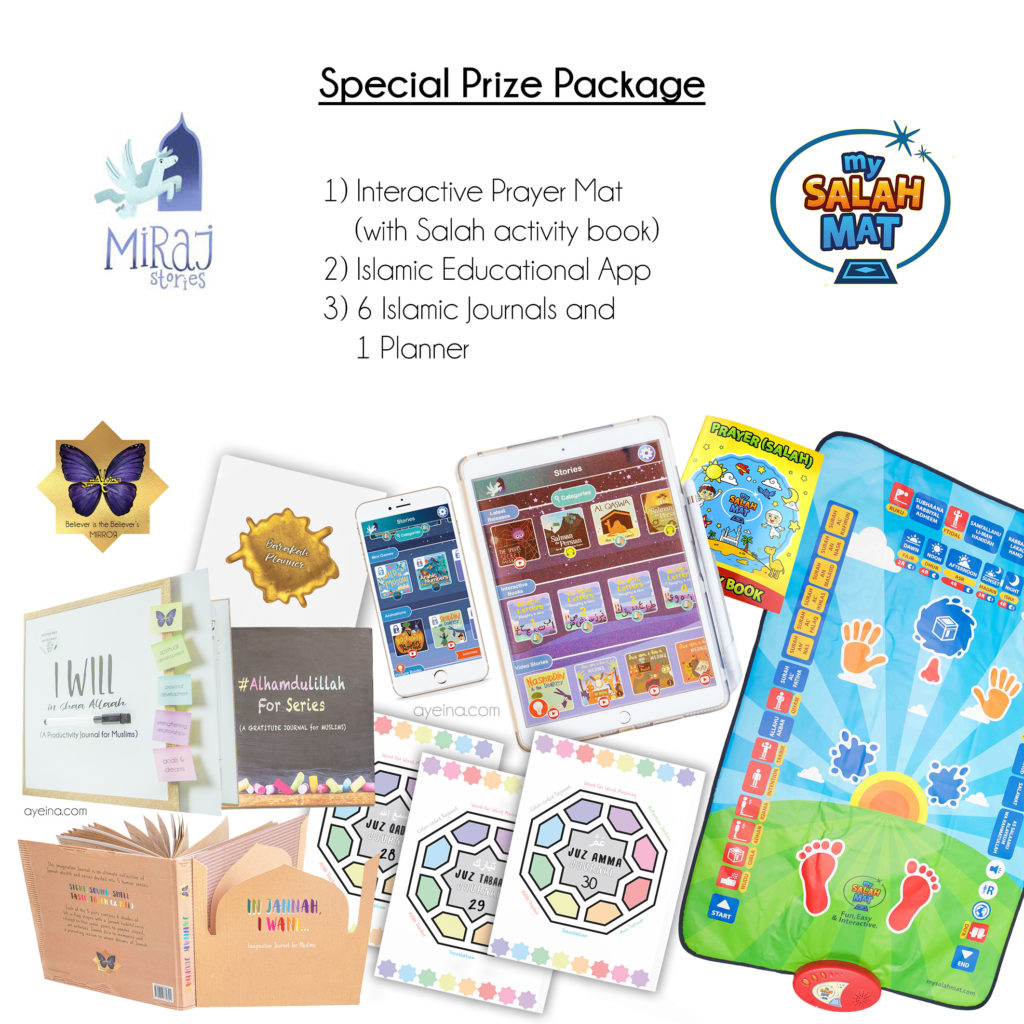 Adults package:
One of the winners (13 and ABOVE) with the most creative design of fold-away Jannah Journal mosque will receive the following prize package of a Quran speaker, Islamic home decor and a book:
Quran Moon Lamp

by AminYasminltd

Handwritten Qul wood slices

by Lettersteller
My journey with the Quran Journal,

More Than 100 Things Prohibited By The Prophet

, and "My Name is Mentioned in the Quran" by Deensquare
Kids package:
One of the winners UNDER 13 with the most creative design of fold-away Jannah Journal mosque will receive the following prize package of 4 Islamic books along with a colouring sheet, card and a pack of crayons:
The Sing N Learn Series Books –

The Bismillah Book and The Alhamdulillah Book

by Bismillah Buddies.
Signed copy of "

My First Book About the Qur'an

", a matching post card, colouring sheet and a pack of crayons by Sara Khan.

Juz Amma Hifdh Tracker

by And then She Said.
Other Details
* This competition is open to everyone around the world regardless of age or nationality.
* Multiple entries are allowed as long as they are in a different post each time, but one cannot win more than one prize bundle (multiple submissions just raise the probability of winning).
* The entries become AYEINA's property and may be used in Ayeina's social media content. By participating, you agree to be fully and unconditionally bound by these terms and conditions.
*Please do not submit obscene and racially, religiously or sexually offensive artworks. Portraits or artwork with complete facial features will not be qualified. Winners will also receive a certificate of excellence/ appreciation that they agree to post on social media and tag AYEINA once the contest ends. Each participant should stay tuned with Ayeina's social media channels and their own emails (inbox or spam folder) for contest updates. The winner will be also be sent private or direct message through the social media channel they entered. If they don't respond within 24 hours, their prize will be given to the next winner in line.
Finalists (Adults Category)
The finalists have been chosen with the help of all the judges involved. Please help us shortlist further because it's SO hard to choose three winners out of these 2 categories (18 finalists):
You can see the close-up look of each (finalist) masjid on Instagram by clicking their usernames: 1 by @fatima.shumain , 2 by @nihadeen , 3 by @chroniclesoffriends , 4 by @rabeeamadeit , 5 by @brb_raisingkids , 6 by @zendisaa , 7 by @jenny.molendyk , 8 by @drbaji , 9 by @hamzahyusuf_quran
Finalists (Kids Category)
You can see the close-up look of each (finalist) masjid on Instagram by clicking their usernames: 1 by @productivemomof3 , 2 by @muslimboyshomeschool , 3 by @hayahscreativehands , 4 by @esmaselcukdemir , 5 by @hadifaisal81 , 6 by @aishatharfa , 7 by @daniyamudassir19 , 8 by @safia.sadat.2009 , 9 by @abid_shameem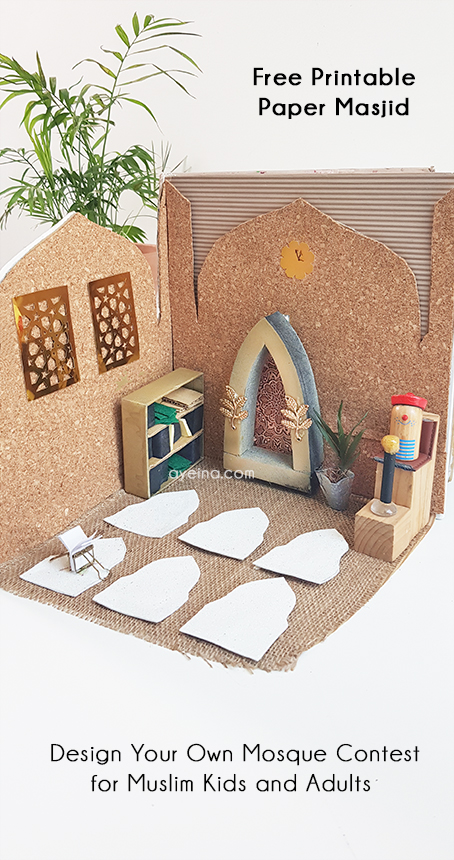 The Elements of a Mosque
A mosque (masjid – in Arabic) is a place of worship in Islam. Although prayers can be done privately, either indoors or outdoors, nearly every community of Muslims dedicates a space or building for congregational prayer – where everyone gathers to pray for Allah together as an Ummah. Building materials and design of the mosque depend on the culture, heritage, and resources of each community. Yet, there are some features that nearly all mosques have in common(which you can refer to for your masjid design too):
Minbar – A raised platform(with a short staircase)in the front area of a prayer hall from which sermons (khutbah) or speeches are given. The minbar is usually made of carved wood, stone, or brick. It includes a short staircase leading to the top platform, which is sometimes covered by a small dome.
Mihrab – An ornamental indentation in the wall that marks the Qiblah(direction towards Kabah in Makkah which Musims face during prayer). Mihrabs vary in size and color, but they are usually shaped like a doorway and decorated with mosaic tiles and calligraphy to make the space stand out.
Musalla (literally: "a place for prayer) – A prayer hall where worshippers kneel and bow on carpets, rugs, or prayer mats etc. for salah (prayer). There may be a few chairs or benches to assist elderly or disabled worshippers who have difficulty with mobility. Along the walls and pillars of the prayer hall, there are usually bookshelves to hold copies of the Qur'an, wooden book stands (rihal), other religious reading materials, (hijabs and prayer gowns in the ladies section) and individual prayer rugs. Beyond this, the prayer hall is a large, open space.
Other parts of the mosque include:
Dome – A rounded vault forming the roof of a prayer hall. It's interior is highly decorated with floral, geometric and other Islamic patterns. This architectural element holds no spiritual or functional significance and is nowadays purely symbolic and aesthetic. The interior of a dome is usually highly decorated with floral, calligraphy, geometric and other patterns. The main dome of a mosque usually covers the main prayer hall of the structure, and some mosques may have secondary domes, as well.
Minaret – A tower with with a pointed roof and balconies or galleries from which a mosques mu'adhin calls to prayer 5 times each day. They were originally used as a high point from which to make the call to prayer (الآذان). The word derives from the Arabic word for "lighthouse."
Wudu area – The Ablution (wudu) is a part of the preparation for Muslim prayer. Sometimes a space for ablution is set aside near a restroom or washroom. Other times, there is a fountain-like structure along a wall or in a courtyard. Running water is available, often with small stools or seats to make it easier to sit down to wash the feet.
BEST OF LUCK EVERYONE! We look forward to receiving your entries! Now that our mosques are shut down due to covid19, let's build the spirit of it all inside our homes in shaa Allah.
---
MOSQUE CRAFTS TO MAKE WITH THE KIDS (+ a free certificate for their masjid masterpiece)
---