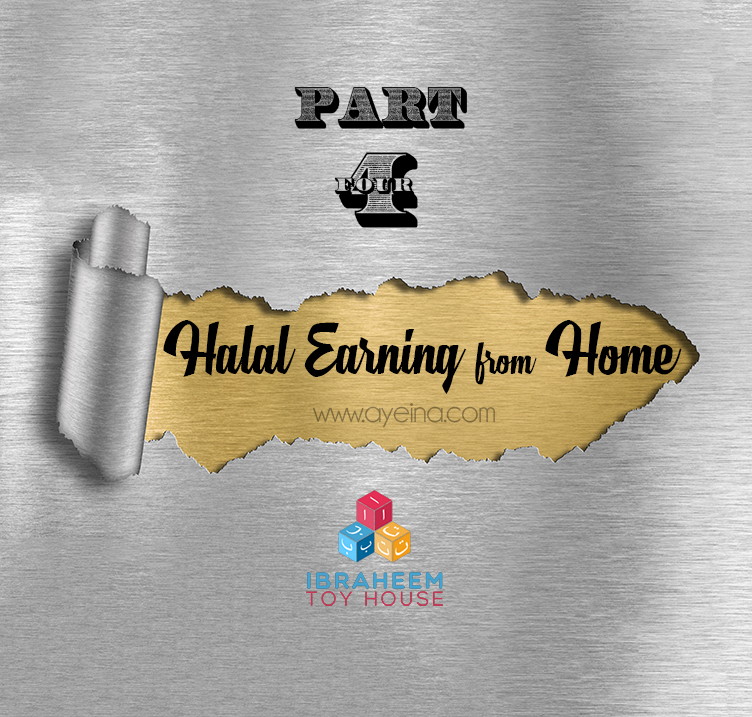 —————————————————————————————–
Previous Parts: 1) Sewing Business, 2) Freelance Writing, 3) Authorship 
—————————————————————————————–
By Nazia Nasreen (in collaboration with Team AYEINA)
Ibraheem Toy House is a successful Islamic Online Business that started on the kitchen table in 2014 with four products and two suppliers.  Since then we have had over 200 different products and 30 suppliers from around the world because our mission was to instill the love of deen in the future generations of the Muslim Ummah. We believed that children learn best through play and if the right educational toys and books are provided from a young age, we can instill the correct Islamic ethos and values in our children. (NOTE: as of 2023, the business has been shut down)
If you want to run your own online-based business but want to skip the startup stage, you will be pleased to hear there are other options out there, such as buying an existing online-based business for sale or purchasing an online franchise. Online-based franchise businesses have many benefits, such as proven business models, training & support, and allowing you to trade under an established brand name. If you want to learn more about online-based franchise opportunities, use Franchise UK to start your search.
1) Know Your Why
First and foremost – know why you're doing, what you're doing! It will help you stick to it for the long term in shaa Allah.
Ibraheem Toy House started in 2014 because as a British Muslim mother living in the UK, I wanted to ensure my children are proud of their religious identity. I wanted to make Islamic learning fun so one evening whilst my daughter was playing with her wooden English alphabet puzzle, I decided to look for an Arabic alphabet puzzle for her. Soon I discovered more and more products and realized it was difficult to find good quality Islamic toys in one shop or store and after doing a lot of research into this market, I decided to set up my own online Islamic Toy Store.
2) Create a Visual Branding-Board for Your Business
It's important to have a consistent look at your brand so people are able to recognize it once they see it over and over.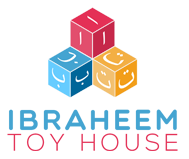 Our first logo was a colorful train with Ibraheem written in an Arabic-style font which was designed by a local graphic design student. However, after two years of trading and learning about branding, packaging, and logos, we decided to change our logo to something more simple, clean, and relevant to our business. So our new logo includes 3 small cubes with the Arabic alphabet and the font is much cleaner. For the new logo, we hired a professional designer and we discussed our business mission and values. We looked at color charts and other prominent toy store logos before deciding on the final design.  
3) Set Up a User-Friendly Trustable Website
In the start, I started selling my products on Facebook and after two months, I decided to take the plunge and get a website designed. At the time I had no idea about website platforms and branding etc., all I knew was I want a website to showcase my products and it needs to be pretty looking. So I contacted a local web designer who had previously worked with a few Muslim startup businesses I knew.
My top tip for a website is to make sure you find a web designer who is local to you, someone who is in the same country as you. Do your own research and read up on different website platforms. Discuss your business goals and needs with your web designer and make sure your website has a clean finish with a professional font – something that is easy to use.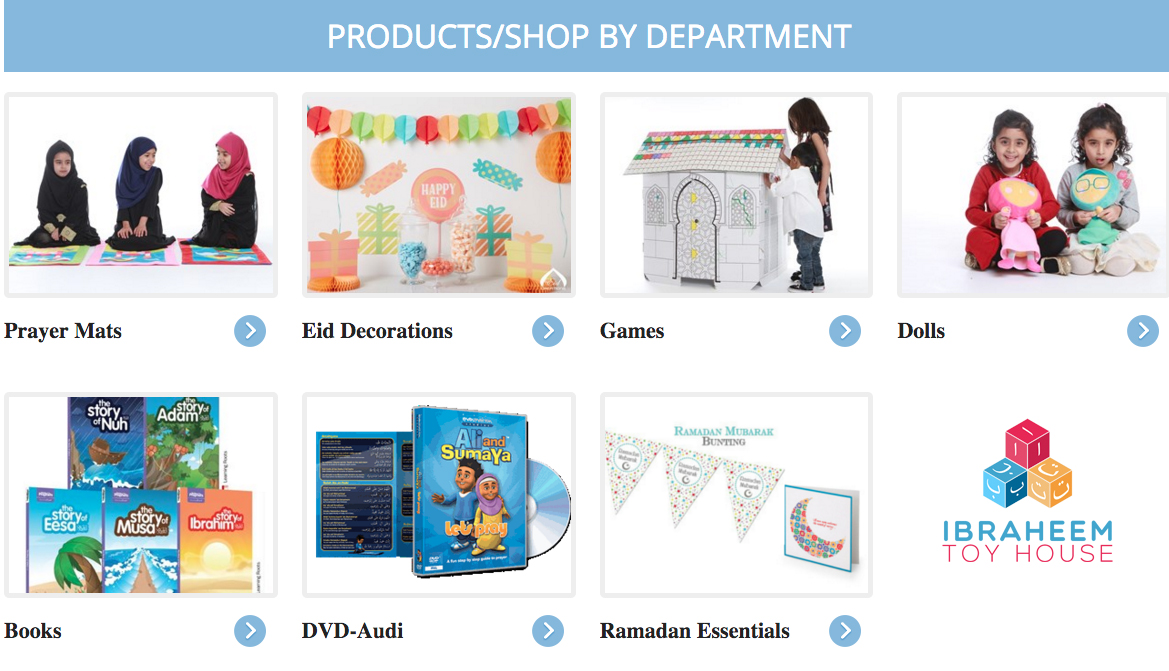 In short, a user-friendly site would include:
1) Multiple payment options (as not everyone will have a PayPal account).
2) A search bar (so it's easier to navigate)
3) Clean finish and a readable font
4) Consistent color scheme 
5) Fast loading time
6) Mobile-friendly site (most of the users will be looking through your website from their mobile device). 
7) Product review section (this lets previous customers help the new ones in shaa Allah). 
8) Product replacement option/money-back guarantee (honesty and trust are very important when it comes to customer service. If something is lost in the post, we replace it for the customer).
9) An active e-commerce website (if you're not uploading products constantly, then make sure you have a blog that can keep the site active. Make the blog posts helpful and let people know how your products can be of use). 
4) Invest
The more you invest, the more you get in return.
I used my savings to start and fund my business. As the business started to grow and we needed more capital for marketing and more stock, I decided to work part-time to get that extra cash for the business. In shaa Allah as the business continues to grow, we are looking for investors with an experience in the eCommerce sector to help us with funding and growth.
5) Select Quality Products & Images
There are an infinite amount of products in the world, but look at who your audience is and what they need. Then choose the products accordingly.
We receive so many emails from suppliers because they want us to stock their products. Sometimes I instantly fall in love with the product because as a mother I know what my children will love and what's missing in the Muslim toy market. However, sometimes we have to reject suppliers because we are not happy with the quality of the product. When we first started I would take photos on my phone and upload them onto social media, but as we have grown – we now use a professional photographer. 
The world is becoming more and more visual so images of the product can make a huge difference.
6) Connect with Your Audience Directly
Connect and engage with our audience. Yes, we are an online Islamic Toy Store – but it's not always about selling. People connect with people and they need to know your story to be able to connect. In our case, people have seen me pack the products and store them at home and then taking the big decision to use a warehouse for storage and fulfilling orders. Customers have followed our journey from the start when we had our first logo and we only had four products. Now with new branding and over 200 products, our customers can see the hard work that goes behind building an online toy store.  
Customers know they can email us or phone us and we are pretty fast at getting back to them. I personally engage and interact with our customers on social media. I listen to my customers and take their feedback into consideration. We stock products they want us to stock which is really important for our business and our relationship with the customers. Building a successful customer relation takes time, effort, and trust and as business owners, we need to take responsibility and provide that excellent customer service.
7) Advertise, Advertise, Advertise
1) Social media marketing
Use social media as an advertising platform – Facebook, Instagram, Twitter, and Snapchat. We also use email marketing to build relationships with our customers.
2) Events & Seminars
Attending events and networking is important for every business, but it's also very tiring. When we started two years ago, I would go up and down the country with my products to exhibit and to increase brand awareness but now we try to attend 1 or 2 big events only. We recently exhibited at the Muslim Lifestyle Expo in Manchester which was absolutely amazing as we completely sold out our products and we received some amazing positive feedback from our customers. As an online business, we normally work from home or in our office so it was great to meet our customers face to face. It was amazing to meet other Female Muslim business owners and surround yourself around an entrepreneurial spirit. We feel larger shows and exhibitions work better for us in terms of brand awareness as they are more organized and more people attend these shows.
3) Collaborate with like-minded businesses and bloggers
Collaborate with bloggers and Muslim organizations to spread the word. When working with bloggers, we have to ensure they share the same values as us regarding making Islamic learning fun. We try to work with mummy bloggers because ideally, they are our target audience. We have worked with bloggers who have 1 million followers to bloggers who have a few hundred followers because to us following isn't important. Your content, your values, beliefs, and work ethics are more important when collaborating.
8) Outsource the Tasks
As a mother who has a business and a part-time job, it became difficult to do everything on my own so I delegated the blogging task to Gemma – our brand ambassador.
You employ people who share the same vision and values as you. Not everyone will be passionate about your business as much as you, but if you find the right person and provide the right training then anything is possible in shaa Allah.
We came across a Muslim Homeschooling blogger/vlogger who made homeschooling and generally motherhood look amazing. It inspired me to know that she left her professional career as a Vet to educate her children at home. She also became one of our loyal customers so we decided to approach her and asked her to join our team. She became our brand ambassador because she represents our brand beautifully a young Muslim woman who is passionate about making learning fun for her kids. 
9) Don't Let Failure Hold You Down
My biggest learning experience has been trusting people too fast. You need to learn and know that not everyone is your best friend in the business. As I am very passionate about what I do, I would meet people and talk about my business vision, suppliers, and goals, and at times that fired back. However, we need to remember that there are some amazing people in business who would go out of their way to support and empower you. 
No matter what, keep going! Consistency is the key to success bi'ithnillah.
10) Aim and Dream High
Advice to all entrepreneurs is to research your idea and market thoroughly. Go to networking events and learn as much as you can because knowledge will improve your confidence and motivate you to work hard. Set goals for your business and believe in yourself. 
In shaa Allah, in the next five years, we should have more stock including our own range of fun educational Islamic products. We would love to brand ourselves as the "TOYS R US" for the Muslim community.
If you have a business idea – don't wait or think too much, start today.
Dreams are the first step toward action! Dream high!
————————————————————————————————————————————————————