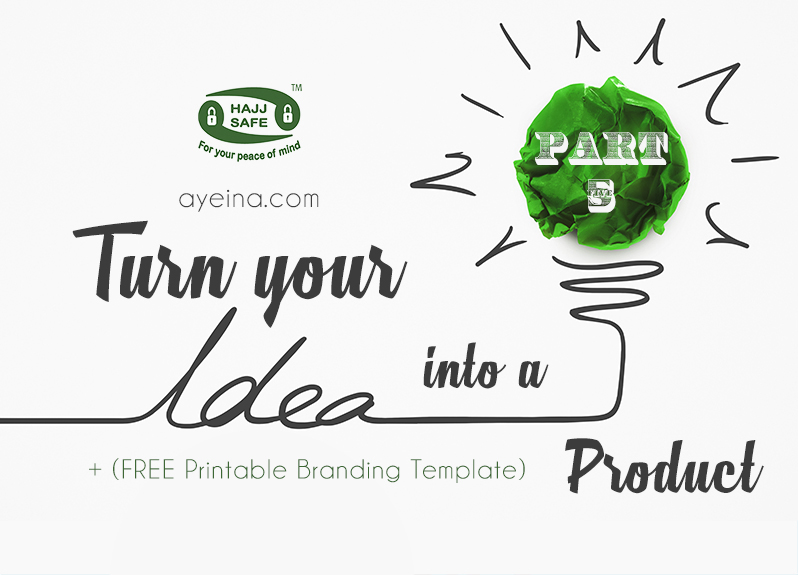 —————————————————————————————————-
Previous Parts: 1) Sewing Business, 2) Freelance Writing, 3) Authorship, 4) Islamic Business
—————————————————————————————————-
By Kamal Ali (in collaboration with Team AYEINA)
Raise your hand if you have an idea or a number of ideas in your head that you'd love to see in a tangible form! *raises both hands* Yet, for most of us – work, life, family, studying and other commitments can take over, and our ideas simply stay in our heads! 
Once upon a time – I had that very idea that I really hoped to see a tangible form of! And this is what I did! Following is a short summary of my journey with Hajj Safe – how I took an idea forward to manufacture products that are now being sold in more than 16 different countries, over 40 cities, and that over half a million pilgrims have used Alhamdulillah. 
1) Believe in your idea and don't fail by default
How many of us have had that million dollar idea and failed to bring it to life?! I know I have come up with such ideas many times – dreamed about them – thought about them from beginning till the end. From day till night. 
But an idea means nothing in our heads because so many others may be living the same idea in their minds for ages perhaps. 
The first step is to believe in your idea and not brush it off with phrases like:
I can't do it. 
It's not worth it.
Who would even buy it.
What will the people say!
Etc. etc.
Know that if you don't absolutely believe in your idea, nobody else may believe in it! 
If you're passionate about it, say this instead (This is a great way of overcoming your fears that hold you back from jumping right in!):
If I'm going to fail, I'm going to fail BIG. I won't fail in my mind without even trying. I won't fail by default. I'm not afraid of failure that reeks of success in the process. Failure that helps me learn. Failure that helps me grow. I'll embrace such failure with open arms. If I fail, I'm going to fail after giving it EVERYTHING I've got. If it's not meant to be, it won't be! But I will have the best of hopes from Allah. Because Allah is how we think of Him. And I will only consider the best. 
2)
Polish Your Idea by Sketching or Writing it down
When you come up with an idea, quickly draw it, and write it down. Design what you have in mind to be able to polish your idea.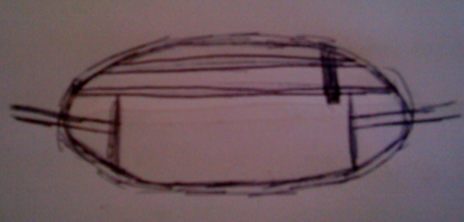 I was on the phone with a good friend, when he told me that a relative of his had the Ihram belt cut open, and all of his valuables were stolen. I was stunned and remember saying, "what? In Makkah?" (Not believing someone could be involved in such crime amidst a place that exudes nothing but khair). 
Putting aside morals, he asked a very important question: Is there a solution to this? (Because so many Muslims go through this each year – losing not only their money, but their passports/important documents/hotel rent/food expenditure etc.) That friend also went on to help me with the product design later on. 
That conversation between us got me thinking, and I started coming up with ideas and solutions, all of which were drawn and written down on the back of an envelope! Whatever I had at hand at that moment. Ideas may sound bizarre in your head sometimes until you bring them to life. This was my first ever drawing of my idea back in 2008. 
3) Do your Thorough Research
Research is the key to all great inventions! Here are a few key questions to think about when researching: 
1) Has someone already solved the problem I want to solve and is my idea already executed? If yes, it's best to think of more original ideas.
2) What would someone pay for something like the product I wish to invent? 
3) Is there demand for it? Are people constantly in need of something I want to create?
4) What are the colors, designs and forms I want my idea to take?
5) Do I want to devote my time, effort and money to create such a product?
For me, in the beginning it was a quest to solve the problem – to come up with a great design and functioning product that would be helpful to travellers – pilgrims going for Hajj/Umrah. What made me take it to a full-blown production was after actually using it during Hajj 2010, when I had the blessing to perform Hajj with my wife. I used it from the time I left the house to the time I came back. It was, in my own words, awesome!
My basic motivation was something that keeps me going even till now:I will be designing a product for the ease of pilgrims going for Hajj or Umrah; I will be designing products for the guests of Allah. I could not feel anything but absolute honor to be able to do that.
4) Create Multiple Prototypes till You're Happy with the End Result
When we started, it soon became apparent that we would need a lot of samples. For me, I wasn't developing an ihram belt, I was developing a brand that would lead to more products for pilgrims, so the first product had to be perfect. We made over 50 prototypes, in different colors, sizes, and with different components.
We inserted a steel wire within the strap of the belt. This made the belt slash proof, and there you go – problem solved – no one is going to be able to cut the strap of the belt. However, we didn't stop there, we developed a great ihram belt, one that can be used on a daily basis while travelling and going back and forth to the Masjid!
When we were happy with the product, we developed it again! To date, we have developed the product at least seven times. We have changed the size, zips, buckles, stitching and have a unique way of inserting the steel wire within the strap! A trade secret! Never stop – that's my motto, design never stops and there is never a finished design.
5)

Finalize your Branding
Branding has taken on many meanings, and people tend to associate it with luxury and affluence. People don't want luxury when they go to Hajj or Umrah – they are looking for solutions that bring ease. But branding isn't just about designer clothes, branding has a much deeper meaning, it's the way you run a company, it's your philosophy, your beliefs, it's about the service you provide, the guarantee that comes with your products.
It was important that Hajj Safe was a brand for all these reasons. A brand that people can trust, knowing that when they buy Hajj Safe products they are buying a unique product that's been designed from the ground up, and that has been built using quality materials; one that comes with a guarantee of excellence! As a Muslim, I believe it's important to provide people with an honest service that is value for money.
When you're done with your logo and brand colors that speak about your product (it's the green color for us – a color of peace and safety), try sticking to them because if your idea becomes famous, other people may want to copy it all and your consistency will help you stand out as an original.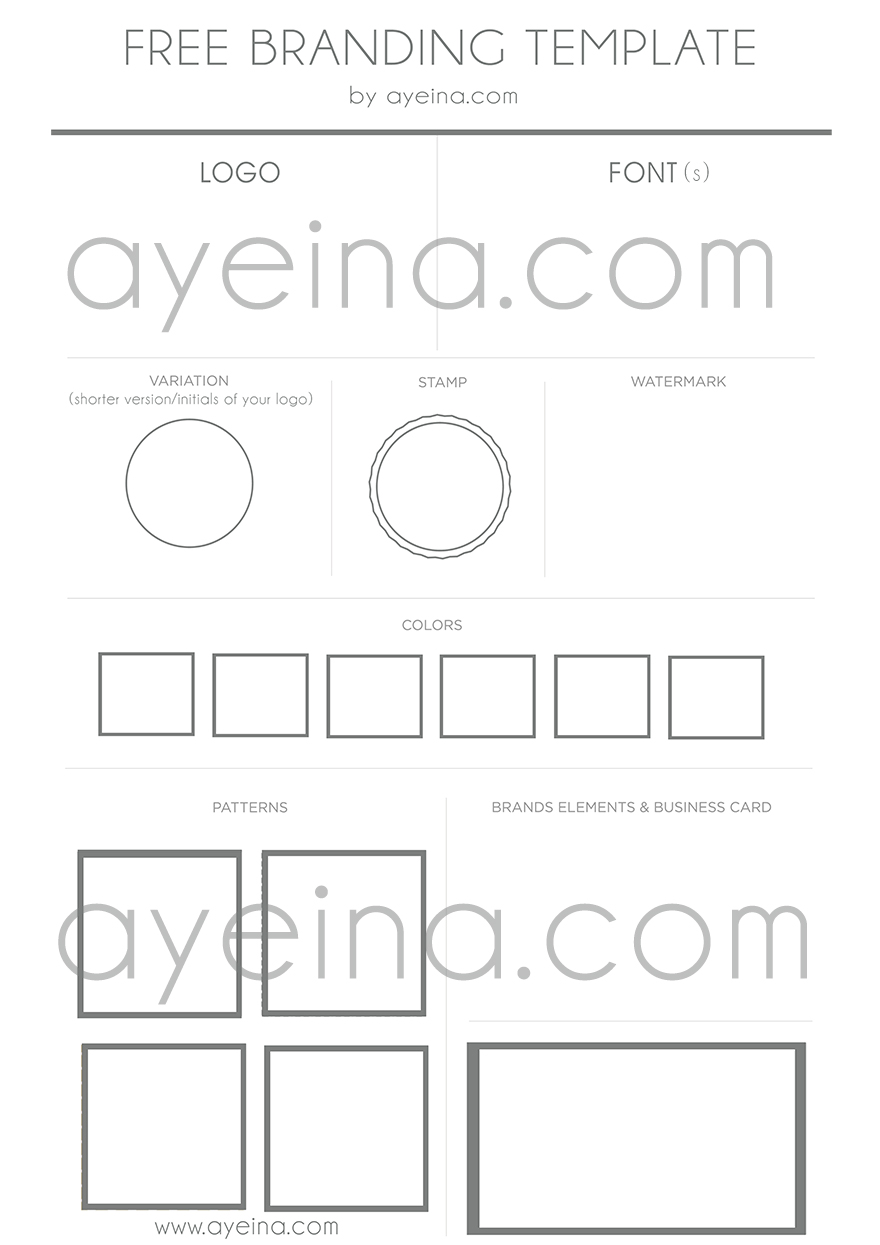 6) Take Your Product into the Production Stage
Finding a company to make your products is super important. I had the advantage of having Chinese friends, and I have visited China and been to the factories that make products such as bags etc. Even after all this, it was not easy. Companies are busy; they have long-term customers and they know that they will need to put in more effort in a new customer. Most will think they will not see you again after the first order, and this has an effect on the quality of craftsmanship that goes into your product. 
Don't let that stop you though – get the factory to make you samples. They usually charge you, but often return the fee when you place a bulk order. You can use websites such as alibaba.com to find manufacturers if you cannot go to China yourself. You will have to do your research to make sure your money is not in the wrong hands. 
7) Invest in Marketing
Business is nothing without marketing. Before social media, we had leafleting door to door, or information given out at mosques, and so on. It still happens. However, what people want is information, reassurance and a sense of professionalism. Social media helps to build a reputation nationally and globally. We can watch a short video and get the information we need, feel reassured by watching people use it or rate it, and also see the professionalism of the company. Then individuals share it with thousands, and even millions, of people.
Social media is not the only form of marketing: there are so many others as well. This is where you get creative! After you've done your part of marketing, let the word of mouth do its work! 
8) Sell with honesty and passion
Honesty is what can take you from a small town to global recognition.
Well, you will not have a company if you don't sell. I am not a born sales-person. I am a designer at heart, a trained teacher, and an optimistic photographer! 
When I speak to shops, I am just genuinely honest; I would gain the trust of the business owner and give them a guarantee. I would say if you don't sell these products by Hajj I will take them back and give you your money back!
9) Reach out to Different Distribution Channels
Alhamdulillah for everything, we have Hajj Safe products in over 16 different countries and 40 different cities! How did we do this? Well it started with the UK. We simply did a lot of internet research and found Islamic shops in the UK. We would use Google, Facebook and Twitter to find shops. Any good shop would have a website. And today, six years on, more and more people are using the net, especially Instagram. Don't limit yourself to one country only. These days, many Islamic stores don't even have a website – they just use Instagram and sell thousands! 
10) Trust in Allah!
Hajj Safe officially started in 2011, but we really started in 2009. To this date, I have not taken a salary! alhamdulillah. I am a trained teacher and have had a full time, and part time jobs, on and off while developing Hajj Safe. It's a ride that you need to be on for the right reasons! It's never been about the money for me, so I kept going! Be sure, it's not easy but, seriously, I would not give this up, and if I was asked if I would go through all the hardship again, I would.
Trust in Allah while giving your best and He won't let you down! In shaa Allah! If you have to go with one lesson from this post then make it this!
If there's a will, there's a way!
—————————————————————————————————————————————————————————————–
Co-Author's Bio: Kamal Ali is not a writer but a product designer who has worked as a teacher for the last 10 years and is the founder of Hajj Safe while teaching full time. Kamal has taken Hajj Safe from a simple idea to now having over 10 uniquely designed products for pilgrims, in over 16 countries and 40 cities around the world. Over half a million pilgrims have alhamdulillah benefited from Hajj Safe products!
FB Comments
comments