---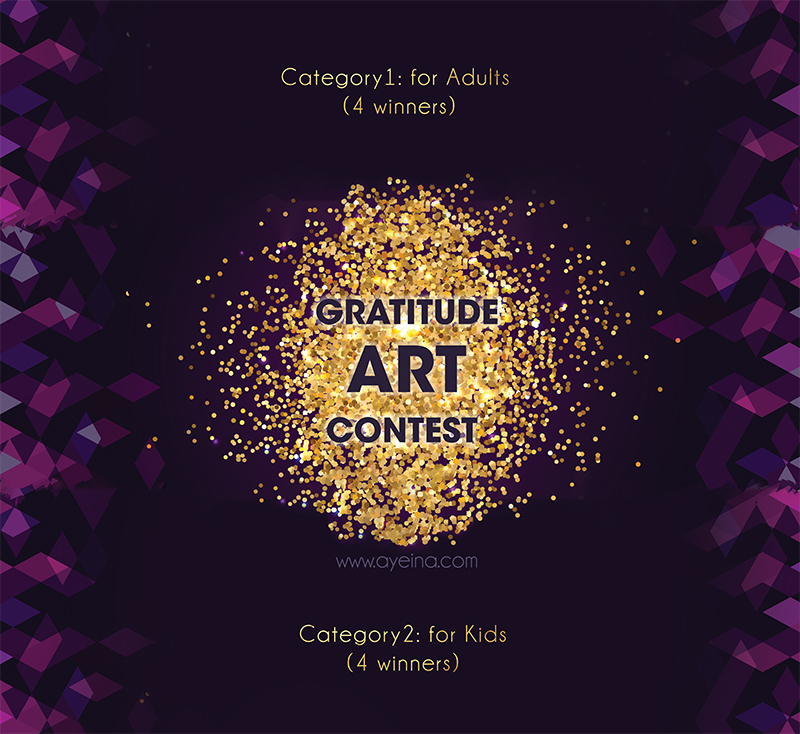 Featured / Gratitude & Positivity
——————————————————————————————————————————————————————————-
2015 Gratitude Contest: http://ayeina.com/gratitude-art-contest/
2016 Gratitude Contest: http://ayeina.com/gratitude-caption-art-contest/
2017 Gratitude Caption Contest: http://ayeina.com/gratitude-caption-contest-2017/
——————————————————————————————————————————————————————————-
---
#gratitudeARTcontest for KIDS (under 13)
1: Paint/Draw whatever you are grateful for! and let your parents post your artwork (old or new) with your gender and age (they may not share your name if they don't want to) – on Instagram, Twitter or Facebook (since kids under 13 are not allowed social media access) – Deadline: 21st AUGUST
(HINT: Think of something specific, something little, something special, something different – draw things not people 😀 ).
2: Ask your parents to hashtag it: #gratitudeARTcontest and #AlhamdulillahForSeries
(so it's easier to track which artwork is a submission for the contest! A caption along with it should mention – "Alhamdulillah for _________"). If the account is private, we may not be able to see the entry so please DM/PM (Direct/Private Message) the screenshot of your entry post.
3: The person who is posting on your behalf should tag at least one other person who can participate in this contest in shaa Allah ❤
You'll be spreading positivity by sharing what gratitude means to you 💜 An entry from you can make someone feel blessed in their life as well in shaa Allah 🙂
---
Prize Packages:
---
There will be three winners (judgement will be based on originality and creativity) plus one SPECIAL winner from ALL THESE ENTRIES – 4 winners in total in shaa Allah.
---
SPECIAL PRIZE:
Artwork of ONE special winner will be featured in our upcoming JOURNAL for kids 💜 & of course they'll be sent the journal once it's out (their name and art will forever be a part of the book 🙂 in shaa Allah).
P.S. Can you guess what will the journal be about? 😀 It will have half watercolor paintings in it like #AlhamdulillahForSeries Gratitude Journal for you to frame and half of the drawings will be for you to color! so it will be a mix of learning, journaling and coloring in shaa Allah 🙂
PACKAGE 1
One of the winners will receive 3 of the following products:
1. Wooden Arabic alphabet puzzle by ThinkerNation
2. Children's Arabic books (an Arabic workbook + basic Arabic sentences for kids) by Alif2Yaa
PACKAGE 2
Another winner will receive 2 of the following products:
1. Islamic subscription box for kids containing various crafts and books by My Deen Box
2. Islamic board book for kids ( designed by us – My first ABC words of Islam) by My Shelf
PACKAGE 3
One more winner will receive 5 of the following products:
1. A plush hijabi doll by Dzaltastic.
2. Children's books (1: "Who could I be?", 2: "Kamilah the Butterfly", 3: "Imagine" and 4: "Little blue skater boy") published by Djarabi Kpublishing.
---
FB Comments
comments
Recommended Posts
10 Jul 2017 - Featured
10 Jul 2017 - Featured