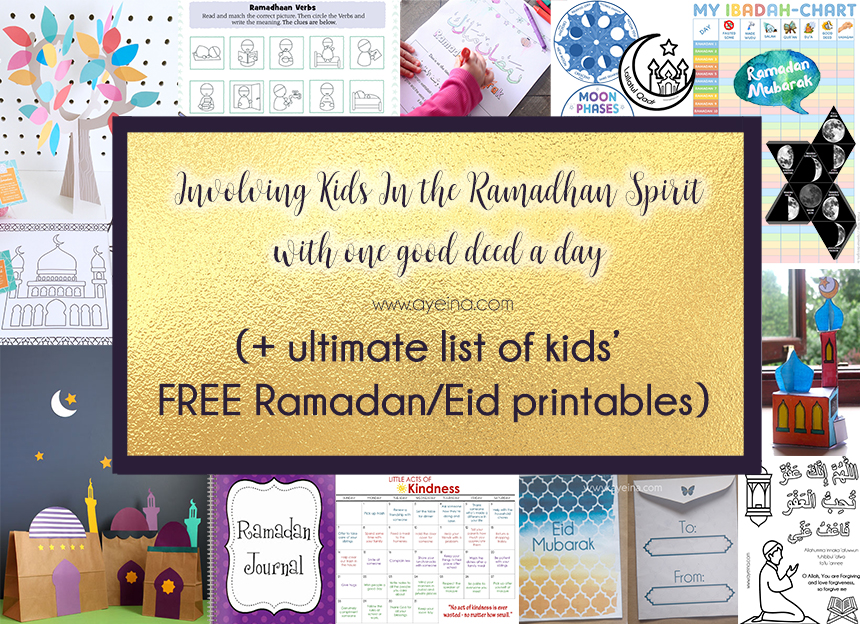 —————————————————————————————–
—————————————————————————————–
UPDATED: 04/2020
As

Maise Carter

stated: "Ramadan is a great time to involve children in the beliefs, blessings, and opportunities during this auspicious time. Even if they are not old enough to fast, you can still teach them about why we celebrate this month and involve them in other ways. The best way to approach this is to reveal the purpose of Ramadan from an early age. This way your child will know the importance of the actions completed during Ramadan and be motivated to achieve it themselves when the time does come. 
It is also a great idea to teach them by involving their emotions. When a child is emotionally invested in an activity, their motivation to complete it is much higher.
View this post on Instagram
Ramadan is the month of giving.It's important to teach your children the importance of charity and providing donations in order to feed the hungry during Ramadan. It is also equally important to show them that all good deeds – no matter how big or small – are seen and rewarded by Allah (SWT). Any deed in Islam that benefits someone or something else is a good deed. Remind your children that doing these deeds during Ramadan is a great way of showing appreciation for all that they have and compassion for those that do not have so much.
A great game to create is one which requires your children to do one good deed every day. It's something your child can get involved in, even if they are not fasting, which will give them a huge sense of importance. Give them a challenge that they have to do one good deed every single day and make it into a game. Everyone in the family has to do one, and you all act out your good deed every evening together during the month of Ramadan. Ensure you commend them and get excited about their good deeds, as children catch onto your enthusiasm and if your showing passion about what they've done, they will become all the more excited to share it with you."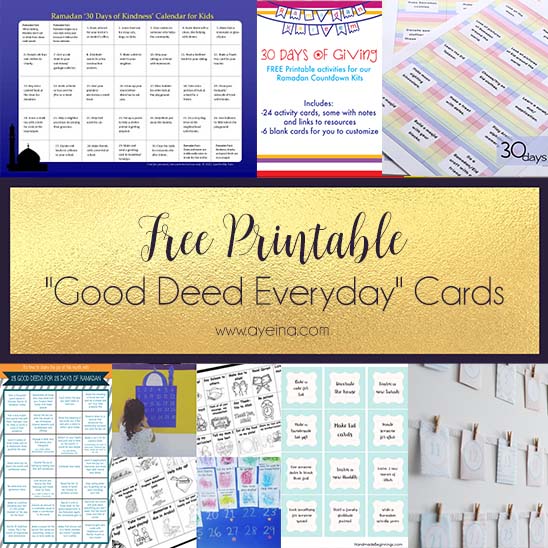 "Good Deed Everyday" activity ideas (FREE Printables):
You can mix and match according to your needs!
30 Days of good deeds for your Ramadan jar by In the Playroom
Ramadan Advent Calendar with a hadith (good deed) a day by Quote Lovin
Gratitude challenge printable by Mom Can Do This!
Good Deed Date Palm Tree chart by Makkah centric Education
Toddler Ramadan Kindness Calendar by Nilly Dahlia
Ramadan Good Deeds by Mamateachesme
30 days of giving – List of activities by Silver Envelope
30 Activities for a Ramadan Advent Calendar by Modest Munchies
'Little Acts of Kindness' Ramadan Calendar by MumzyNotebook
28 good deeds for 28 days of Ramadan by The Visual Age
Free printable good-deed-a-day envelope template by Everything Nisa
There are lots of fun Ramadan crafts and activities you can do with your children that are great ways to occupy, inspire and teach them about this blessed month and its importance. You may also do a Ramadan activity or craft a day with kids based around Islamic books.
---
---
We have several printables for our subscribers as well as some can be seen below: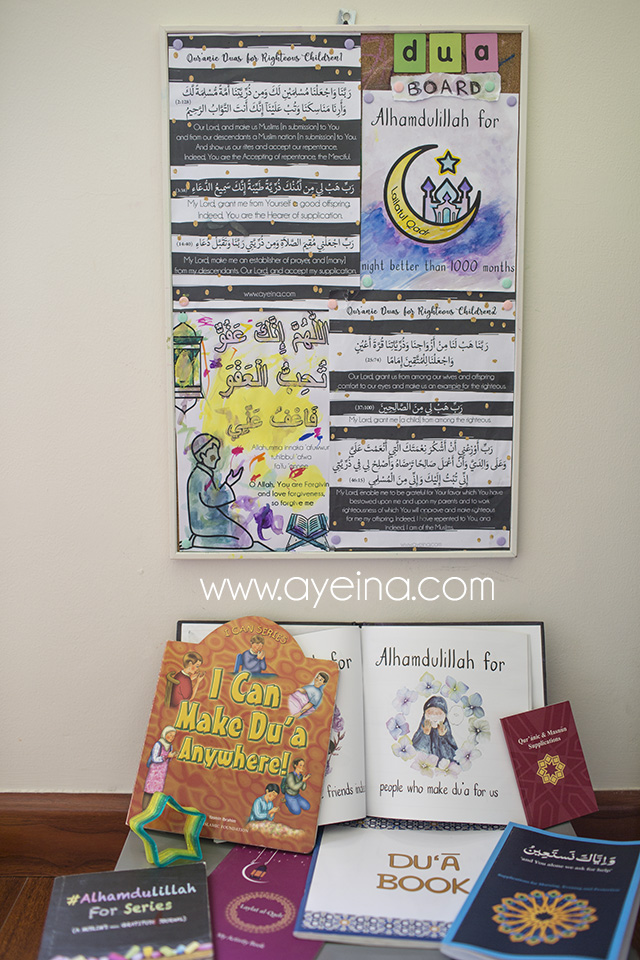 You can subscribe here to get the bundle:
———————————————————————————————–
Free Ramadan Printables for Kids
UPDATED: 04/2020
Iman's Homeschool has pretty much EVERYTHING on the topic of Ramadan collected in one place in THIS LINK.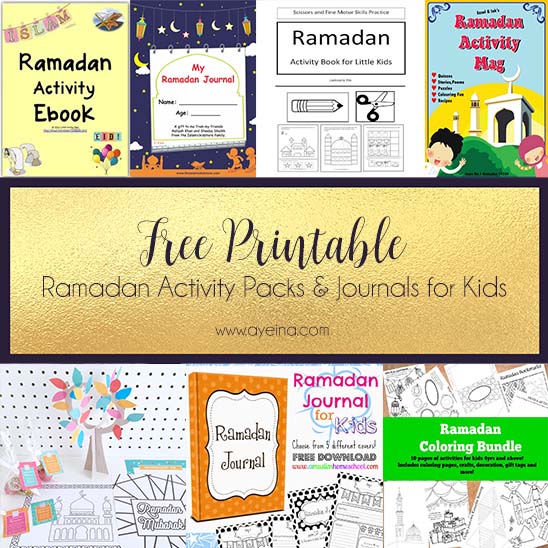 Free Ramadan Activity Packs/Journals for Kids
Free Ramadan/Eid Printable Pack for Kids by AYEINA
Ramadan Kids Activity Pack by Little Wings Gallery (who kindly featured #AlhamdulillahForSeries Gratitude Journal as well <3 )
Free Simple Ramadan Journal by Arabic and more (2020)
Ramadan Activity Pack by Bismillahbuddies (2020)
Ramadan printable pack for Kids by @the.lettered.inkling (2020)
Ramadan Printables by Qamardesigns (2020)
FREE Ramadan Package by dear muslim child (2020)
Ramadan pack for children by UmmAssad.pubs (2020)
Ramadan Activity Pack by Learning Roots (2020)
Ramadan pack by @alhikmahmadressa
Ramadan Activity Book by Allamah Education
Ramadan Workbook for little kids and Journal for older kids by Salam Homeschooling
Ramadan Journal for Kids by Muslim Writers Club
Ramadan Quran Reading Tracker (juz by juz) by A Muslim Child is Born
Simple Ramadan Journal for kids by @honestlyaisha
Ramadan Activities Printable Coloring Bundle by Jeddah Mom
Free Ramadan Planner for Kids by Islamic Kids Store
Ramadan Printables for Kids by TJRamadan
Free Ramadan Journal for Kids by Emaan Power
Ramadan Activity Book by A Muslim Child is Born
Raihana's First Time Fasting Printable Pack
Ramadan Journal Page by Rey of Light Design
Ramadan Kit for Kids by Ummi and Kids
2 Ramadan Activity Packs by Smart Ark (Notes for Parents and Teachers)
Ramadan Journal by A Muslim Homeschool
Ramadhan Activity Pack by Officially Shamsa
Ramadan Activity Book for Kids by A Muslim Child is Born
Multiple Ramadan Printables by Qamar Designs
Ramadan Activity Pack by A Muslim Child is Born
Multiple Ramadan Prints by Karima's Crafts
Ramadan Activity Book for Little Kids by Ilma Education
Ramadan Decor and Activity Pack for Kids by Little Wings Gallery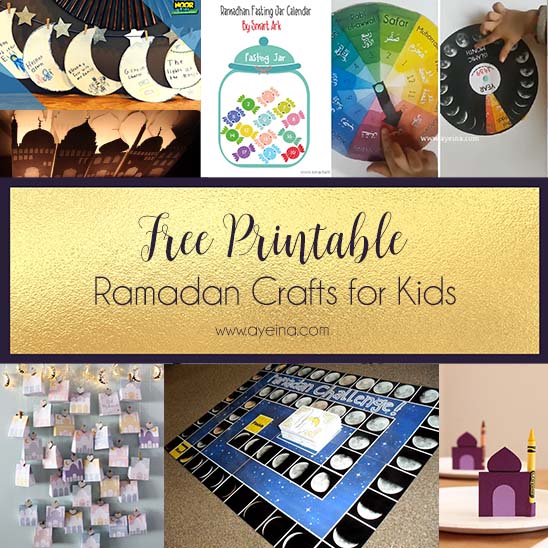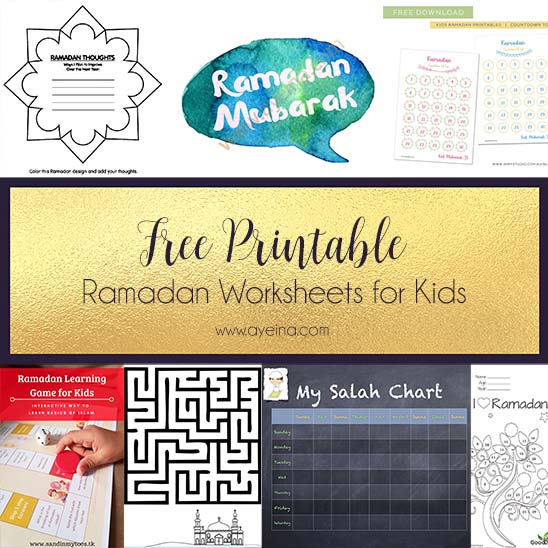 Free Ramadan Worksheets for Kids
Ramadan Mubarak Card by AYEINA
Ramadan Moon Phase Calendar by Miraj Stories
Ramadan Activity Workbook by Jannah Jewels (2020)
Ramadan Fasting Chart for Children by Good Deeds
Pink and Blue Countdown to Eid Charts by In My Studio
Moon Phases Worksheet by Allamah Education
Salah Prayer Charts by A Crafty Arab
Ramadan countdown tracker blue by Mom Can Do This!
Why am I Fasting? Chart by Parenthood Muslim Style
Ramadan Grammar Worksheets by Talibiddeen Jr.
RaMATHan – Finding Averages by Talibiddeen Jr.
Ramadan Matching Game and Word Search by Holiday Spot
Ramadan Word Search by Handmade Beginnings
Ramadan Maze and Crossword Printable Activities by In the Playroom
Special Edition Ramadan Tracker and Colouring Sheet by Omar & Hana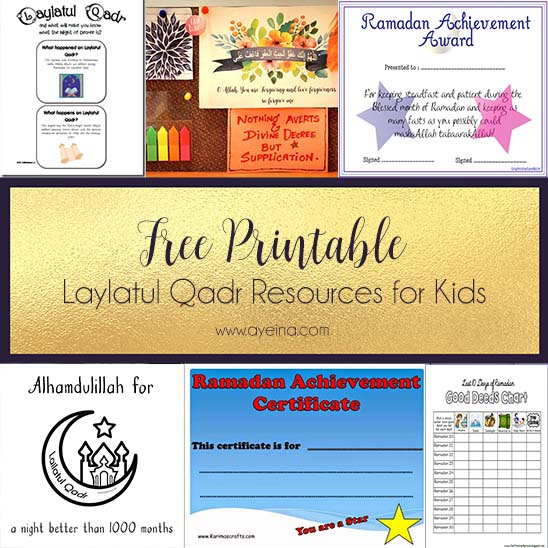 Free Last 10 Days of Ramadan / Laylatul Qadr Resources for Kids
#AlhamdulillahForSeries Laylatul Qadr Color in Poster for Kids by AYEINA
Last 10 Days of Ramadaan Good Deeds Chart by Our Precious Sprouts
Laylatul Qadr Introduction (in the form of a story) by Zanib Mia
Laylatul Qadr Bulletin Board by Islamic Bulletin Boards
Ramadan Certificates by Karima's Crafts
Ramadan Achievement Award by Easel & Ink
Free blank certificate for kids by Quotelovin (2020)
—————————————————————————————–
—————————————————————————————–
FB Comments
comments