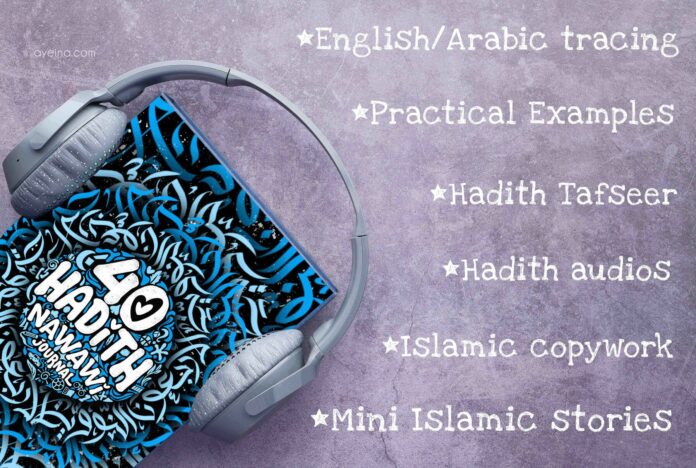 ---
Buy Digital (Nawawi) ; Buy Digital (Qudsi)
---
See how we have been using it with the kids in our highlights: Hadith Journal. See the GUIDES on Instagram for a more in-depth look.
 

 

View this post on Instagram

 
FEATURES
We designed this for our children mainly out of need – to improve their Arabic handwriting mainly while learning ahadith, but seeing a vast public interest, we are making this public (as a digital pdf – JUST the copywork part) before the official release! You can use these inspiring ahadith to develop self-motivation among kids to learn the basics of their deen and the knowledge of their Rabb in shaa Allah.
Arabic and English Copywork
Copywork is an exercise of copying words from a written example. For younger kids, copywork may just be copying the letters of the alphabet and single words. Older children may copy sentences, paragraphs, and eventually entire pages. Reading and copying classical literature familiarizes children with authentic knowledge, grammar principles, the beauty of fus'haa Arabic, and other key aspects of effective writing. This often leads to an improvement in their own composition and communication skills. Even without directly teaching it, copywork exposes your children to spelling, vocabulary, and other mechanics of grammar. As the child copies good writing, the hope is that the child will adopt the language skills found in the sample (and with Allah's mercy, the morals within as well).
☆ Arabic tracing
So it's easier for kids to read the text and practice writing it. We have chosen small parts of ahadith with one complete message so that it doesn't become physically or mentally exhausting for the child (because they may not be able to retain the precious information if we unload too much on them). Copywork requires close attention to details, such as harakaat of the letters, that may be ignored when reading through the hadith quickly. We have also been trying to memorise these short phrases (in Arabic) to not only apply the ahadith in their lives more easily but to also familiarise ourselves with the language. The physical act of writing stimulates muscle memory and helps kids transfer letter formation and spelling into their long-term memory (writing by hand has been shown to engage parts of the brain involved in learning and memory). Check out how we initially started with this process (slowly and gradually): 1-word ahadith for kids to learn, 2-word ahadith for kids to learn.
☆ English tracing
So it's easier for kids to read the text and practice writing it in both print and cursive. Children who can write in cursive have an easier time reading print as well. Cursive continues to be an essential skill from a cognitive standpoint for several reasons, including:
Sensory-motor coordination
Hand-eye coordination
Fine motor skills development
Dynamic brain hemisphere engagement
Thinking memory
Visual recognition requirements present an expansive range of letter representation
☆ Hadith explanation (with practical examples)
The aim of this section is to enable the child to understand the Hadith while understanding practical kid-friendly ways of implementing/acting on them through mini-stories. Some parts of this are simplified for kids. A child may still need the help of an adult, depending on their age. This will also help you learn with the child in shaa Allah.
☆ Hadith activity
Copywork focuses on visual learning but children may actually learn best when the knowledge comes through all three pathways to the brain instead of just one — visual, auditory, and kinesthetic. The more senses we involve, the more learning occurs. This part of the journal takes into account that none of the sacred texts are depicted in a way that is disrespectful. The activities are based on the main theme/concept of the hadith to actively involve the child in the lessons, so you can keep his or her attention with very little effort in shaa Allah.
☆ Reflection section / Hadith Journaling
The Hadith Journaling / Reflection Section has been given because the purpose of reading (or even memorising) the ahadith is to reflect upon it and apply it in our lives. If you're using it with a young child, please make sure that you supervise them and help them understand how to respect the hadith books. They may experiment with different materials and use the creative design on the given page to embed their learning, but they should avoid illustrating the hadith with animate beings or the world of the unseen (Allah, Prophets, Angels, Satan, Hell, Heaven, etc.).
☆ Certificate
The certificate at the end of the book is to encourage a child to keep going forward in their journey towards gaining knowledge of Hadith. You can either use it for writing practice or simply for completion milestones of understanding by writing the child's name in the middle strip (and better yet, for memorisation of these ahadith).
View this post on Instagram
---
Reviews of 40-Hadith Journals for Children
---