---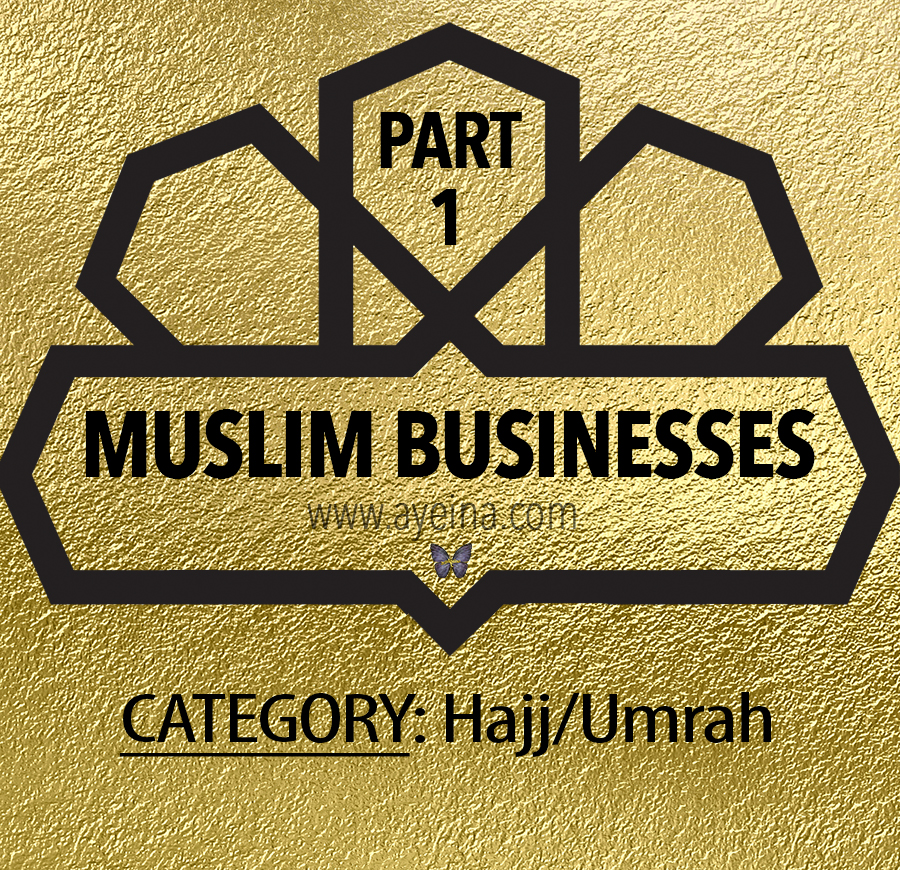 Hajj / Umrah
---
Whether you're going for Hajj/Umrah or planning to go someday in shaa Allah or simply assisting someone for the journey, these amazing Muslim businesses are there to cater to your Hajj/Umrah needs. Different product recommendations have already been discussed in the previous posts (1,2,3,4) for your ease and general availability. 
But it would be great to support these Muslim businesses if you can. Please note that none of these brands are endorsed by us. We are simply recommending the Hajj/Umrah products we got to know of and we are in no way affiliated to them. Hence you must do your own research too. 
Hajj/Umrah packs:
Halal Goodies & Mubarak London (Although these are subscription boxes & gift boxes (respectively), but they are offering Hajj/Umrah products in a box).
Olive Tree Soap – for a complete handmade pack of unscented Hajj/Umrah goodies (along with a packing checklist).
You can also check Olive Bee (UAE – for unscented organic beauty products)
Deen Square, Hadiya Shop, With a Spin (along with a wudu pal and a handy cool mist fan), Islamic Impressions , The Islamic Establishment etc. are also selling a range of Hajj/Umrah products.
For a more detailed list of Islamic stores around the world, SEE THIS LIST. 
Hajj/Umrah notebooks:
Islamic Moments , The Pampered Muslimah, ZHArtandWoodcraft, My Salam Shop (although you'll find these products in different stores, but probably not all at one place).
Hajj/Umrah food-solutions:
If you are going to Hajj with kids, then food pouches are the easiest to carry and feed the child – I heard about these halal baby food pouches 'for aisha' – you can give them a try before taking them along. 
CURE (Haven't tried it yet but heard great things about it (especially as Hajj/Umrah healthy snacks)).
---
To teach Kids about Hajj/Umrah

:
Iman's homeschool (Hajj word search, Hajj coloring page, Hajj activity pack), Ilma education, My Deen Club , Learning Roots , A Crafty Arab , Smart Ark, Umm Abdul Basir (blog) and Islamic studies resources have a Hajj section for kids. Noor Box also has a Hajj box with Hajj board game etc. 
List of Hajj/Umrah Magazines for Kids:
---
Although there are a number of Islamic magazines like Discover Magazine , Hiba Kidz , Noor Kids , Little Explorers , My Deen Club etc. 
But following are some Hajj/Umrah focused magazines that we stumbled upon, after some research.
(We personally would prefer faceless books/magazines out of all because children can keep/use them anywhere at Hajj/Umrah. Since there might be people offering their prayers around them, so having no facial features drawn on the books/magazines/toys is a plus).
---
List of Hajj/Umrah Books for Kids:
---
We've already talked about a list of books for kids HERE and basic books for adults HERE. 
But following is a pictorial list of books available for kids on the topic of Hajj/Umrah. 
---
5: Makkah and Madinah Activity Book
6: My Book of Hajj and Eid-ul-adha
7: Hajj Adventures of Jamila and Fasfoose
8: My Activity Book of Hajj and Eidul Adha
9: A Little Tree Goes for Hajj
12: Haji Zaahir Jamel the Camel
13: Zayd Visits the Two Holy Cities
14: Hajj Harmonies
15: Young Explorers' Adventures in Makkah (for which we contributed the artwork as well).
---
Run a rehearsal for kids at home (if they are going to Hajj with you) so you can see which activity, book or magazine clicks best with them. The one they love the most, just take that along instead of taking all of them at Hajj/Umrah.
Actually, you can even test out #AlhamdulillahForSeries gratitude journal with them and ask them to jot down what they are grateful for at Hajj, just to keep the positive vibes alive. Even you can fill it out to keep your mindset positive and flourishing.
---
Please note that we are neither endorsing any of these products/shops (it's not a sponsored post) nor have we tried each and every product/shop. Please ensure authenticity of these products/shops on your own. This is just to help you out and make your task easy in shaa Allah. If you have more product/shop recommendations, please let us know and we will keep updating this list bi'ithnillah. 
Disclosure: Some of the amazon affiliate links have been used above. Please see our disclosure policy.
FB Comments
comments
Recommended Posts
23 Apr 2017 - Parenting