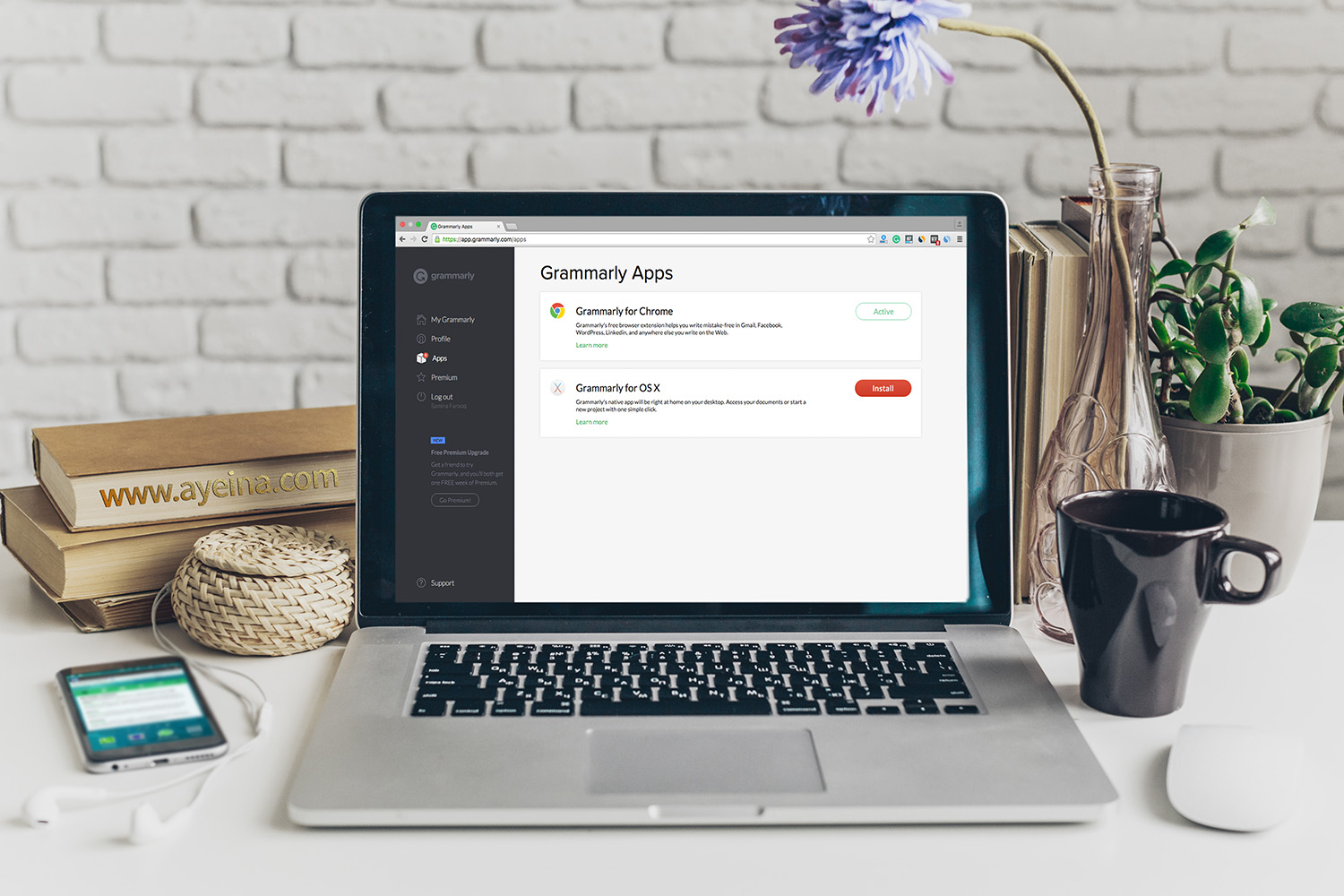 When I first entered the world of freelancing, I cluttered my devices with all kinds of apps and software to help me organise. Next thing I know, I was spending my time organising my organisation apps. Through the years, I figured that I don't need all of them or even many of them. Just a few of these below could replace those many:
As a freelance writer, I've been using the free version of Grammarly for long. 
Recently, we shifted to the premium version of it because well… Grammar matters. Although hiring a professional editor is probably the best option but it's way more expensive and time-consuming.
Although the free version does a lot of things already, the premium does go a handful further. It sends me a report every week of how am I doing as a writer. It indirectly helped me land some of the major publications like Cosmopolitan etc. 
As I type, it keeps acting like my grammar police. Even on facebook. Even in emails. Everywhere. It's my Writing bodyguard. It comes with a chrome extension and hence follows me everywhere I go. That's something you can't really hire an editor for. You'll be broke by the time you write one article while you check your Facebook and surf through the Internet. As a blogger/writer, it's a MUST and also for anyone using Facebook/Emails etc. – Professionally or non-professionally. It corrects and explains those pesky grammar, spelling, and punctuation mistakes that tend to find their way into written communication.

In simple words, it's a note taking app. But probably the only app that has a beautiful widget, runs on laptop/PC as well, syncs with your email and records your voice notes/ handwritten notes.
The best thing about it is that it syncs on all of your devices (not only phones and tablets but your laptop and PC as well). Which means that if an idea strikes me at bedtime, I can easily write it in my mobile and access it the other day on my laptop (without having to copy paste the idea on email and send it to myself for easy access through the laptop/PC) and yes, Grammarly works on Evernote too.
Even though Evernote gives you reminders too but the thing that sets Any do apart is it's visibility in the notification bar. When you want to be reminded of something, you can't get away with just an alarm or so. After a few minutes of your alarm going off, probably you're thinking of something else to do.
Your to-do list on any do will forever be in front of you when you check your Facebook/Instagram/twitter/Whatsapp/Email notifications. It will keep reminding you that you have more important work to do.
It even reminds you every day that you have to plan your day to make yourself the most productive. Though, it's kind of annoying sometimes. But probably we need 'annoying' to get working.
And yes the founder of Any do is a Muslim and we like to support good and halal Muslim businesses.
Probably there are so many dictionaries that are really good but its widget sets it apart (Yes! I'm really biased towards the apps that have free widgets). You don't have to open the app to dictionarise the word (Grammarly doesn't like such words but I'm just going to ignore).
It introduces you to a new word every day so it builds your vocabulary over time. But yeah! unless you don't use those words, you'll forget them as quickly as you learned them.
These are the apps that I use day in and day out. Other apps come and go but I always end up installing these on every single device that I get. Which ones are your go-to organization apps?
This post appeared in Five Favorite Finds @Muslimah Bloggers.