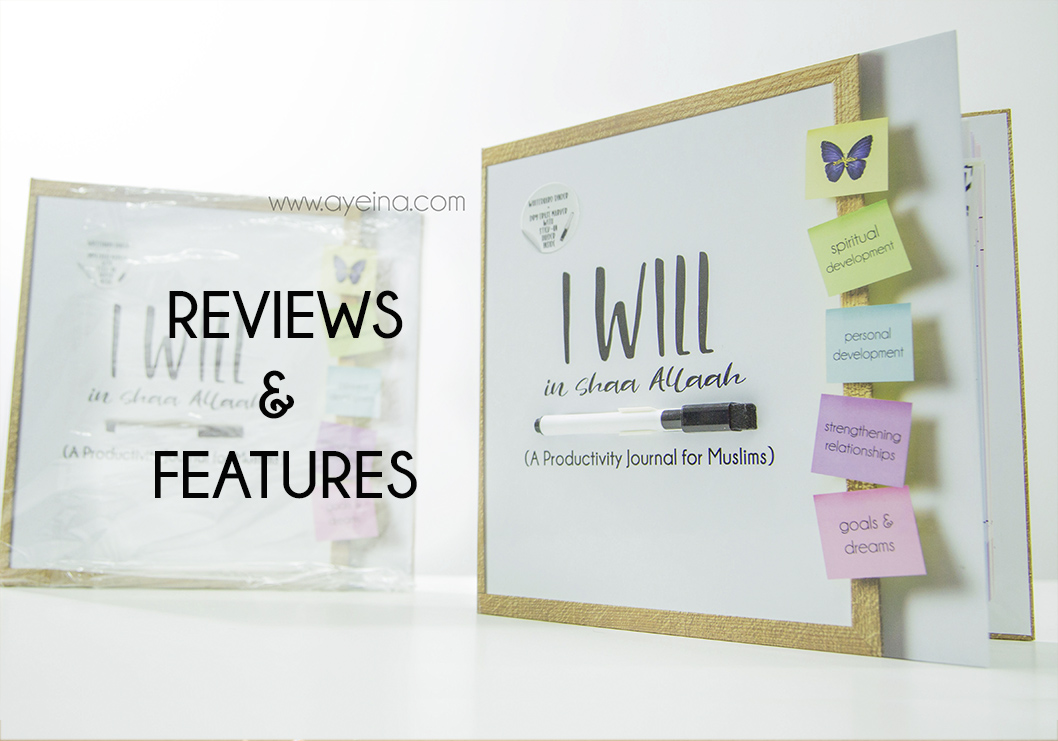 You can read all about the journal here: https://ayeina.com/productivity-journal-for-muslims/
Available as digital printable/ printed copy HERE: https://ayeina.com/product-category/books/
REVIEWS
Following are the reviews of "I WILL in shaa Allaah" Productivity Journal for Muslims by various Muslim customers/bloggers/entrepreneurs etc. from around the world. 
"I find this journal different because it's divided into 4 sections (spiritual, personal development, goals, relationships) and the sections further divided into sections so it's very very doable. And the @ayeina_official sisters have further taken care of lazy aka "kaam chor" aka slackers like me by taking one sub-section from each of the four sections and guiding everyone through it each month. It's pretty awesome right!…I printed out the e-version and keeping in a file. I laminated the pages I know I will be going back to again and again (prayer log, azkaar log, book log, etc). The prayer log is pasted right next to where I hang my prayer clothes for easy record and reference. I have a feeling it's going to do great things for everyone who uses it and it's going to be one of those things which you keep for years…"
The ladies over at @ayeina_official really did a great job on this Allaahumma baarik lahuma. Covers so many aspects both deen and dunya related to help you improve in all areas. Working towards bettering your dunya whilst investing and striving for your akhirah.
I just wanted or rather NEEDED that push to get my act together, renew my purpose and work towards my hereafter, and that's just what the Productivity Journal has done to me. Thank you so much ayeina for the awesomest, vibrant, engaging productivity journal you just released. It's truly helped me declutter my mind and set my priorities aright. It's become my go-to activity every night and early in the morning (that's my only kid-free time zone). I love it for so many reasons , to name a few: although the topics covered are pretty mundane, these are the very areas we as mamas tend to overlook and undermine their importance, here's your chance to perfect these areas while being accountable to your accountability partner…This has to be the earliest I've prepared for Ramadan in the 27 years of my life…
"This journal has been developed by @Ayeina_official to help you take care of: 💚 your SOUL, 💙 your BODY, 💜 your HEART ❤ and your MIND, allowing you to fulfill your Ultimate Purpose in Life. Insha'Allah. Whether its a learning more Quran, praying on time, making up fasts… or perhaps self-care and making healthier choices, or maybe you need help nurturing the relationships around you, or something else, THIS journal could help you insha'Allah."
The thing I love about this journal is that it encompasses so many aspects of our lives: faith, relationships, personal development, and work to name a few. This journal is a great way for someone who feels intimidated by getting organized to get into productivity in a guided way, and in shaa Allah make lasting changes and habits that will increase their productivity in the long run.