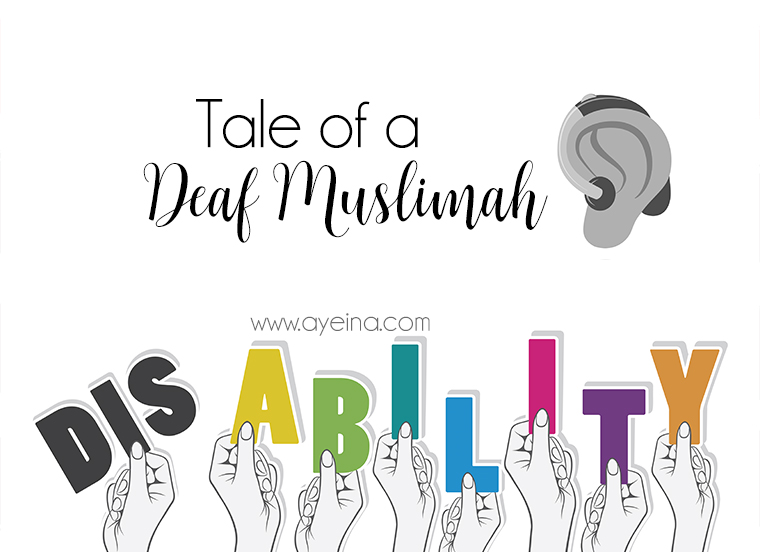 by Meriem (in collaboration with Team AYEINA)
I can't hear the sound of your words but I can listen to the sound of your heart, to your expressions…I can hear what you don't. It's the gift that comes with what you may call a disability (deafness).
It has only made me more 'able'. Able to hear feelings. Able to hear love. Able to hear pain. Able to hear tears…
I'm Meriem, aka The Outsider Muslima, a French Canadian mom of two boys. My biggest life challenges have been dealing with my deafness, facing a child with a heart condition and surviving cancer myself.
Precisely, there is only 25% remaining of my hearing. That is what I've been struggling with all my life, as a mom, as a wife, a friend, a college student, an employee etc…
Communication is what connects us to people, to the world. Deafness can sometimes separate you from the world. Like Helen Keller said: "Blindness separates people from things; deafness separates people from people."
So sometimes, it can feel lonely…
I look totally normal but my head is in a constant spin, burning out trying to match words with what people around me try to say, through all the background noise and bad lighting.
But let me tell you, my disability has given me so many amazing abilities. It has been my greatest teacher. Gratitude has been my crutch in these times.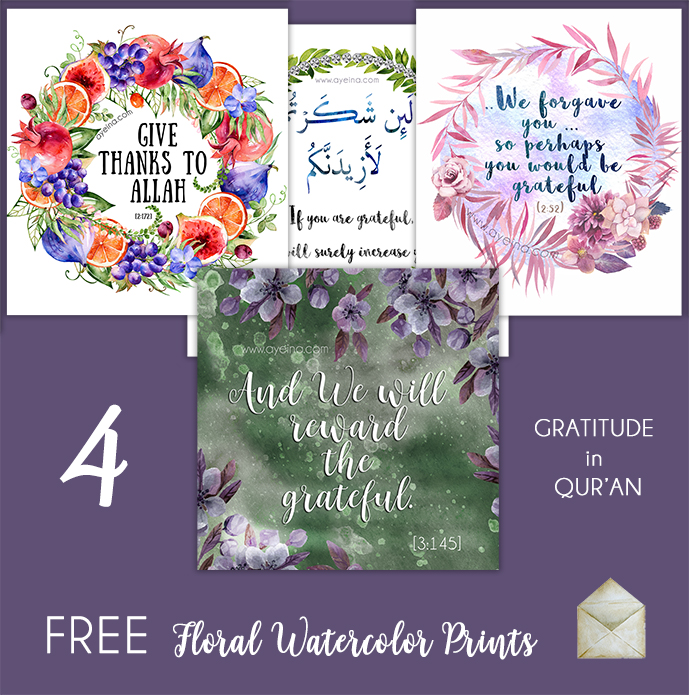 Alhamdulillah, I've always been fully functional, and that is a blessing. It's not always easy, but I wouldn't trade it for anything in the world because I know that Allah rewards those who are grateful. 
Allah says in the Qur'an: "…And we will reward the grateful…" [3:145]
So this is my way to collect as many rewards as I can with the help of Allah. Following is just one part of the gratitude journal I filled – things that really stood out for me (things that I've been blessed with because of my disability – the things that I truly value because of it):
Alhamdulillah for the patience, I learned through my disability.
Alhamdulillah for deafness so I can hear God better <3
Alhamdulillah for not being able to hear a snoring husband at night 😀 
Alhamdulillah for Canadian health care that pays for my hearing aid.
Alhamdulillah for captions on ust. Nouman Ali Khan's lecture videos.
Alhamdulillah for technology that puts ease in communication.
Alhamdulillah for better and closer seat when attending a lecture or a conference.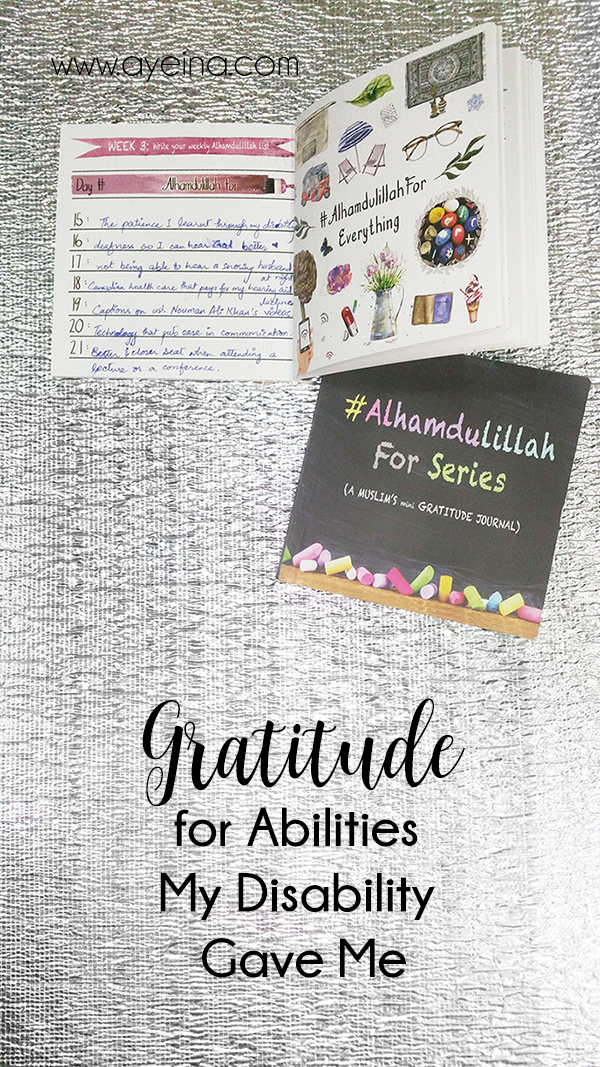 My disability has made me able to do the following tasks more efficiently alhamdulillah:
1) I'm ABLE to read emotions
I am able to read lips and eyes when words don't interrupt a heart to heart conversation. I can read the furrow between the brows. I can read the anxiety on the forehead. I can read exhaustion in those eye bags. I can read worry among those wrinkles.
I can look deep within. Beyond what people say. Beyond what they want to say.
2) I'm ABLE to connect with different races
I learned the sign language. I get to identify with multiple communities. Irrespective of what language they speak and what race they're from, I can speak to all of them. All I need is a heart!
View this post on Instagram
3) I'm ABLE to sense better 
Among many other things, I've developed an amazing capacity of concentrating. With a muted hearing, I am able to see and focus on things better. All of my other senses have become more sensitive. I can see better. I can smell better. I can sense better. Alhamdulillah. 
4) I'm ABLE to read and absorb faster
I'm a huge bookworm. I read really fast – I can read on the bus, the subway or in the car. I don't need to hear the sound of my voice to be able to understand the words I'm reading – just have to read between the lines. The muted sounds of the background noise help me retain what I read. The knowledge I gain through reading stay with me longer alhamdulillah. 
5) I'm ABLE to sleep through anything
I have an option to just turn off my hearing aid whenever I feel like it. It's not a 24/7 luxury I'd like to avail as a mom, but it comes in handy in so many scenarios. Happiness is found in simple things. My situation taught me resilience from a very young age. It's one of the things that I'm the most grateful for. That mental toughness. God knows how many obstacles, stresses, challenges and adversities I've had in my life. My resilience, with the help of God, is what helped me surmount everything. Resilience is my joy. And gratitude is my survival. 
If you're going through this or your kids are – or you know someone out there who needs this, check out this world's first Islamic sign language app "iSay" by Amin & Yasmin. Let's empower the deaf Muslim community and bridge the communication gap in the ummah.
——————————————————————————————————————
Author's Bio: Meriem, a.k.a the outsider muslima, is a french Canadian blogger. A full-time mother of two and a life warrior. She is also a part-time student and worker. Deaf since her first year on this earth, life has often been a battle for her. However, she never gave up. In her writings, she shares with you her deepest and darkest places in hope to reach out to others facing similar situations and bring a bright perspective into the future.