In the wise words of Ibn al Qayyim, "remember that the heart which is journeying to Allah is like a bird, with love as its head and fear and hope as it's wings. The three put together shape not just our lives, but the days that make up our lives". So before your embark on this personal and spiritual development journey, keep the wings of love with a tinge of fear (the ingredients of taqwa) and hope spread open so you can soar high in shaa Allah.
Pre Ramadan Productivity Course is a set of 28 challenges spread throughout a span of 7 months (4 weekly challenges each month) to help you in your spiritual and personal development journey, before Ramadan – so when you enter the blessed month, you may experience it as a brand new Muslim in shaa Allah. May Allah help you learn how to manage your priorities and intentionally engage in your own life through this free course.
In 2017, we started in October and ended the 28 challenges (plus some bonus ones) by the month of April 2018. We picked 1 section from each category in the journal each month – one from "Spiritual Development", one from "Personal Development", one from "Strengthening Relationships" and one from "Goals and Dreams". Following are the conclusion posts of each month: 
Month 1 Challenges – Praying on Time, Physical and Mental Decluttering, Setting Relationship Goals and Envisioning Better Life through the Power of Dua
Month 2 Challenges – Making Charity a Habit, Stress Management, Maintaining Kinship Ties and Facing Fears
Month 3 Challenges – Knowing Allah through His 99 Names, Self Awareness, Dealing with Grudges / Expectations and Positive Mindset
Month 4 Challenges – Understanding Qur'an, Working on Your Weaknesses & Maximizing Your Strengths, Prioritizing Your Life and Shifting Perspectives
Month 5 Challenges – Fasting Beyond Ramadan, Self-Care, Making Sunnah a Part of Your Life and Skill Development
Month 6 Challenges – Creating a Budget Plan for Hajj, Health Goals, Working on Your Social Life and Creating a Bucket List
Month 7 Challenges – Memorizing Adhkaar to Turn them into a Daily Habit, Practicing Positive Affirmations, Dawah Plan and Keeping a Book Log to Encourage Yourself to Read More.
In 2018, we will be starting #preRamadanProductivityCourse in September and end it by the month of March 2019 in shaa Allah. We have created a FB group "PRODUCTIVE MUSLIMAAT" on women's popular demand and will be welcoming a speaker each week to speak on the weekly topic (very casually) and discuss with all of the ladies in the group. You can collect your questions in advance or ask in live sessions. But this will be fun I tell ya! Because abundance is in togetherness.
P.S. If you will be reading this afterwards, this is where you will find how to start in shaa Allah as a detailed guide/course on the PRODUCTIVITY JOURNAL FOR MUSLIMS – although you can choose any topic in any month or week, this is simply how we did it and we hope that it helps make things more clear and doable for you too in shaa Allah.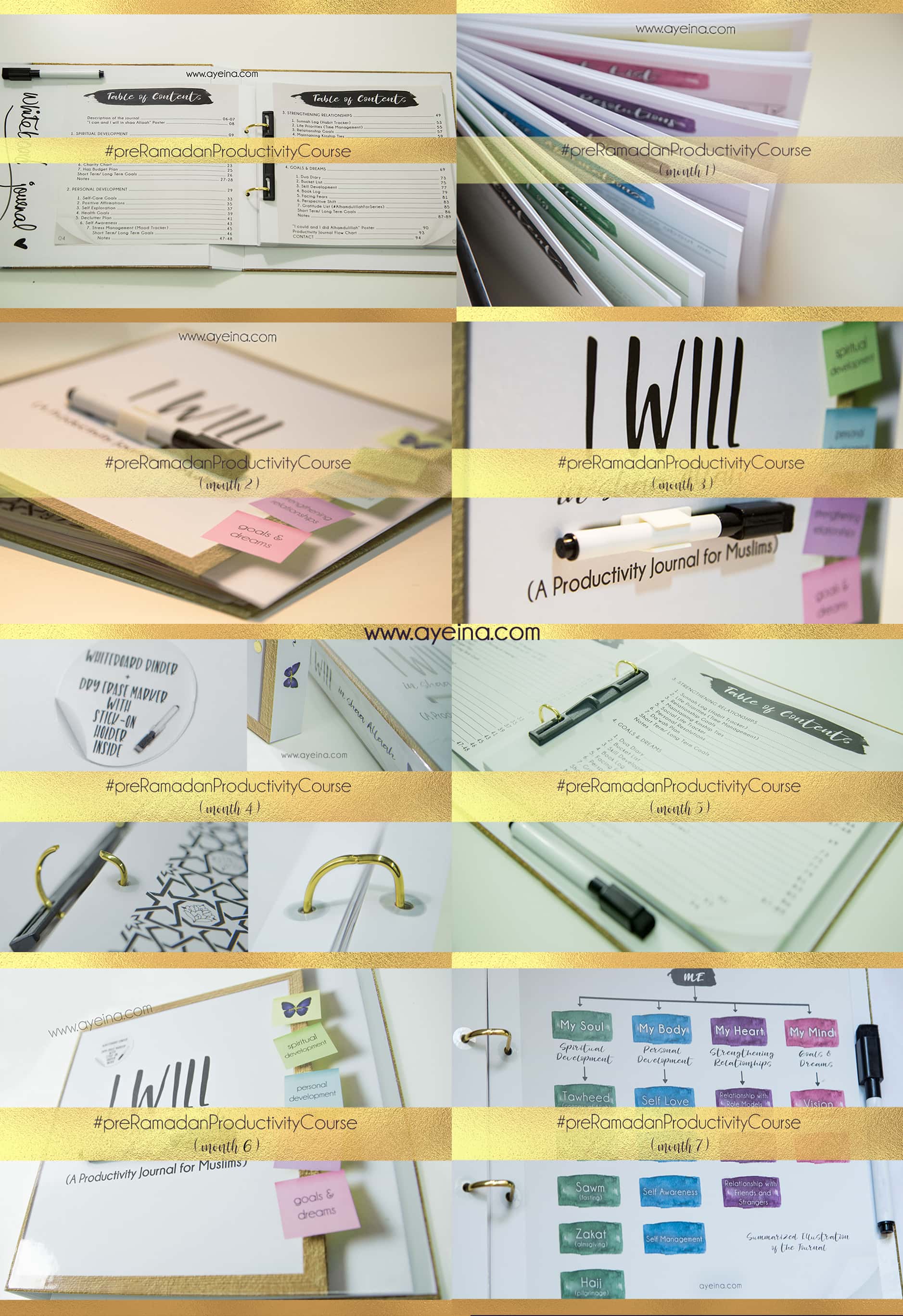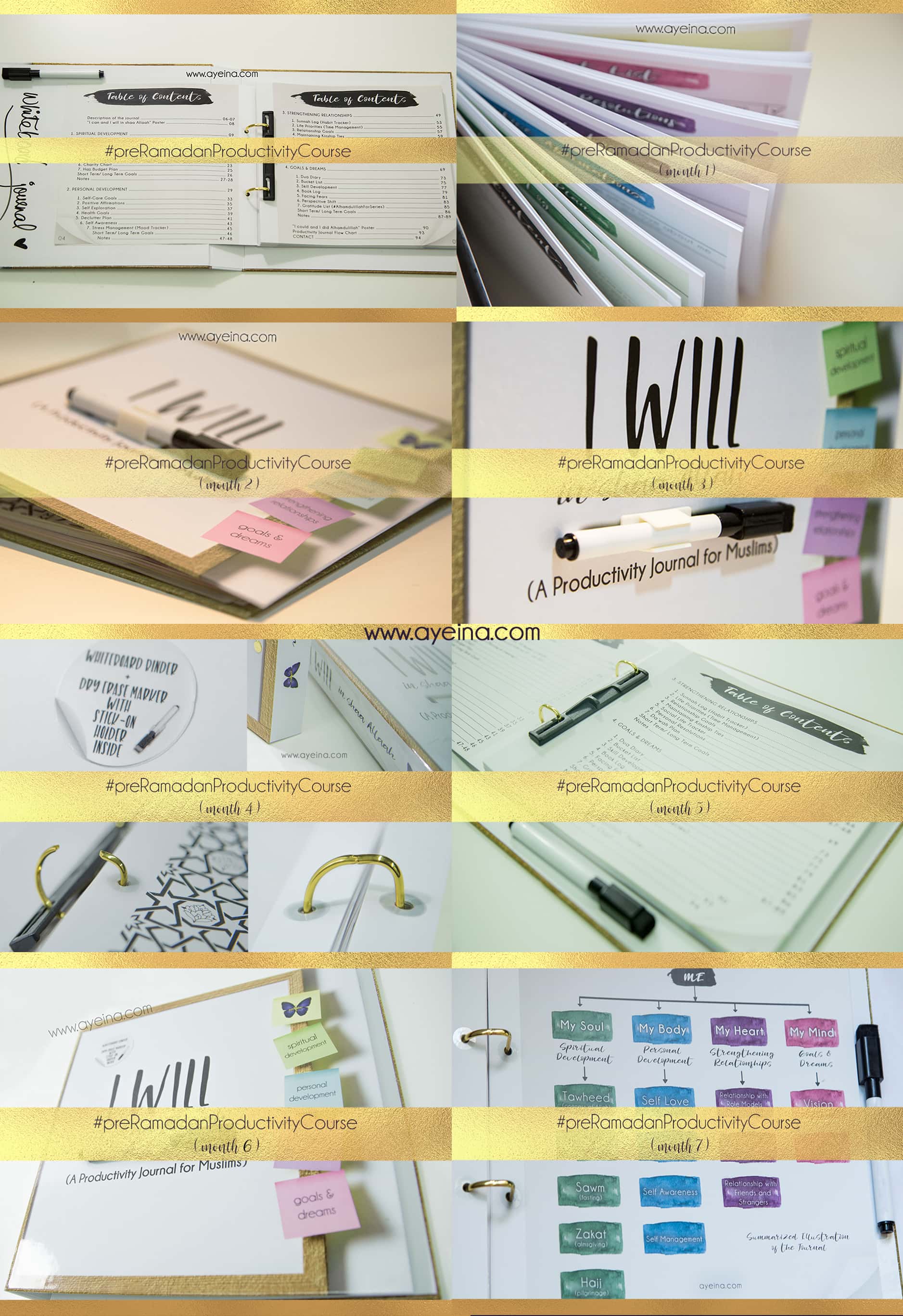 Before you start this journey with all of us, there are 4 simple steps to follow:
1) 
Believe that you CAN!
Work slowly but steadily towards your goals taking small achievable steps. Tortoise wins the race. Reach better productivity and joy at your own pace. It's about YOUR productivity. Not what others are doing. If you think you can't, then probability of your success lowers greatly. Positive mindset is the key here. Positive shift in one area will eventually cause changes in other parts in shaa Allah so trust Allah and lets do this! 
Habit change is hard, so rather than leaving it up to willpower, let's use writing to help us break the bad habits and cultivate the good ones. #preRamadanProductivityCourse is based around THIS PRODUCTIVITY JOURNAL but you are not required to buy one to be able to do these challenges with us. It is simply to make your job easier with pre-made templates and prompts to help you figure out what you want in life and how to achieve it in shaa Allah.
3) Device a plan
Nothing happens by accident. Plan plan plan. Try to device a plan with your accountability partner if you have similar goals. Brainstorm ideas and see how both of you can work best on yourself while working with each other and checking up on each other daily or weekly (whatever is most feasible for both of you).
Try to focus on one challenge until you are done. If it's a big project for you, break it into smaller goals. So even if you are not able to fully achieve your goal in the weekly challenge, you should be able to device a plan for yourself that you can carry out in the coming weeks, months or years (however fits you best). A different plan may work for each individual so never hesitate to reach out at submissions@ayeina.com so perhaps we may help you figure out your plan in shaa Allah. 
4) Start your productivity journey with an accountability partner
Before starting this journey, grab onto someone who will encourage you to keep going even when you don't want to – a friend, a spouse or even a stranger who has the same goals as yours – anyone who you can connect with. You don't have to do it alone! Gathering motivation all on your own is some real hard work and sometimes a reason for giving up too soon.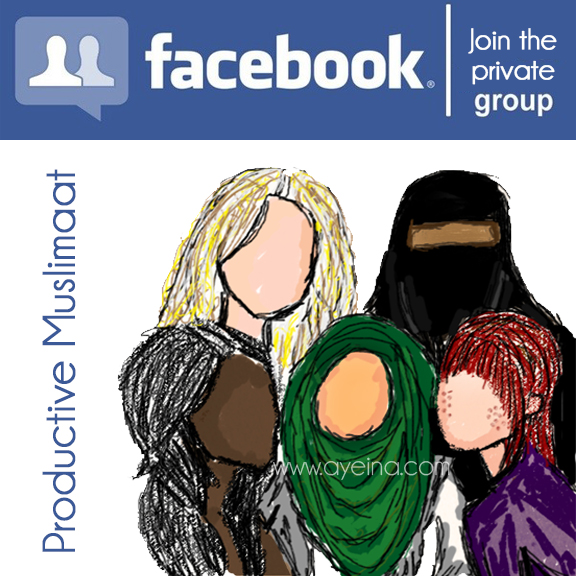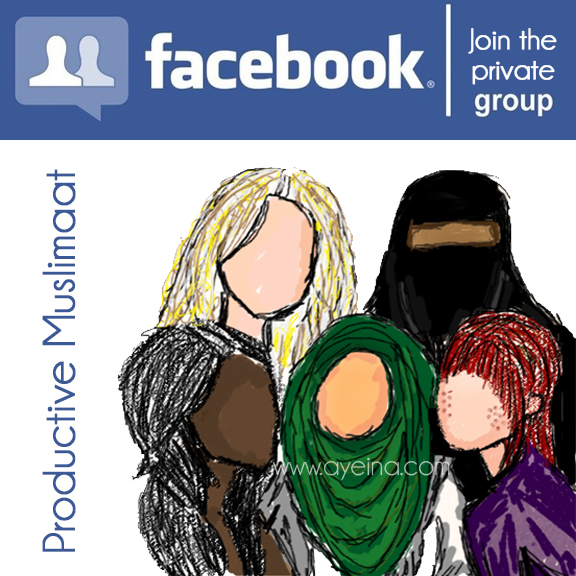 Join the FB group here to see all the weekly FB lives by diverse Muslimah bloggers/entrepreneurs/speakers etc. in the span of 7 months (starting from September 2018 in shaa Allah). Feel free to repost/share the image to invite your female friends, audience and family members before the course starts in shaa Allah.