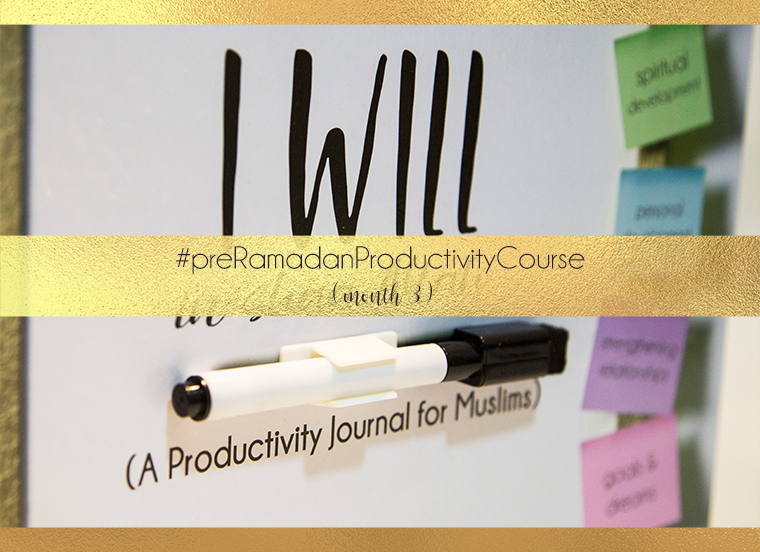 ———————————————————————————————————————————————————
PREVIOUS – Productivity 2: Charity, Stress, Kinship Ties & Fears
———————————————————————————————————————————————————
We started this 7 month Pre-Ramadan Productivity Course in the start of October (And if you will be reading this afterwards, this is the third month of #preRamadanProductivityCourse – as a detailed guide on the PRODUCTIVITY JOURNAL FOR MUSLIMS – although you can choose any topic in any month or week, this is simply how we did it and we hope that it helps make things more clear and doable for you in shaa Allah).
Since we pick out 1 section from each category in the journal each month (we will do this till April 2018 in shaa Allah): 1 from Spiritual Development, 1 from Personal Development, 1 from Strengthening Relationships & 1 from Goals and Dreams
In December 2017, We picked Memorization Tracker (for 99 names of Allah) ((to help us know our Creator better through His perfect names), Self Awareness ((to help us ourselves from deep within – looking into our good and bad habits and exploring where we want to spend more/less of our time), Personal Resolutions (to improve toxic relationships and move on from the hurt, grudges and expectations) and Gratitude List (to turn negative experiences of life into positive lessons).

The reason we are doing it all publicly with YOU is because we are struggling as much as you are in this life and this will help us stay accountable if we lose the motivation somewhere in the middle! Also, we want to enter Ramadan as a better Muslim and experience the blessed month on a whole new level in shaa Allah. 
We did a detailed post on each section in this month and in shaa Allah will be doing so for the next few months as well – collaborating with different bloggers and entrepreneurs who are experts/researchers of those topics! Here are some of the examples of people from different parts of the world doing the challenge with us ❤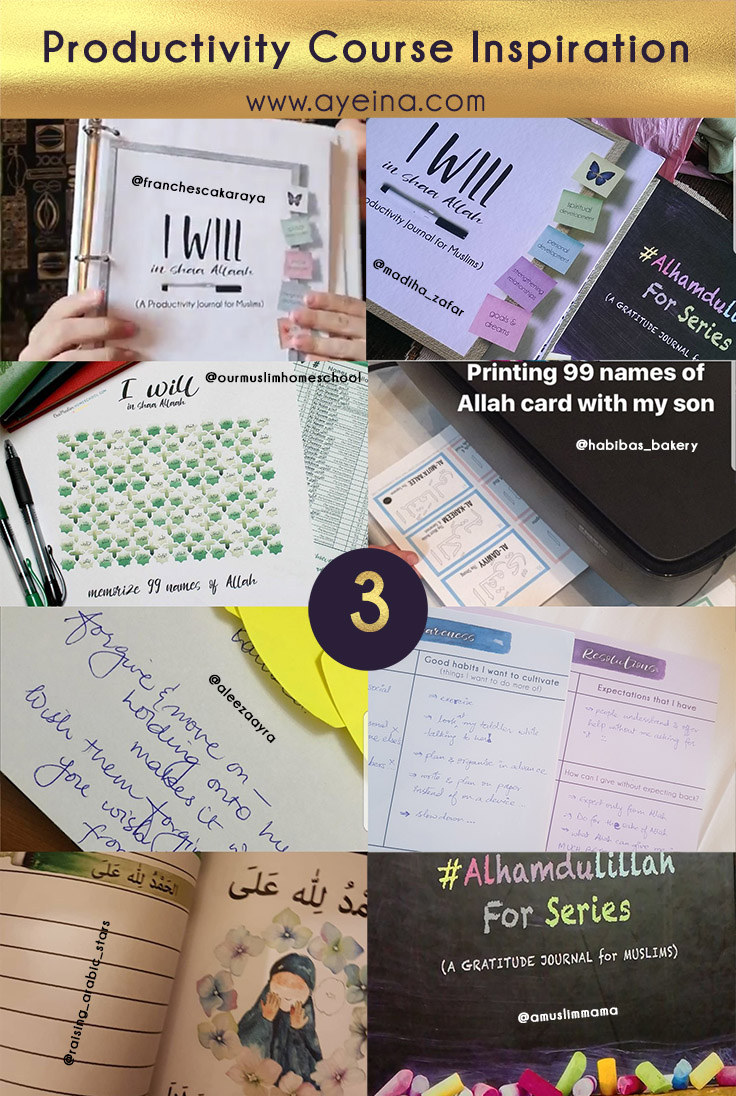 So here's the summary of our 3rd month on this productive journey:
(spiritual development)
Challenge 1 of #PreRamadanProductivityCourse was "Memorizing 99 names of Allah" in *Spiritual Development*.
For those who have the productivity journal, this memorization tracker with the whole list (based on 99 names authenticated by Sh.Uthaymeen) is on page 13. We included this as a first step in the journal towards spiritual development because TAWHEED is the basic pillar of Islam and to know your Creator better is the way to get your life together. Without the knowledge of who Your Lord really is, you may not be able to build that spiritual connection with Him. The connection of love, fear, respect, dependency and most of all – a connection of communication – connection of dua!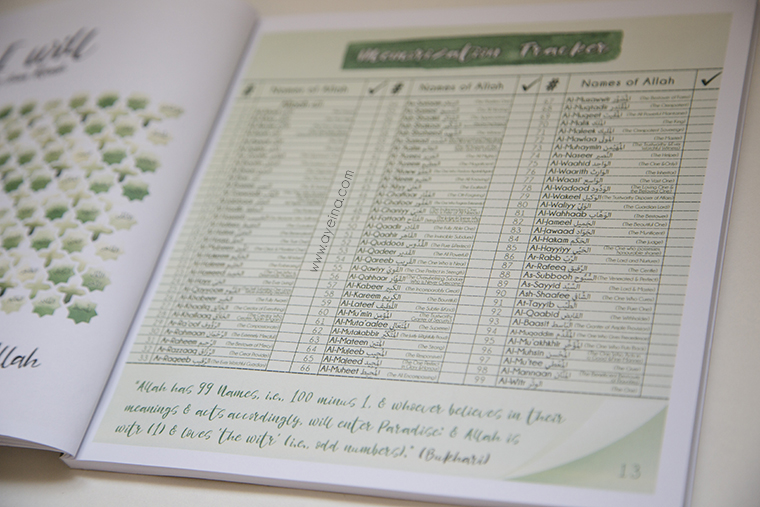 (personal development)
Challenge 2 from *Personal Development* was "Self Awareness" in #preRamadanProductivityCourse. For which, Anam Lone from The Inspired Accountant shared her gems of experience below:
"Knowing others is intelligence. Knowing yourself is true wisdom. Mastering others is strength. Mastering yourself is power."
"Self-Awareness is one of the most impactful tools that can help you achieve your personal and professional goals. Self-awareness allows you to have a clear perception of your likes and dislikes, strengths and weaknesses, and values and beliefs. It's about knowing what motivates you to get going and get something done. And this information can not only help guide your actions and decisions, but also allow you to make the most of your best personality traits.
Self-awareness helps you understand what skills come naturally and easily to you as opposed to what always feels like a struggle. The only requirement of the self-awareness journey is that you fully accept yourself and the "package" of strengths and weaknesses that you've been blessed with. Do this without judgement and let yourself be open-minded. Self-awareness is important because if you make your decisions keeping your personality traits in mind, you become selective about where you spend your precious and finite energy.

It's only human to be good and bad at different skills. Some people can easily speak in front of large audiences, while for others just the thought of such a task brings sweat to their forehead. Some people are great visionaries and can come up with great ideas, but their tendency to view the big picture may lead them to forget the little details that will actually bring their ideas to life. Some people may be bad with numbers and logic, but they might be the social butterfly who is able to easily network and make connections. Key is to understand yourself, and use your strengths to get to where you want to, while building partnerships with people who make up for your weaknesses. Years and years of social conditioning and just being comfortable with yourself can often blur these lines for us.  So how can you become more self-aware and find out your strengths? 
Keep a journal (keeping a journal is one of the best ways for you to think through your thoughts and write them out – our minds are busy places, but writing something down forces you to shuffle through all the thoughts and get them down on paper where they are visual and there for you to see), ask someone who knows you (approach a friend, spouse, or even a colleague and ask them 3 things that they think you are very good at) and take self-assessment tests.
If there's one thing I want you to take away from this article, it's keeping it real, being yourself, owning yourself, and living your life authentically while working towards your goals."
(strengthening relationships)
Challenge 3 from *Strengthening Relationships* was "Personal Resolutions" in #preRamadanProductivityCourse – This revolved around forgiving without grudges and giving without expectations (in short – managing our unnecessary expectations).
A slightly difficult challenge but something that our souls absolutely need. Letting go of grudges and unnecessary expectations from people. Things that hold us back from moving forward in life…
Ask yourself if you are stepping forward in life while carrying unnecessary disappointments due to many expectations that you have in this dunya? And how can you turn their focus into expecting things only from Allah…Dig a little deeper and see what still hurts? It could be something from the past or even something recent. Has anyone ever hurt you so deeply that you were unable to forgive them for a long long time? 
When we leave this earth, nothing would actually matter but our deeds. The deeds that we will take with us and the deeds we will leave behind…
A heart that feels so wounded by others in this world wouldn't even care once the soul is taken away…all we'd care about after that will be – do I have enough to give to Allah? Am I going to pass this test? Was I able to collect enough deeds to help me through? What others think, how others reacted, what you thought of others – none of it would matter! We'd simply be hungry of more good deeds. For our better aakhirah! We wouldn't need acknowledgment or apologies from others, we wouldn't need validation or praises of others, we wouldn't need anything from anyone actually. Except for duas perhaps…and whatever we left behind among them from our knowledge or sadaqah…
Let's increase our own chances of forgiveness by forgiving others. If they die or you do, none of the grudges would matter! May Allah help us forgive others before we stand in front of our Lord desperate for His forgiveness…
How to manage expectations
Since we already talked about forgiveness in THIS BLOGPOST, the next side of that was – how to manage expectations that sometimes may lead to such hurt or grudges in the heart:
1) If you have certain wants that you wish others to fulfill, it's BEST to communicate it to them – after which, they may fulfill your wishes or they may not. But when you DON'T communicate, probability of you having your wish fulfilled by this person is very low. 
2) The next step is freeing ourselves from others fulfilling our wishes and we taking a step towards the fulfillment of our own desires ourselves. To take responsibility of ourselves in our own hands.
3) Expect only from Allah. Now this step is hard of course, BUT one that never leads to disappointment. Either we get our wants/expectations fulfilled in this dunya – or in the aakhirah (or even both). 
(goals & dreams)
Challenge 4 from *Goals and Dreams* category was "Gratitude List" in #preRamadanProductivityCourse – which highlighted how to be positive amidst negativity.
Since we usually talk about how to teach the topic of the week to kids as well (and we had already discussed it from an adult's perspective HERE), we briefly discussed "HOW TO RAISE GRATEFUL KIDS" in #preRamadanProductivityCourse hence.
1) Set an example by saying JazakAllah khair to them often (plus it's a dua you'd be giving your children without having to think that you're spoiling them by saying this).

2) Fill out a Gratitude Journal together. Be it #AlhamdulillahForSeries like we used above or any simple diary that you can turn into a gratitude journal. 
3) Having a diverse set of social circle – if you and your kids are constantly spending time among people who are equal or better in terms of finances/status etc. Chances are slim that you will develop the kind of empathy and gratitude that you can develop by spending time among people who are from different backgrounds and experiences.
4) Minimalism – it helps kids stay more focused and more focus means more reflection and self awareness of what THEY have. And obviously, minimalism starts with you.
5) Less exposure to ads etc. (Especially if they are targeted towards kids) – something that usually diverts the focus to consumerism. Why? Because the hadith says: "Look to one who is lower than you, and do not look to one who is above you. For indeed that is more worthy (so that you will) not belittle Allah's favors upon you." (Tirmidhi) – In Shaa Allah kids will eventually learn self control with time as well.
6) Thank those who serve you in any way. Your example of acknowledging those who quietly make a difference in your life, from the bus driver to the person sweeping up the floors, sends a powerful message to your children.
7) Involve yourself and your kids in charity. Especially volunteering with your presence. This will not only expose the kids to those who are less fortunate but will also help them know that charity doesn't require "having" loads all the time.
8) Gratitude crafts – because they are fun and a subtle way of teaching appreciation of little things (We personally made a gratitude wall and a positivity board in our home (As some of you may have seen already) – freebie bundle of which is available here: http://ayeina.com/…/free-positivity-mood-board-printable-b…/ )
BONUS CHALLENGE

 
(Setting Short and Long Term Goals for 2018)
So your bonus challenge is to set short and long term goals for yourself for 2018. and don't forget that YOU CAN! and YOU WILL! in shaa Allah! Write the goals with this belief and slay them! <3 We have created a bonus printable bundle for our subscribers which includes: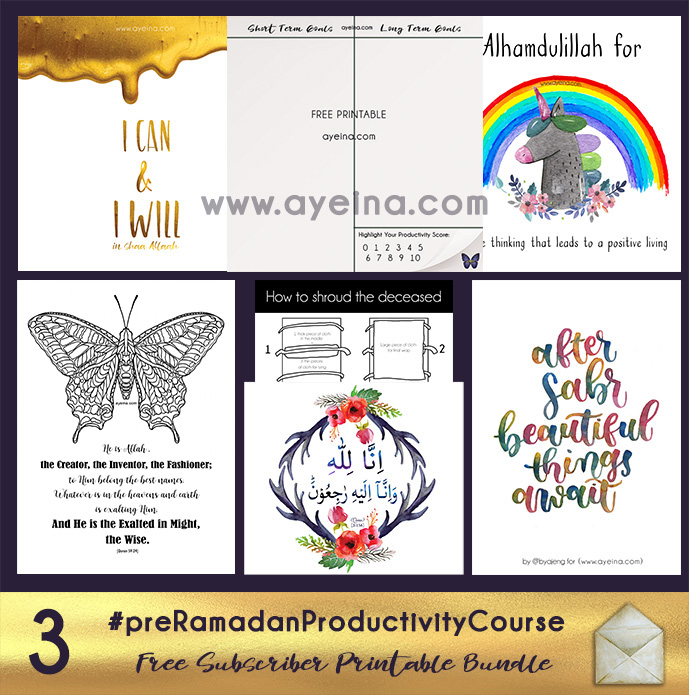 1 – Short Term and Long Term Goals along with productivity score (to help you set your goals for the next year in shaa Allah).
2 – motivational poster to go along with it (#iWILLinshaAllah) – I CAN & I WILL in shaa Allaah!
3 – color-in Qur'an verse [59:24] to go along with your memorization tracker of 99 names of Allah.
4 – a colorful hand lettered quote "after sabr beautiful things await" (by @byajeng).
5 – watercolor wreath art of the verse "Indeed we are for Allah and indeed to Him we shall all return"
6 – free printable guide on how to shroud the deceased.
7 – watercolor unicorn and floral rainbow positivity poster (#AlhamdulillahForSeries) on positive thinking ❤ 
If you have the whiteboard binder version of this journal, you can simply print this bonus challenge, punch it and put it in the binder ring as well. You can also rearrange the pages if you'd like – according to what you'd like to work on first in shaa Allah.
So, If you have done the challenges of this month, how did it all go for you? If you didn't manage to do it all, then how do you plan to work on them? Share with us your experiences so everyone in the journey can benefit in shaa Allah. BaarakAllahu lakum!
FB Comments
comments